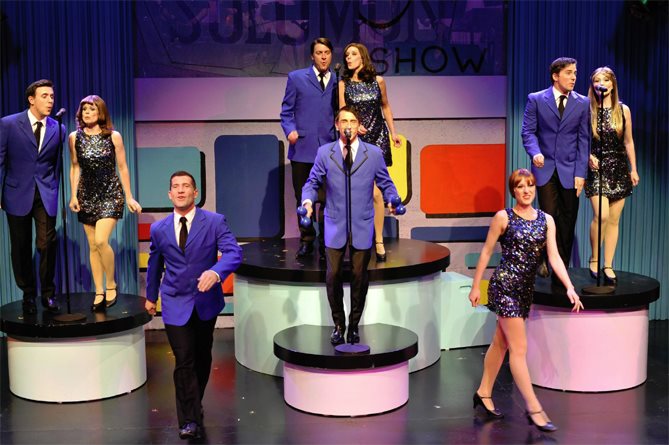 Cast of Twist and Shout
Written By Gretta Kennedy, Traveling Islanders
Last night I went to the theatre…or at least that's what I was planning on doing. As it turns out, I actually went to a televised talk show and watched the amazing performances of British bands of the 60's.
I was born in the 1970's and the music played in my home growing up was of the classical variety, so I pretty much completely missed the music of the 60's.
When I heard Chemainus Theatre was doing Twist and Shout: The British Invasion for the summer, I thought it was going to be a concert by the Beatles. Boy was I wrong.
It was so much more and so much much better than I ever imagined.
After a delicious dinner at the Playbill Dining Room, Jay and I headed into the theatre to await the show. I sat in my seat and was immediately transported back in time to the 1960's. We watched real commercials in black and white for products like razors, cereal, pickles and the like.
We were greeted by Roy Solomon, our hilarious and energetic host for the evening, and when the silver curtain parted and the show began, we saw none other than the Beatles, right on stage! We all started singing and clapping along with John, Paul, George and Ringo. I thought maybe it was just me, but as I looked around at the other audience members, I know I wasn't alone. The energy in the "studio" was electric and it didn't let up.
Roy Solomon took us on an educational journey starting in 1964 with the Beatles' arrival to the United States.