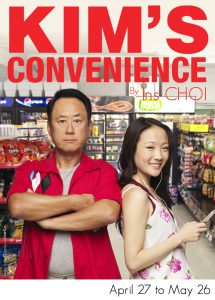 You'll get more than you bargained for at Mr. Kim's downtown Toronto convenience store. Along with his enormous variety of groceries and knick-knacks, he dispenses amusing folk wisdom, quizzical Korean trivia, and a peculiar type of pride. The hilarity and the business may be short lived if a big box store invades the neighbourhood, his daughter rejects the family shop, and his prodigal son returns. Is there a future for Kim's Convenience?
Kim's Convenience debuted at the 2011 Toronto Fringe Festival, where it won the Best New Play award. Written by celebrated Canadian actor, playwright, and poet Ins Choi, he also directed the play and acted the part of Jung in the debut production. The play has been produced all over North America to outstanding reviews. It has since become a ground-breaking CBC TV series which you can also catch on Netflix. As one review of an earlier production of this play states: "the comedy is funny, and the emotions genuine, and at its best, the play combines the two".
Delivering amusing folk wisdom, quizzical Korean trivia, and touching on themes of immigrant experience, change, and generational conflict, Kim's Convenience is as poignant as it is humorous. It breaks through boundaries and explores some universal truths in a way that brings the powerful combination of both laughter and learning to the audience.
Appa and Umma speak to each other in Korean, treating one another with tenderness and humour as they lead their little family toward the future while forgiving the past. Janet and Jung speak English, asserting themselves with the sharp wit of youth who identify with two cultures. What comes of it all are hysterically funny jokes and comedic situations which help the audience to more comfortably question our assumptions of stereotypes, immigrant experience and family conflict.
Bringing the hilarity to life for this production of Kim's Convenience are: James (Jimmy) Yi as the fiery and proud Appa; Susan Hanson bringing quiet warmth to the role of Umma; Agnes Tong playing artistic daughter Janet; John Han brings poignancy and laughs as prodigal son Jung, and Michael Clarke plays the amusing array of minor characters.
Rounding out the creative team for this socially relevant satire are Director Mark DuMez, Set Designer Craig Alfredson with Associate Set Designer Coralee Draginda, Costume Designer Michelle Lieffertz, Sound Designer John Han, and Stage Manager Lois Dawson. Matinee and evening shows for all ages run April 27 to May 26.
To purchase tickets call our friendly box office at (250) 246-9820 or our easy-to-use online box office.