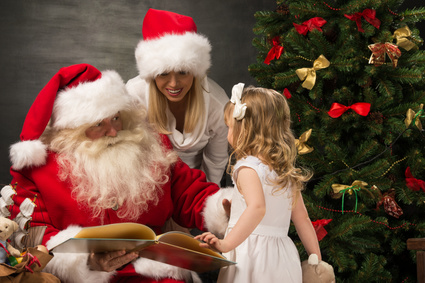 Get Into the Act With a Cameo Onstage During Elf: The Musical!
Ever dream of getting to take a turn on stage?  This could be your chance as we are providing a genuinely unique opportunity to enhance your Chemainus Theatre Experience during the run of this years' Christmas show.
Available on a first-come, first-serve basis to patrons that have purchased show tickets, you can reserve the chance to be a shopper during the Santa scene at Macy's in the first act. This cameo is for up to 4 people (ages 6 and up with a maximum of 2 children age 6-12) and can be reserved by making a donation to the Golden Neighbour Fund (suggested amount of $50 per person).
You will get to feel the raw back stage energy, the sensation of waiting in the wings under the blue lights and the thrill of walking out on stage. It will be an exhilarating experience and a special, memorable way to mark the Christmas season.
You will be required to arrive at the Theatre at 30 minutes before show curtain and so that we can show you when, where and how the Cameo will happen during the first act. You are asked to wear neutral colored outerwear; hats, scarves and coats. After all, it will be freezing in New York City. If you don't have suitable attire, that's no problem, we'll have some spares on hand.
Have we peaked your curiosity?
Reserve your cameo appearance now by calling the box office 1-800-565-7738