Welcome to the Chemainus Theatre Festival! We are a vibrant, established and fully professional theatre nestled in the seaside community of Chemainus, BC. We feature some of the finest performers and performances in Canada. The Chemainus Theatre Festival is your place to get together and liven up. As a non-profit society, we exist to serve Vancouver Island and its visitors by creating exceptional theatre that explores and nourishes truth, hope, redemption, love and the human spirit.
Playbill Dining Room
The complete Chemainus Theatre Festival experience begins in the beautiful Playbill Dining Room. Great food, warm hospitality, and live music will ensure that your visit with us is a special occasion! More
The Gallery
The Gallery Gift Shop showcases a group of B.C. artists that present a diverse collection of works. You will discover a variety of original art and fine crafts: pottery, paintings, prints, jewelry, clothing, glass, wood, books and sculpture. More
Getaway Packages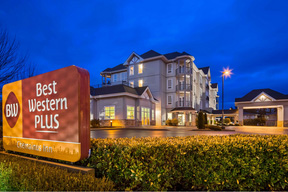 For a Theatre Destination Holiday call us and book a Theatre & Hotel package – it includes: Theatre Tickets, a pre-show Lunch or Dinner in the Playbill Dining Room, Breakfast and Accommodations in the Best Western Plus Chemainus Inn. More
TripAdvisor's Certificate of Excellence
Awarded from 2012 to Present
The TripAdvisor Certificate of Excellence honors select attractions that consistently demonstrate a commitment to hospitality excellence. To be eligible, a business must maintain an overall rating of four or higher (out of five), as reviewed by travelers on TripAdvisor.
We'd love to hear about your experience at our theatre, please click here to leave a review »