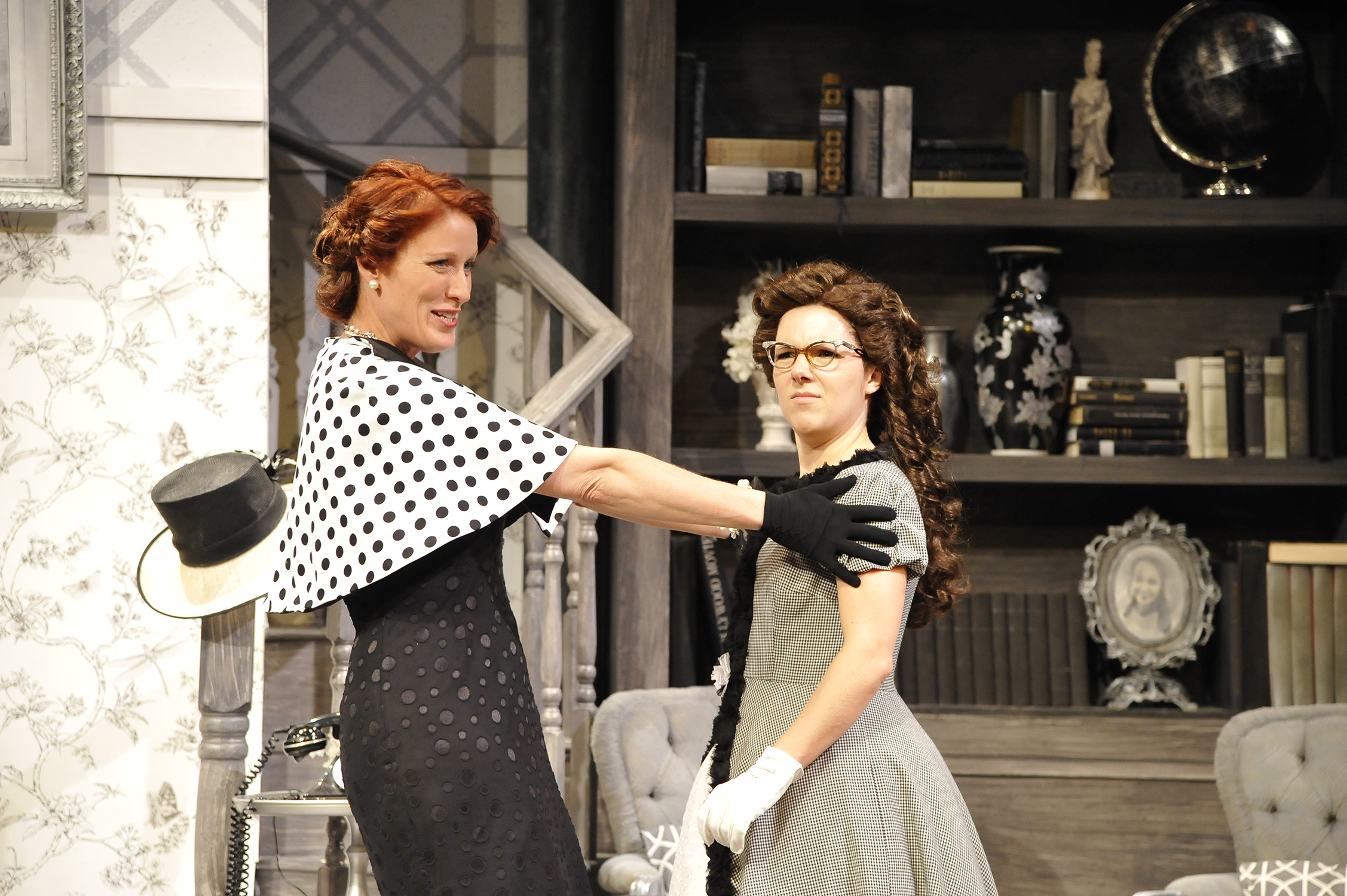 Erin Ormond and Ella Simon start out seeing the world in black and white but before long, their characters' lives take on a more colourful tone. Photo: Cim MacDonald
All is not what it seems in the Chemainus Theatre Festival's presentation of Mary Chase's play, Harvey, which runs until May 28.
Of course, it all starts with Harvey, the six-foot white rabbit, who can apparently only be seen by Elwood P. Dowd, but the story unfolds surprisingly from there.
"He's nuts, he needs to be committed," claim Elwood's relatives, Veta (Erin Ormond) and Myrtle Mae (Ella Simon), but once the audience meets Elwood, they realize he's a pretty cool guy, for all his oddities.
This production welcomes the Festival's artistic director, Mark DuMez, back to the stage in the role of Elwood, and there couldn't have been a better choice to breathe vibrant life into the gentle fellow with the imaginary pal.
All DuMez's own well-known courtliness is a superb asset in this production; Elwood looks on the world through his own colourful kaleidescope.
And colourful is a key word here.
When the play begins, the set and the characters, are monochromatic, indicating subtly the sterility of their lives.
The only dash of colour is supplied by Elwood with his brilliant turquoise sweater and socks. Slowly, as the scenes change, more and more colour is added to the costumes and the set as his exuberant life flows outward, warming the world around him.
But no one sees it.
Veta is obsessed by trying to climb the social ladder, but, in some of Erin Ormond's best work at Chemainus, we see that she's not as sure of herself as she hopes to portray.
As her daughter, Myrtle Mae, Ella Simons is in her element, bringing all her delicious abilities in physical comedy to bear.
At the sanitorium, Bernard Cuffling as Dr. Chumley, Mack Gordon as Dr. Sanderson, and Jay Clift as Duane Wilson are ably joined by Simon in her other role of the flirtatious Nurse Kelly.
There's an element of French farce to this play: people are whisked on and off stage through doors, but Elwood meanders surefootedly through it all without even realizing he's in any danger.
In fact, it's his family who realize they are in danger as the play nears its conclusion, and act decisively to bring this fun evening to a surprising conclusion.
This comedy has a lot to say, comments star, artistic director
DuMez talked about Harvey and playing Elwood.
Older theatregoers may feel they know the story or even have seen it on TV.
"They did a movie of it with Jimmy Stewart and also did a remake of the play when he was older. But the original play came before the movie; Mary Chase wrote it in the 1940s. What I'm finding is that a lot of people have a vague, or a fuzzy memory of something about a rabbit," he said, adding that the story stands up well.
"The premise has a lot to say. It's a really interesting and engaging comedy in its own right. The idea that Elwood sees a white rabbit that he hangs out with and is one of his best friends taps into Celtic mythology and into the trickster legends of other cultures. But, of course, there is also the question: is he mentally ill or does he have a drinking problem? And how does that impact his community and his family?"
The possibility of mental illness may sound a bit grim, but this is a comedy.
"I say it's got a lot of hop, when I'm being facetious. It's got a lot of bubble," DuMez said. "It's funny. The characters are very sturdy, they have very strong agendas. And the actors, the company we've got, are all people I've been on stage with or had the pleasure to direct. That's making it a lot of fun."
The costumes are gorgeous and they've been working with two revolving sets, he said.
"I think the play leaps off the page a lot; for being an old play, it really pops."
Younger audiences who've never heard of Harvey, or the concept of an imaginary friend, can just sit back and enjoy the comedy, he said.
"It's very approachable, very understandable."
The idea of having an imaginary friend can be found in many cultures, and at many times of life, but "if that friend is substantial enough in your imagination you have to question if it's imaginary or not. That's what the story plays with," he said.
And then, there is the utterly useless "reality" of the social climbers in the story.
"That allows people to consider the idea: if we don't have kindness, what are we living for? To be present with people in the moment is important."
Wearing his artistic director's hat, DuMez said he's delighted with the way this season is going at Chemainus.
"It's been wonderful. Last season was good and I think we're reaping some of the benefits of that audience loyalty and enthusiasm. We've had a great start to the season this year. It's been really fun, and we're hoping for more of the same."
lexi.bainas@cowichanvalleycitizen.com