Hi Daniel,  thank you for agreeing to do an interview with us.  We really appreciate it!
Thanks for having me!
1. One of the special things about living in Chemainus is spotting actors around town while they are here for a show. What are some of your favourite spots in Chemainus to spend time between rehearsals and shows?
I'm a homebody, but I like Kinsman Beach Park, and the Willow Street Cafe quite a bit. Their scones are my kryptonite, and I don't think I'm alone in that. 
2. The role of Guy suits you. What drew you to this character and how do you identify with him?
Guy is a musician at a crossroads that, as a singer/songwriter myself, I experienced in my 20s. That crossroads entails deciding whether or not you're going to let fear and self-doubt dictate your decisions in life. It entails deciding whether or not you are going to let difficult circumstances stop you from pursuing your art, and your passions. The life of an artist can be very isolating, and sometimes you need a push in the right direction. That's where Girl serendipitously comes into play. 

3. The response to Once has been positive, what do you think makes it such a special show?

There is so much to love about this show. The the sets, the talent of the cast and crew, the costumes. It's all incredibly moving, and incredibly fun to watch. However, at its core, what makes the show special is that both the music and the story tap into a depth of honesty that as an audience member you can't help but personalize. This story is such a specific and real experience between two people. We all cherish memories like this, and carry them with us. Even brief moments live on, as they inform our character as we move forward through life. That is the beauty of this show. 
4. You will be playing the part of Carl Perkins in our upcoming reprisal of Million Dollar Quartet. What can audiences expect from this play if they haven't seen it yet?
The Million Dollar Quartet is a jukebox musical featuring the hits of Elvis Presley, Johnny Cash, Jerry Lee Lewis, and Carl Perkins.  You can expect a rip-roaring blast of classic 50s Rock & Roll tunes, and a great night of music and laughs. I highly recommend it!
5. You have a music career of your own (check out Daniel's CDs in the lobby after the play). How do your musical theatre roles influence your writing and performing of your own material and vice versa?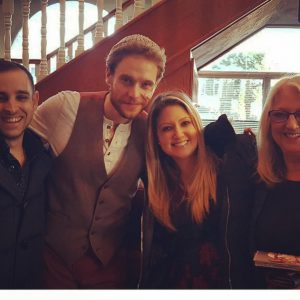 That's a big question. My music career has greatly influenced my theatrical work. For the role of Guy in ONCE I'm drawing from a big well of personal experience as a musician, and as someone who has gone through my fair share of concrete and ambiguous relationships. Conversely, my theatre work has informed my music in subtler ways. Whether I'm watching or starting work on a piece of theatre, in the back of my mind I'm always paying attention to the arc of the story, and the craft of the text. When I'm taking in any art (visual, stand-up comedy, theatre, etc) on some level I'm always observing which elements connect with people, and considering how I might derive those to grow as an artist.