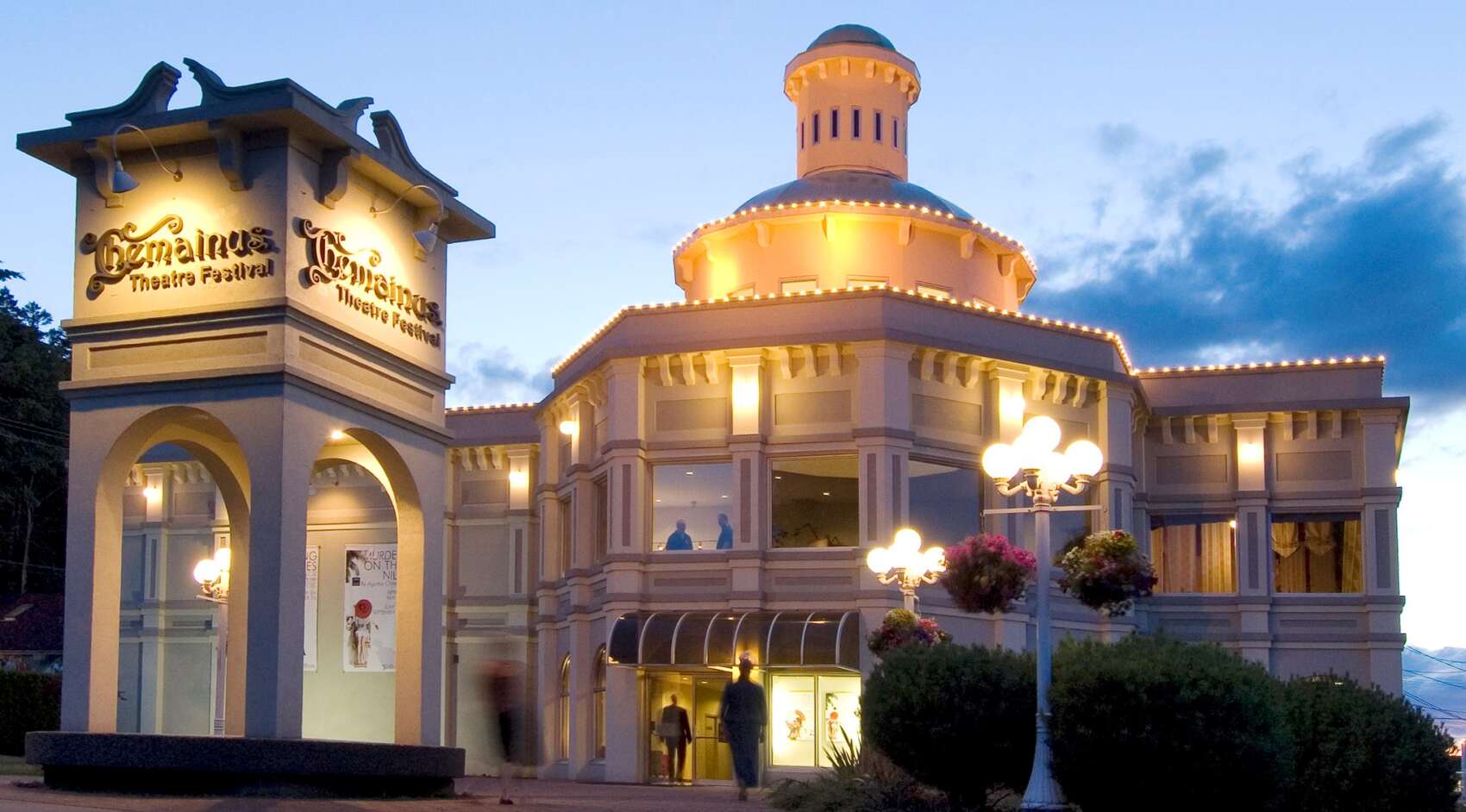 Vancouver Island's Theatre Destination
Welcome to the Chemainus Theatre Festival! We are a vibrant, established and fully professional theatre nestled in the seaside community of Chemainus, BC. We feature some of the finest performers and performances in Canada. The Chemainus Theatre Festival is your place to get together and liven up. As a non-profit society, we exist to serve Vancouver Island and its visitors by creating exceptional theatre that explores and nourishes truth, hope, redemption, love and the human spirit.
Chemainus is a picturesque artisan village nestled between the mountains and ocean directly on the Cowichan coast. Come early and enjoy the 50+ giant murals, shop trendy boutiques and galleries, browse the public market, and so much more.
The theatre has a dedicated parking lot for patrons directly behind the building. It often fills up so we suggest free street parking throughout Chemainus.
Service animals are welcome: please call our Box Office if you have any questions or concerns regarding best seating locations when visiting with a service animal.
For guests requiring a relaxed environment
Relaxed performances are designed to welcome patrons who may benefit from a less restricted audience environment. Patrons of all abilities are welcome, including those with intellectual or learning disabilities, sensory processing conditions, autism, social anxiety, Alzheimer's, PTSD or dementia. There will be a relaxed attitude to noise and movement within the auditorium, and some minor production changes may be made to reduce the intensity of light and startling effects. During the performance, patrons may leave and re-enter the theatre as required, and quiet spaces are provided in our lobby.
Accessibility for guests with mobility issues
We offer an elevator between both floors and accessible and mobility seating in the Theatre and Playbill Dining Room. The Theatre is steeply inclined and equipped with handrails for your safety.
We also feature a special-access washroom and motorized door controls. Patrons are welcome to bring their own assistive devices; however, large devices such as walkers must be stored outside the auditorium during performances.
Special-access parking is available with a valid disability parking permit along the side of the building. These spaces are limited, so please come early to secure a spot.  There is also special-access parking throughout town with a valid disability parking permit.
For Guests Who Are Hard of Hearing
The theatre offer wireless radio-frequency hearing-assistance receivers that are also compatible with t-coil-equipped hearing aids and cochlear implants. For optimal performance, guests are encouraged to bring their own headphones, though we do have a limited number that we can lend. Please reserve your hearing-assistance device when booking your ticket.
For guests with scent allergies or sensitivities
In consideration of others, we ask our guests to refrain from wearing scented products. While we cannot guarantee a scent-free environment, should you have an allergy to scented products and need to be moved from your original seating location, please see the Patron Services Manager.
Let us welcome you to the Playbill Dining Room with some great food, the usual warm hospitality, and live piano entertainment.
Our Executive Chef has prepared an impressive menu with fresh seasonal salads, delicious starters, choice of three course plated dinner meals and some delectable desserts!  We are also please to bring back the ever-so-popular buffet – with dinner, lunch and brunch options available on select days.
Complement this array of culinary delights with a beverage from our specialty menu of wines, beers, and estate ciders.
There's something special for everyone in the Gallery Gift Shop. A huge selection of beautiful items and a pleasant shopping experience. Our staff are here to help! Here are just a few of the gift ideas we have to offer. You will discover a variety of original art and fine crafts: pottery, paintings, prints, jewelry, clothing, glass, wood, books and sculptures.
With over 100 artisans to choose from, a trip to The Gallery is worthwhile. You will find such great gifts, you will be tempted to keep them for yourself!
Bottled water and light snacks and confections are also available.
Join us in the Fireside Lounge for drinks before the show and during intermission, where we offer beverages from our specialty menu of wines, beers, estate ciders, cocktails, and specialty coffees.  During intermission, we also offer coffee, tea and a selection of delectable desserts.
The Concession is open during intermission for light beverages, snacks and ice cream treats.
We are excited to welcome back our Group visitors! Discounted rates are available for groups of 10 or more adults.
Log in to My Account, the Chemainus Theatre online portal, to access your tickets, account credits, update contact information, and a host of other features. 
All tickets are non-refundable

Tickets may be exchanged for another date within the same show with 24 hours' notice. 

If an exchange is not possible, tickets may be converted 

into a 

charitable 

donation

 

up to 

4 hours

 prior to the event. 

Patrons will 

receive 

a 

charitable 

tax

 receipt

. 

 

Ticket cancellations will not be accepted retroactively.

If you are feeling unwell, please stay home and contact us for ticket options.

Any patron who arrives at the theatre displaying symptoms of illness (such as fever, cough, or sneezing) will not be allowed to attend.