The basic plot of Silent Sky is fascinating – a true story of a plucky, brilliant young woman who defies odds and persists as a female astronomer in the early 1900s at Harvard. But the story that is brought to life is a rich tale of family, love, and friendship. It is fiercely funny and touching and as audiences leave the theatre you can feel the energy of the shared experience of seeing this beautiful tale brought to life.
A night at the Chemainus Theatre is an experience the moment you walk in the door. If you have decided to indulge in the buffet dinner in the Playbill Dining Room make sure you try the Salmon with Mango Pineapple Salsa, but leave room for the Boston Cream Pie – for a 3-course luncheon starting at $23 you will be happy you did!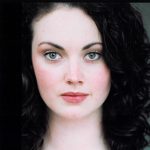 Emma Slipp, who plays lead character Henrietta Swan Leavitt, took some time out of her busy schedule to answer a few questions and provide some insight into this rich show.
Welcome back to Chemainus. What do you enjoy about being back here when you are not in rehearsals?
I always enjoy my time here and get to push a reset button away from all the demands of my city life. I am able to focus on the show only.
The community is so welcoming and supportive. I love going for walks and visiting the shops.
For you, what is this show about and why should audiences come see it?
This show is telling a story that wasn't honoured in its day. The script alone is beautiful, but married with all the design elements I think it's quite stunning. The set, costumes and lights along with original music composition and projections all blend together with imagination.  It's witty, poetic and thought provoking, but also heart bursting and satisfying.
What drew you to the character of Henrietta as portrayed in this depiction of her life? Was there anything that surprised you as you began to explore this role?
I connected with her drive and commitment to her chosen career path and understand the sacrifices she had to make. I am excited to share her story because I know there are so many unsung heroines who's contributions have been skipped over. I feel this is an opportunity to celebrate a group of woman that paved the way for future generations.   
Unlike Henrietta , I am unskilled in math and science and it has been a true challenge to understand and then convey some complex thoughts and revelations. It's been a great brain workout!
Is there a significant line or special moment that stands out for you?
The script has so many beautiful moments, but I think my favourite line is one the Peter says to Henrietta
" I feared combusting if I didn't tell you that you've been the brightest object in my day since we met. And we work with stars."
After exploring this role what message do you think Henrietta would have for young women starting out in their careers?
Don't take no for an answer. Stay passionate, determined and do all you can to create your own space in your chosen field.
If you haven't seen it yet get your tickets today, you won't be disappointed. Silent Sky has a shorter run than some of our other shows so get your tickets today and don't miss out. Even though this is the final dramatic production for our 25th season at Chemainus Theatre Festival you will laugh, be inspired and perhaps shed a tear. The reviews have started to come in and we hope they will convince you to come see the show. (LINK TO: http://www.lakecowichangazette.com/entertainment/review-chemains-theatres-silent-sky-a-brilliant-star-in-the-heavens/)