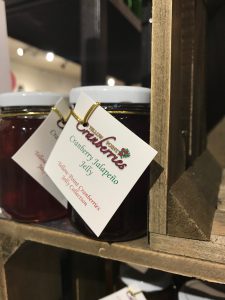 The Gallery Gift Shop at Chemainus Theatre Festival is one of the best shopping experiences around. This special place is known by visitors and locals as a wonderful spot to find quality artwork, gifts and more. Whether you are perusing during intermission, or shopping the wonderful boutiques of Chemainus, it is easy to find a special treasure.
If you have not been in the gift shop lately, there is a new addition to the existing 100+ works of local BC artisans: the Gallery Farm Market. You will find an assortment of delectable goodies from local suppliers – a great way to support the theatre and Vancouver Island's finest farms.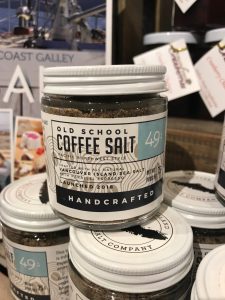 In particular, Yellow Point Cranberries resides just north of Chemainus – beyond the delicious, classic cranberry sauce, there are jellies, mustard, and chutney. These make a great addition to any table the next time you are entertaining.
For the foodies in your life, there is 'Old School Coffee Salt' – this unique blend pairs espresso with local sea salt to add flavour anytime, whether as a rub for grilled meat or being sprinkled onto desserts or baking. There are other salt blends, olive oil, honey, salmon, and maple syrup. Stop by soon to see new additions and visit the rest of the gift shop to see the ever-changing assortment of items that have made the Gallery Gift Shop one of the best stops in Chemainus for shopping!