Patt Scrivener & Roger Jackson
MAY 24 – AUG 31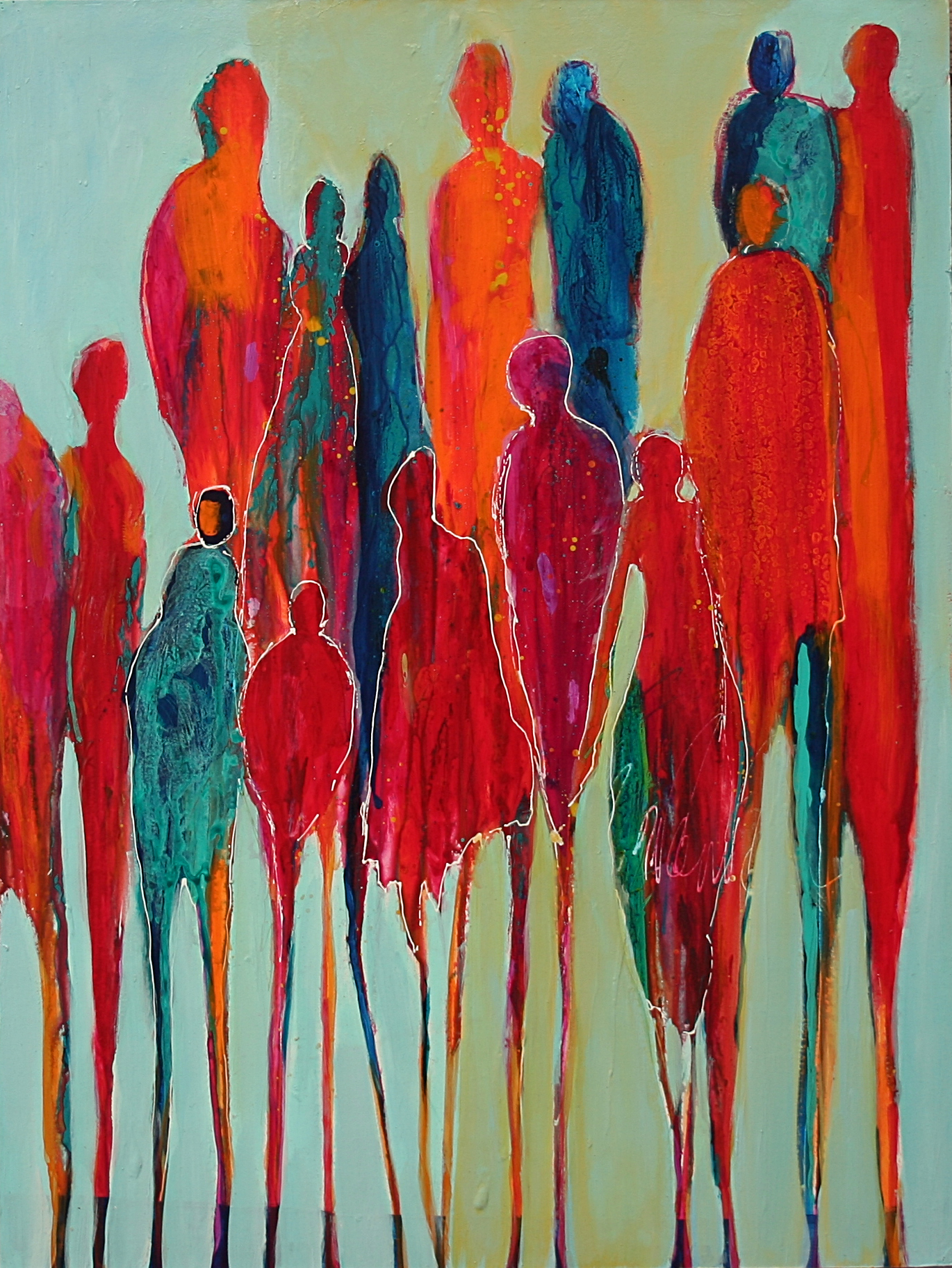 Patt Scrivener
Patt Scrivener was born in Nipawin, Saskatchewan and grew up on a grain farm along with her four siblings. Although there was always lots of work to do, being isolated during the summer holidays afforded her lots of time
to create.
Patt became very adept at sewing – often creating wardrobes for her dolls, as well as designing doll houses filled with furniture. As a teenager she fashioned many of her clothes by making over garments. She was upcycling long before the word was coined!
Patt's first childhood memory of art was colouring on any paper that was around and although she does not remember she has been told she coloured on walls too!
She has fond memories of art projects through school. In Grade one Patt attended a one room school that taught grades 1-8. She remembers doing a self portrait painting directly on a mirror with black paint. It was inspiring to be in a class with older children. "I was awestruck by the talent of a boy in Grade 4 and drooled over his art."
Always creative, Patt enjoyed music too and expressed an interest at an early age. At age 5 she started piano lessons, went on to finish her grade 8 Royal Conservatory and later studied pop piano and organ. She also picked up her brother's accordion and learned to play that as well as trying her hand at the guitar and ukulele. She discovered her real love in the Celtic harp and today she focuses on playing and teaching this instrument.
Patt was encouraged to become a secretary or nurse; however she knew that was not the path for her. Being unsettled about what to take after high school Patt moved to the city and got a job in a flower shop. By age 23 she owned her own shop. After running a successful business for 10 years Patt was ready for new challenges.
" I like the challenge of not having a preconceived idea and taking advantage of the 'happy accidents' that occur!"
She went on to study interior design and teach floral design at Olds College and Mount Royal University.
Throughout her career in her spare time she continued dabbling in art by studying watercolour, painting on silk, pottery, weaving and silversmith.
In 2003 Patt attended a one week mixed media painting workshop led by Maxine Masterfield. This was the catalyst for her decision to focus on painting. Since then she has studied under many renowned artists including Susan Woolgar, Jean Pederson. Gwen Fox, Donna Baspaly, Suzanne Northcott, Patricia Seggebruch, Sara Robichaud and Linda Robertson to name a few.
Today Patt works in many mediums including acrylic, encaustic and cold wax with oil. Her work includes imagery of people, landscape and abstraction. The layering of a variety of media offers an assortment of possibilities within her work; colour, line and texture all play a role within her imagery. Her work is about the process – she loves layering, scraping, sanding, pouring and dripping. She uses many unorthodox tools and loves visits to the hardware store!
Patt retains a childlike exuberance when starting a new painting. Rather than have a fixed image in mind, Patt starts each project by pouring, scraping, and mark making. Once she has covered the canvas with a medley of colour, texture and pattern, she then steps back and looks for images to present themselves. She paints very intuitively – listening to the painting and responding to it.
"To me this method of painting feels more spontaneous and less like the paint by number kit I got as a gift when I was 10!"
In 2007 Patt studied to become a life coach and this was instrumental in her decision to becoming a full time artist and to help others develop their creativity. Patt devotes her time creating original works and teaching others.
"I developed my technique by being willing to experiment and always being open to what if? A large part of my learning comes from teaching."
She facilitates workshops and a mentorship program in her Parksville Studio. Patt is a Signature (AFCA) member of the Federation of Canadian Artists and a member of the DeCosmos Fine Arts Society.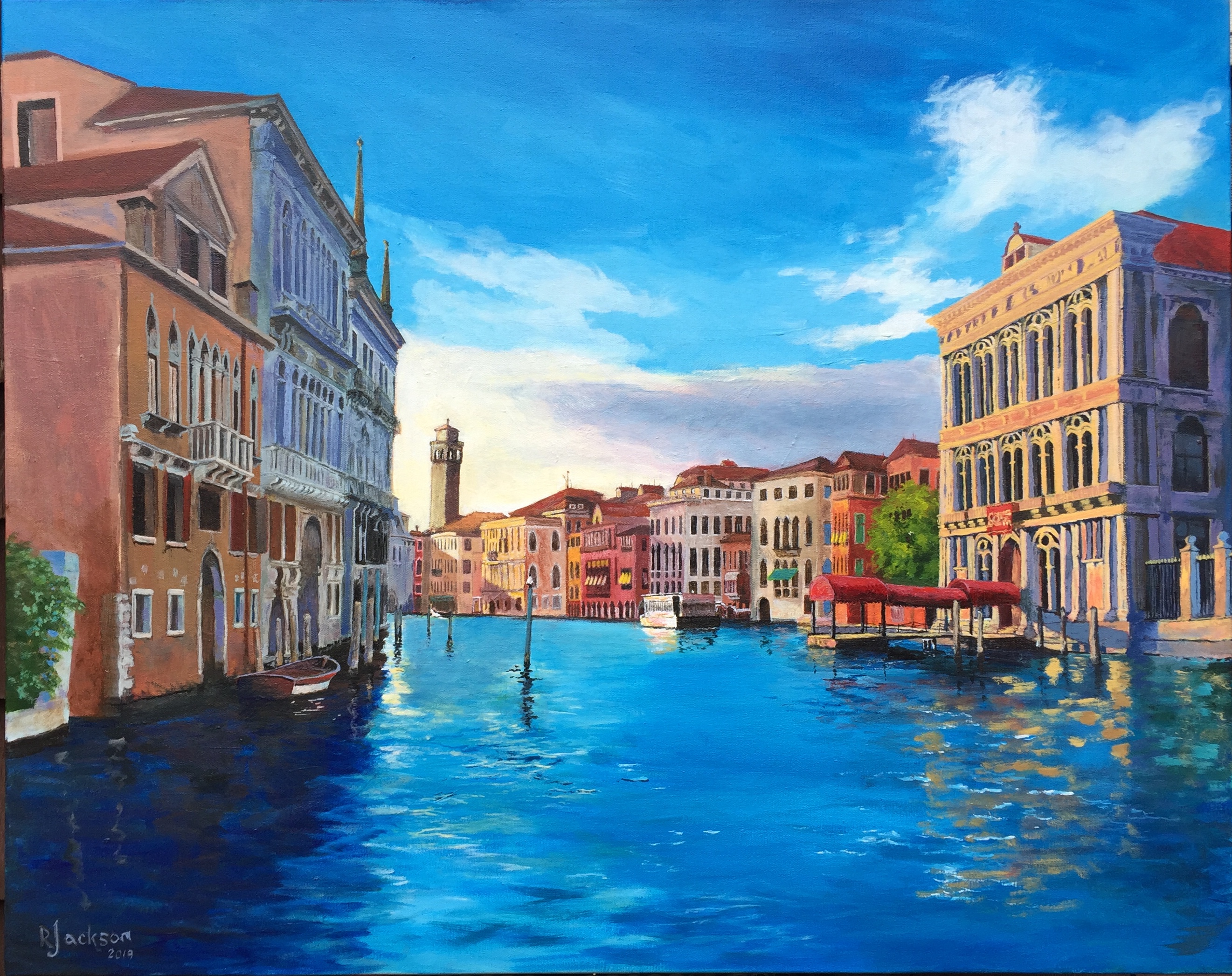 Roger Jackson

His love of old world architecture is prominent in Roger's paintings, transporting the viewer into history, other times and places. His use of bold colours and sense of perspective enhances the illusion of being there.
He is intrigued by and has great respect for working boats, whether at sea, at anchor or at the dock. "I feel that as an artist, details count and when I paint a boat, it is my responsibility to paint that boat reflecting the accuracy of its lines." For Roger, it is exciting when a seaman shares that "I recognize that boat. I worked on it and you got the lines right."
He is not just painting a wall or window or a boat or a wave on a beach, he is telling a story or inviting the viewers to tell theirs. "I paint because I love the process and the challenge of a blank canvas and the sometimes unpredictable, yet exciting, outcome."
Roger now lives and paints on Vancouver Island, painting in oil and acrylic, en plein air or in studio, on canvas or wood panels. He conducts workshops and teaches courses. His approach to teaching is that it's not really teaching; it's more guiding and encouraging, building confidence, peeling back the layers to find the artist inside.
His work has been exhibited in Calgary, Vancouver and various shows and venues on Vancouver Island, including but not limited to:
Federation of Canadian Artists, Calgary AB
Federation of Canadian Artists, Granville Island, Granville Island
Federation of Canadian Artists, Victoria Chapter
Cowichan Valley Fine Art Show, Duncan
Visions Artists Studio Tour, Cowichan Valley
Artishow Victoria, Artist-in-Residence Program
TD (aka Moss St) Paint-in, Art Gallery of Greater Victoria
Arts on the Avenue, Ladysmith
McMillan Art Centre, Parksville
Maple Bay Painters, numerous spring and fall shows