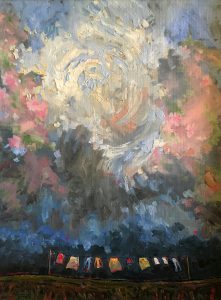 Chemainus Theatre is a constantly changing space. The stage changes, of course, to take us to different places and times through the magic of the sets, costumes, and stories. This year it has been a pub in Dublin, an historic recording studio, a convenience store in Toronto, and now a high school. The menu in the Playbill Dining Room evolves to reflect the current production and the seasonal foods sourced from farms on Vancouver Island. The walls throughout the theatre, gift shop, and lobbies are constantly changing as well. During every show, there is a new art exhibit creating a novel experience for patrons as they wander the lobby during intermission.
Coming up for the second half of summer, Chemainus Theatre is welcoming Steve Coffey. His work evokes the changing, wide-open prairie skies, with dark swirls of clouds or bright colour-filled vistas, his paintings draw you in. We encourage you to take your time viewing his works, as the light and textures of Coffey's paintings will draw you in. For inspiration, he uses a technique he calls "Memory Polaroids," drawing from his past and present day. In an article in Galleries West Magazine Coffey states: "As far back as I can remember I've been a sky watcher. It's such a kaleidoscope of colour."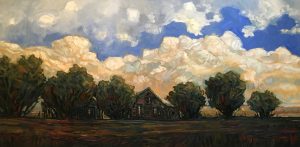 Steve Coffey will be here for an artist meet and greet on Wednesday July 18th between 5 and 6 pm his work will be on display throughout the Chemainus Theatre until September 1st. For more information on his work please visit the Gallery Gift Shop website.