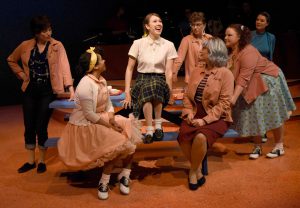 "Grease is the word and it is now our all-time best selling production…This is the first time we've sold out an entire production run – remarkable considering it's nearly three month's long.  This likely places us in a small group of North American theatres that have experienced a complete sell-out over a continuous run of this length – 98 performances," says Randal Huber, Chemainus Theatre's Managing Director.
Produced by the theatre 40 years after the hit 1978 movie starring John Travolta and Olivia Newton-John, the songs and story have not lost their appeal for audiences on Vancouver Island. Summer visitors and locals to the Cowichan Valley have been flocking to the theatre and to enjoy favourite tunes such as 'Summer Nights' and 'Greased Lightning'. Throughout its show run, even the town of Chemainus has worked to support this particular summer hit with events such as the downtown Classic Car Show, hosted by Tourism Chemainus.
The reviews for Grease have been outstanding; the Cowichan Valley Review said: "The production is anchored by fine performances and excellent musical numbers that highlight both the vocal and dance skills of the cast." Local theatre critic Janis LaCouvee stated: "Grease is about "a time, and a place" and—most assuredly—"a feeling"— it's arguably this feeling that brings audiences back, time and again, to experience it." Even audiences loved the performances, leaving feedback such as: "Loved Grease. Very professional and very entertaining. I would recommend a visit for anyone who loves musicals."
Earlier this summer, Chemainus Theatre announced that we have secured the rights to Mamma Mia, and the response has been outstanding. Audiences are using social media to tag friends and have begun to plan a visit to Chemainus next year to see this popular musical. The rest of the 2019 season will be announced this fall, followed by season ticket sales, and single tickets to go on sale in the New Year.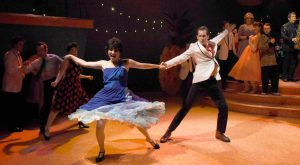 Congratulations to the hard-working cast and creative team of Grease for putting on such a successful and fantastic show! Time and time again we have heard compliments about the set, costumes and how incredible every cast member was in their performance.
The Chemainus Theatre, a not-for-profit theatre company, is happy to announce that the success of Grease has put us back on track for our 2018 season targets. We would like to thank everyone who has supported local theatre in the season so far, and look forward to seeing you for our future productions.