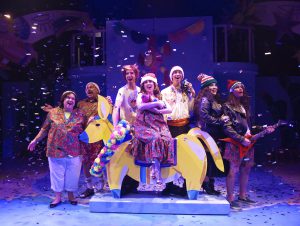 Christmas is a time for people to come together and Chemainus Theatre Festival is proud to be a part of this tradition for the past 25 years. It is the talented directors, musicians, actors, and designers who come together to create the shows that bring friends and families coming back, again and again, to settle in a darkened audience and share a special story. Theatre can bridge gaps between people from different places, cultures, generations, and backgrounds. The 'Cornwalls' All-Inclusive Cancun Christmas' is a sweet way to mark the end of a great year for Chemainus Theatre Festival – a joyous tale of a family coming together, sharing traditions, starting something new, and making friends along the way.
Come spend an evening (or afternoon) at Chemainus Theatre Festival and enjoy the 'Cornwalls' All-Inclusive Cancun Christmas'. Time, budget, work, family won't allow everyone to get away to Mexico this Christmas (it took Harry and Judy Cornwall 25 years to get there) but allow us to take you away on a musical journey to the mid-1980s with some of your favourite Christmas and retro tunes along with a whimsical story of a family doing their very best to create a memorable Christmas holiday vacation.
'Cornwalls' All-Inclusive Cancun Christmas' Director Barbara Tomasic has this message for audiences: "My wish for you is that our show offers you a good laugh and a reminder of what I think are the good parts of the Holiday season; joy, music, peace, and love. And may you embrace change as exuberantly as the Cornwalls!"
Come to laugh and leave with a song in your heart. 'Cornwalls' All-Inclusive Cancun Christmas' runs until New Year's Eve with a fabulous buffet to rival any Mexican all-inclusive resort. Tickets go fast for our Christmas shows so book yours today.