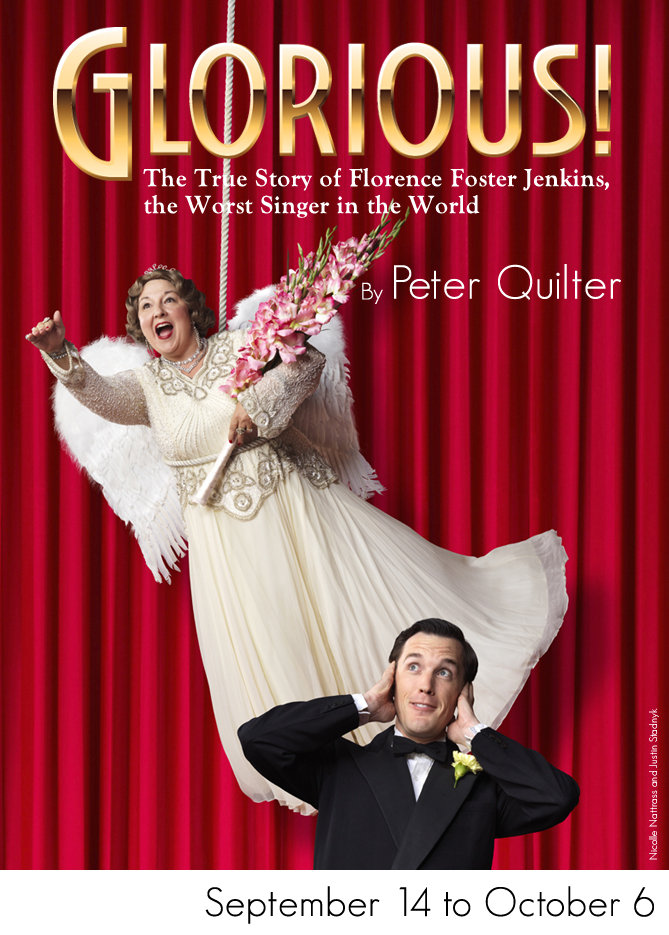 The Comedic True Story of the Worst Singer in the World.
Everyone agreed that she couldn't carry a tune – except Florence Foster Jenkins, as recently depicted in the Hollywood movie by Meryl Streep. She had no idea her operatic talent was an illusion. Throughout her life, the blissfully ignorant soprano never stopped bringing great pleasure to her adoring audiences. Discover why thousands clamoured to hear her at charity recitals, extravagant balls, bizarre recording sessions, and the ultimate triumph at Carnegie Hall.
"This delightful and blissfully funny play generates a rare glow of warmth and generous laughter." – Daily Telegraph
Glorious premiered on London's West End in 2005, winning a Laurence Olivier Award nomination for Best New Comedy. This hilarious true story has no played on stages in over 40 countries and 27 languages!
Fearless, fading diva Florence Foster Jenkins was more bubbly and endearing than talented, but she enjoyed astronomical success. During World War II, the amateur singer and flamboyant socialite was the squeaky soprano du jour, singing her way into the hearts of New York society. Among her admirers were composer Cole Porter, operatic tenor Enrico Caruso, and English conductor Sir Thomas Beecham. But she was a terrible singer!
Known as 'the first lady of the sliding scale', Jenkins' vocal skills may have left somewhat to be desired, but she was uniquely gifted; it's impossible not to be moved by her capacity to hear beauty and perfection where others heard only a cringe-worthy bray. Her charm lies somewhere between Norma Desmond and Lucille Ball.
Jenkins was surrounded by her devoted friends, who were almost as eccentric as she was. When she presented a series of concerts, they loudly cheered, drowning out the laughter of those who didn't appreciate her enthusiastic joyful noise. The tempo and rhythms of the play's action lend themselves to the hilarity of the jokes and the dialogue's linguistic confusion.