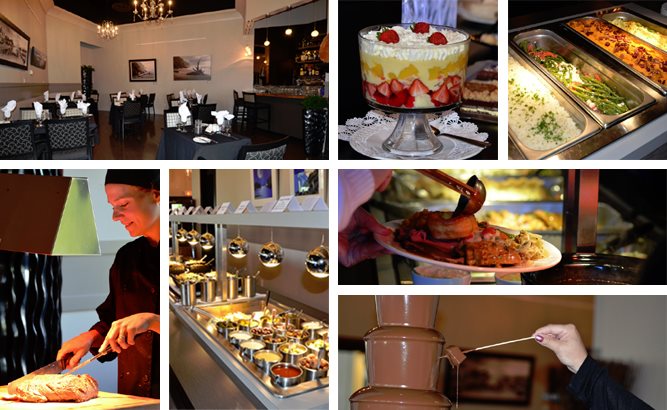 The complete Chemainus Theatre experience begins in the beautiful, newly renovated Playbill Dining Room. Great food, warm hospitality, and live music ensure your visit with us is a special occasion and a delectable start to every performance.
Our Executive Chef prepares a show-themed buffet for each show, featuring an impressive hot buffet with a fresh seasonal salad bar, delicious starters, followed by an abundance of delectable desserts! Complement this array of culinary delights with a beverage from our specialty menu of wines, beers, and estate ciders.
The Playbill Dining Room prepares an original menu for every show – as creative as our productions. The dining room is open before most performances.

KIM'S CONVENIENCE
April 27 – May 26
Special Occasion Tableside Service
If you have a special occasion you would like to celebrate with us, please call our Executive Chef to arrange Tableside Service: 250-246-9806

Special Diets
If you have special dietary needs or concerns, please contact the kitchen 24 hours in advance and we will accommodate you anyway we can. We also offer a prepared list of ingredients that could be of concern on our menu for each particular show. Just ask your server. Thank you for your patronage. Call us at: 250-246-9806.

Notes
Menu subject to change. Substitutions may be made with similar selections that better suit the time of the year and/or main stage production.