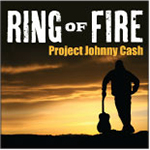 Reignited by Foot-Stompin', Crowd-Pleasin' Demand!
Great music, memorable characters, and slice of life stories often win our favour, and hearts, at The Chemainus Theatre Festival. Imagine our thrill to discover that you, our patrons, feel the same way. Along with praise for the 2015 production of Ring of Fire, we received numerous requests and suggestions to honour the legendary Johnny Cash with a second run of the rockabilly musical about his life story.
For a show to take The Festival stage a second time it must offer a special kind of magic. It must be exquisitely performed, replete with emotion, and fondly remembered. Could this tribute to a wild, gentlemanly singer, songwriter, and rustic poet fit the playbill for a consecutive year?
It was an easy decision. One listen to the deep throttling voice of the American music legend and we knew that the acclaimed Broadway show deserved a second time in the spotlight. Now the challenge was upon us: to relight the original spark of sensation. Fortunately, the original production and artistic team also share our enthusiasm for Ring of Fire. We are excited to work with many of the cast and crew again, as well as welcome a few new talented people to the current production. Judging from their red-hot rehearsals, the best of the Man In Black is back. Thank you for joining us to relive the rowdiness, resilience, and iconic songs that punctuate the incredible life of Johnny Cash!