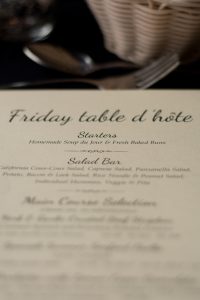 In 2018 Chemainus Theatre Festival executive chef Nick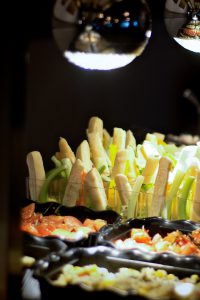 Caulford introduced a new dining experience to patrons of the Playbill Dining Room, Table d'Hotê. Still offering the traditional buffet experience with a salad bar and dessert buffet (including a chocolate fountain) the main course is a choice of four options for a plated dinner.
The salad bar during our run of Grease features California Cous-Cous Salad, Caprese Salad, Panzanella Salad, Potato, Bacon & Leek Salad, Rice Noodle & Peanut Salad, Individual Hummus, Veggie & Pita as well as sliders with optional peanut butter (it's tasty!).
Main course is a choice between Paella (vegetarian or seafood), Roast Porchetta, and an Herb and Garlic encrusted Beef Striploin with Rosemary Potatoes and Creamed Spinach – which is what I chose. It was the perfect portion size and delicious!
A buffet dessert is always a winner and for a very 50's inspired experience you can make your own Banana Split! Whatever you are craving – apple pie, trifle, brownies – the team in the kitchen will make sure you are satisfied!
Thank you so much to the serving staff of the Playbill Dining Room for their great service, ensuring theatre-goers feel relaxed and comfortable. It makes a night out at the theatre a complete experience!
The full buffet experience is still available during the rest of the performances but the Friday Night Table d'Hotê is a great addition! The menus can always be found online for all the dining choices. Don't forget, they change for every show. You will find something that will fit your schedule, taste buds and budget. See you soon!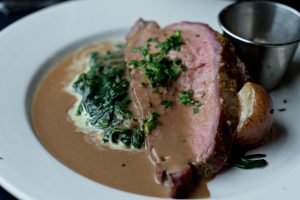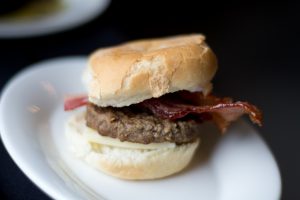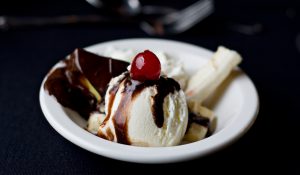 Photography: Courtney Hawkins