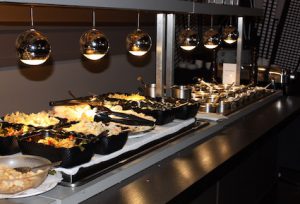 It takes many players to provide the world-class service of a Chemainus Theatre experience. Of course there are the actors on stage and the designers who work so hard to entertain and inspire you, but the team in the Playbill Dining Room also continues to impress visitors with friendly service and delicious food! The reviews for the Playbill Dining room from both critics and theatre-goers have been outstanding lately!
"Could you please extend our thanks to the Executive Chef? We really enjoyed the cold buffet with Asian themed salads in addition to the relatively new waffle station. Service was, as always, friendly and attentive."
"The new salad bar, plated menu, dessert bar combo on Friday nights is fantastic!"
"Dinner buffet is exceptional with very attentive and friendly staff."
Congratulations to our Executive Chef, Nick Caulford, his entire kitchen staff, and the busy dining room service staff on these great reviews!
Check out the menu for every show. It is always changing and with so many options to choose from you will find something to suit your tastes and budget!
Thank you to Chef Valarie Butler for sharing the latest recipe that we are sure you will be serving all summer long!
Thai Chicken Salad
Dressing For the Noodles:
½ Cup Canola Oil
3 Tbsp Sesame Oil
½ Cup Rice Wine Vinegar
2 Cloves Crushed Garlic
1 Lime – Juiced
1 Tbsp Garlic Chili Paste (Sambal)
1 Tbsp Sweet Chili Sauce
2 Tbsp Brown Sugar
Salt & Pepper to Taste
Dressing For the Vegetables:
3 Tbsp Canola Oil
3 Tbsp Sesame Oil
3 Tbsp Rice Wine Vinegar
1 Tbsp Balsamic Vinegar
1/2 Cup Soy Sauce
1 Tbsp Honey
1 Tbsp Brown Sugar
1 Tbsp Water
1 Tbsp Minced Fresh Ginger
2 Cloved Crushed Garlic
Ingredients For The Salad:
1 Pack Dried Chinese Egg Noodles
Mushrooms
Cilantro
Green Cabbage
Green Onions
Chicken Breast (Cooked and Diced)
Carrots
Method:
Make both dressings separately. Add the noodle dressing to the dried noodles and mix thoroughly. Don't worry if the noodles break up a bit. Let noodles soak in dressing in fridge covered. Approx 1 hr. While noodles are resting in the fridge, prepare your dressing for the vegetables. Slice your vegetables thin and then marinate them in the dressing. Once the noodles have softened, mix all ingredients together. Strain the vegetables before mixing into the noodles. Garnish with Sesame seeds and more green onion if desired.