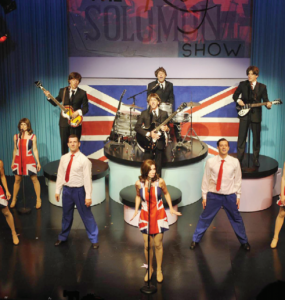 Cast of Twist and Shout
When I type "that was so much fun" after seeing the Chemainus Theatre Festival's summer musical offering Twist and Shout: The British Invasion, I'm having to restrain myself from doing it in all capitals (shouting).
What the heck: THAT WAS SO MUCH FUN!
I was a little skeptical at the beginning of the theatre's season when they announced this would be their summer show — typically their biggest production of the year. Not that a revue format with familiar tunes sounded bad, just that it was a huge departure from the last few years when they scored big hits with polished, mainstream Broadway shows like Fiddler on the Roof and Joseph and the Amazing Technicolor Dreamcoat, culminating in last summer's amazing presentation of Les Misérables.
All my doubts were swept away when I attended opening night last Friday.
This show is spectacular. It has energy to burn and directs it skillfully into an extravaganza of multimedia music and comedy that's the perfect complement to a summer night.
From the blockbuster opening number that will have you dancing in your seat to the finale, the exhilaration never fades, as performer after performer steps up to the mic to front a well-known, well-loved song and blows it away.
This isn't simply a mimicry of musical greats, it's a great cast with great voices evoking the feel of an era that not only changed music, but changed the world.
– Read more at Cowichan Valley Citizen