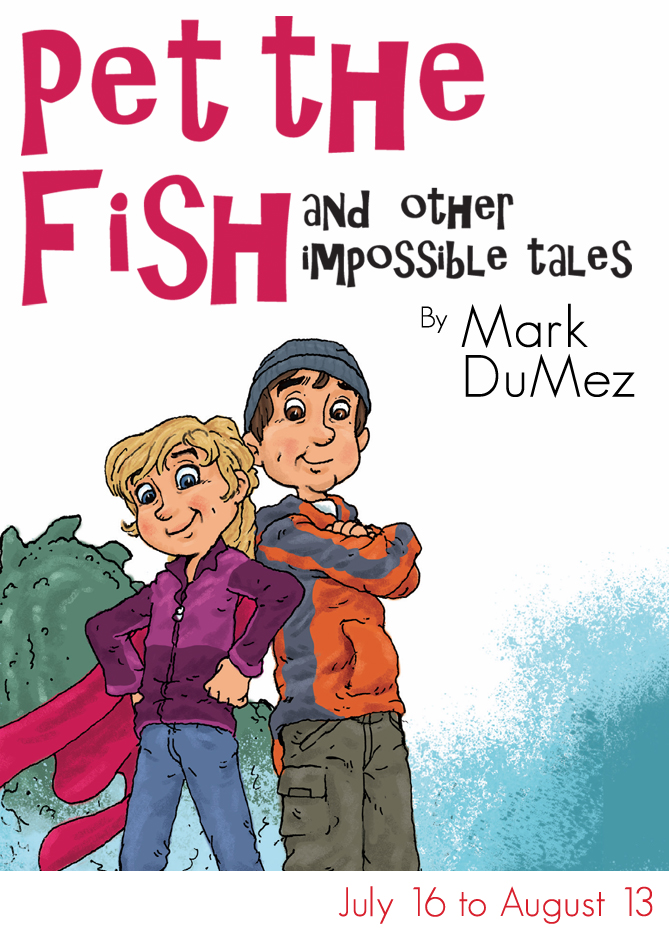 Get ready to dream big with Pet the Fish and Other Impossible Tales
Pet the Fish and Other Impossible Tales is a hero's tale for kids, an imaginative, exciting fantasy adventure for children coming to life on the Chemainus Theatre Festival stage again this summer.
Last seen on the Chemainus Theatre stage in 2004, it was written by Chemainus Theatre Festival's Artistic Director Mark DuMez, who says it was inspired by a trip to a gift shop with his young daughter. Fascinated by a brightly coloured stained glass fish, she insisted with the enthusiastic wonder of a small child that she wanted to "pet the fish"! Ruminating on the day's shopping adventure inspired Mark to write this heartful tale of a child's gift to her mother; being able to return the dreams her mother lost in the process of becoming a grown-up.
Josephine, the heroine, sets out with her unwilling brother in tow, on a journey that magically transforms their lives. Their impossible tale takes them to a talking oyster, a riddling troll, and out to sea to catch the Big One.
Samantha Currie, who appeared as Josephine in the original production, is thrilled to be making her Chemainus Theatre Festival directorial debut with this production about losing dreams, finding them, and holding onto them. She brings a wealth of performance and directing experience to this show and is eager to share this story with "all the dreamers, tall and small".
Newcomers Lindsay Curl and John Han play Josephine and Jonathan, respectively. Stefano Giulianetti, previously seen at Chemainus Theatre Festival in Animal Tales and Munsch Ado About Nothing returns to play Poseidon.
Working with Samantha Currie on this production of Pet the Fish and Other Impossible Tales are: Set Designer Kevin McAllister, Costume Designer Kendra Cooper, Sound Designer Alexander Ferguson, Lighting Designer Nicole Lamb and Stage Manager Breanne Harmon.
You can now reserve your seats in advance for KidzPlays!
Recommended for ages 4 and up, Pet the Fish opens July 16th and runs until August 13th at the Chemainus Theatre Festival. Tickets are only $12 (including taxes) for all ages. Or buy a family pack—buy 3 get one free! Show days and times: Tuesday 2 pm, Wednesday, Thursday, Friday, and Saturday 11 am.
Book online or call the box office now to book your tickets! 1-800-565-7738