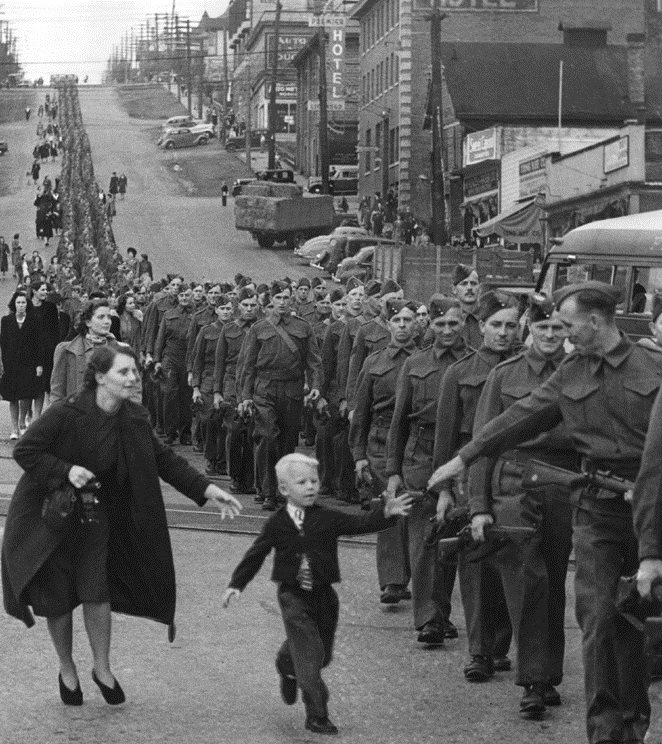 Colleen Winton, Director of Waiting for the Parade talks to us about the show
WWII resonates for us all; our lives echo with the experience of generations. This iconic photo, Wait for Me, Daddy, of The British Columbia regiment marching down Eighth Street in New Westminster was taken on October 1, 1940, a short distance from my family home. My mother and grandmother looked on. Featured in LIFE Magazine and blazed around the world, it became the most published Canadian image of the war.
I grew up with it. What strikes me is not just little "Whitey" Bernard, desperate to grasp his Daddy's hand in that column of men, but the column of women that follow alongside, heroes all, hanging on until that last moment, the moment that separates front line from home front. Their war is just beginning as well. This play echoes with my memories of years ago at Showcase Festival and these five amazing women whose performances resonate more deeply now. I share it with you in the hope that it honours the heroic women and men in your family.
About Colleen
Colleen returns to Chemainus after playing Golde in Fiddler on the Roof, Aunt Penniman in The Heiress, choreographer for Pirates of Penzance and Little Women. Other directing credits: Queen Lear (Western Gold), Merry Wives of Windsor (Graffiti Theatre), Taming of the Shrew (Showcase Festival), Little Shop of Horrors (TUTS). She is grateful to Jeremy, Mark, the Showcase Festival, her menfolk and all the bold women who surround this lovely play.