From February 9 to March 10, visit Chemainus Theatre Festival and see the winner of 8 2012 Tony Awards® including Best Musical.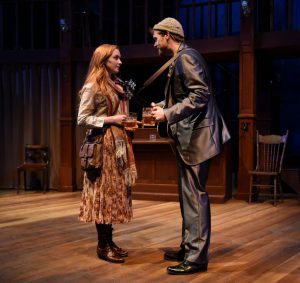 Emotionally captivating and theatrically breathtaking, Once draws you in from the very first note and never lets go. It's an unforgettable story about going for your dreams and the power of music to connect us all.
Once is a story built on chance meetings and the connections that can form through the people who come into our lives unexpectedly. As an audience member the experience begins from the second you walk into the theatre. Instead of taking your seats and perusing the program as usual, you connect with the show and the cast right away – the stage is built to extend out into the audience, breaking down that invisible fourth wall that is so often experienced in live theatre. There is a bar set up on stage, not merely a set piece of an Irish Pub, but a functional bar where audience members can purchase a pre-show beer or glass of wine to enjoy on stage while the cast comes out and has a music session! This is as close to an authentic, energetic Irish pub experience you will get this side of the Atlantic Ocean.
The audience sits down, already knowing from that first experience that this will be a special play. All the elements weave together through the lighting, the set, and the music bringing you into the lives of the characters and connecting your heart to them. Although the plot of Once takes place over a period of less than a week we see through the characters how those who we only know for a short time can change us forever. One of the beautiful things about this show is that the musicians are also the actors, always on stage, providing a rich, orchestral sound in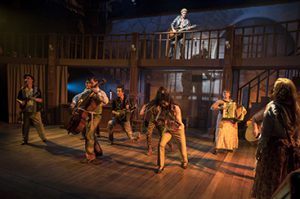 an informal, personal way. The songs are unbelievably beautiful and integral to the plot and the feeling of the show. The music is almost a character all its own, a blend classic, folk, rock, Eastern, and Irish music – a truly soul-filling sound.
Chemainus Theatre Festival is proud of Once and the reviews have been positive. New for 2018 in addition to a variety of buffet options, Fridays nights are now featuring a 'Table d'Hôte' experience, having a selection of plated entrees while still experiencing the buffet salad and dessert. Delicious food and you can choose what suits you best. We can't wait to welcome you in.
Helpful Links