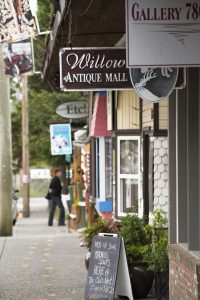 Chemainus is a highlight of many tourists' holidays on Vancouver Island. It has wonderful shopping, great food, historic homes, and colourful murals providing a beloved ambiance. With the arrival of Spring Break and sunny days it is easy to see there are so many things to do in our little town. To make your trip here extra memorable we want to share with you our top 5 things to do before or after a show at Chemainus Theatre:
If the weather is cooperating (or you have a good umbrella and boots) go for a walk and enjoy one (or two) of Chemainus' many parks, trails, beaches and lakes – Stocking Creek and Chemainus Lake boast beautiful walks through scenic West Coast forests, Kin Beach is a perfect place to have a picnic or sit on a bench and enjoy the panoramic views of local islands and sometimes Mt. Baker on a clear day.
Chemainus boasts many delicious eateries to satisfy all tastes. For a satisfying lunch try Chemainus Theatre supporters Owl's Nest or Willow Street, they are right across the street from each other and you are guaranteed yummy food while you eavesdrop on local gossip. If you are craving something more exotic try Odika Café for good food and great service. There are also great Thai, Japanese, bakeries, and pub-style options in town. Our biggest tip for any lunch in town – don't eat too much so you still have room for dinner at the incredible Playbill Dining Room right before your show.
Discover the history of Chemainus – check out the museum next to the visitor information centre to learn about what makes Chemainus special, walk amongst the murals to see the history larger-than-life, or take a horse-drawn wagon tour for a laid-back, delightful experience.
It's easy to treat yourself in Chemainus. Locals are lucky to live here and often comment on how we don't have far to go for great boutique shopping. Get a new outfit or a quality pair of shoes at a store like 'Beyond the Usual' or Kinney Clothing. You can find opulent handmade soaps, beautiful gifts, and maybe even a spa treatment. If you are in the market for antiques you will definitely be able to find something special in Chemainus.
Chemainus is a unique town, full of unique experiences. Many visitors who have been here before have enjoyed listening to live music in Waterwheel Park, right in the middle of town. Even if there isn't a concert during your visit grab a hot chocolate or ice cream cone (depending on the time of year) and walk the park's newly installed labyrinth for a meditative experience.
We hope you enjoy your next visit to Chemainus. We encourage you to take your time and stay a while to soak up that slow, small-town charm. The Best Western Plus offers great deals on your next stay – you can even book when you call the Chemainus Theatre Festival box office to get a great package deal. Drop in and say hello to the friendly folks at the Chemainus Visitor Centre while you are here too – they can give you more information about self-guided walking tours, dining and shopping option, local parks and more!