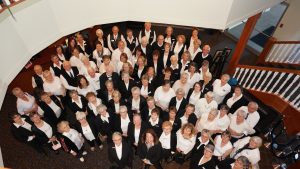 Celebrating the value of volunteering
Welcome to the Chemainus Theatre!  Thinking about volunteering?  Volunteers help us deliver an outstanding professional theatre experience to our patrons. The energy, passion and commitment of our volunteers aid in the success of our productions and our reputation. Come join our team and become an ambassador for the arts! Please note all volunteer applicants are interviewed before approval. Thank you for your application.
This is what some of our current longstanding volunteers have to say . . .
We need our theatre so by volunteering, I feel that I am helping to keep the doors open. I love meeting all the patrons as well as the volunteers.  Best job ever! – Irene
I enjoy the people, and seeing the shows. I like to help promote the arts.  This is close to where I live.  The meals are wonderful! – Beryl
First of all, the wonderful volunteer appreciation dinner & Theatre performances. Secondly the amazing staff, positive atmosphere, wonderful perks, free tickets, 2 for 1 tickets etc.  Always thanked for volunteering.  This is the best volunteer job ever! – Iris
Volunteer Responsibilities
As a Volunteer for the Chemainus Theatre Festival, I agree to the following:
I will work to the best of my abilities in the tasks that have been assigned to me;
I will represent the Chemainus Theatre Festival in a positive way in the community;
I will arrive on time for my shift;
I will dress appropriately, as outlined in the Volunteer Resource and Training Manual, in order to maintain the positive image of the Chemainus Theatre Festival;
At any time, if I am unable to fulfill my duties, I will use the shift change request on-line to find my own replacement. In case of an emergency, I will contact the Volunteer Coordinator as soon as possible.
The Volunteer Coordinator has the right to terminate my involvement with the Chemainus Theatre Festival at any time if I am unable to perform my duties as set out in the Volunteer Job Description.
Confidentiality
While volunteering at the Chemainus Theatre Festival, you must hold in confidence all matters that come to your attention in the line of duty, including material from or about our patrons and matters regarding other volunteers. Please respect the privacy of others and use all information gained at the Chemainus Theatre Festival in a responsible manner.
Volunteer Registration Form
Fields marked with an asterisk (*) are required.
We are currently not accepting new volunteer applications. Please check back in the future.