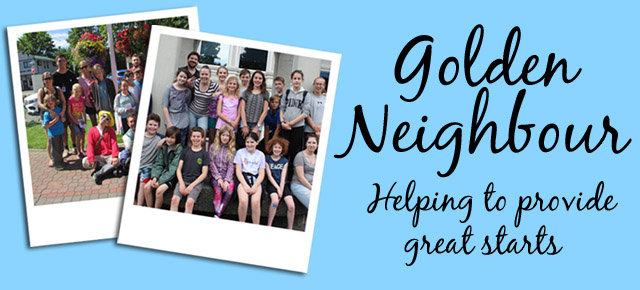 Golden Neighbour
Dear Friends,
Strong starts create great art. This is true in rehearsal, when we first gather to pour over the text, in training and in exposure to the arts.
At the Chemainus Theatre Festival, we offer kids opportunities to advance the arts and build community, which are part of our core goals and values. We are a place of curiosity, exploration and expression. Through Kidzplay, thousands of children watch plays tailored for them and performed by emerging professionals. Through our expanding theatre camps, the new after-school Academy and Island Savings Discover Theatre Workshops taught across Vancouver Island, students explore their creativity and build self-confidence. On the Mainstage, emerging artists perform in every show – the leaders of tomorrow's creative economy.
Long-time friend of the theatre and Vancouver Islander, Sara-Jeanne Hosie, who now works across Canada as a director and performer wrote a bit about Chemainus Theatre's impact on her work as a young professional:
Chemainus Festival Theatre gave me some of my first, and most cherished, professional experiences. As a young actor in Godspell, I learned the art of clown and the importance of play under the direction of Joel Morello. As a budding Director, I studied Jeremy Tow's gift of storytelling, relationship building and seamless transitions. I grew from watching the performances of other young actors, like Mark DuMez, in Mass Appeal. And I still apply, to this day, the lessons I learned as a young artist in Chemainus. – Sara-Jeanne Hosie.
The Golden Neighbour program continues to create opportunities at every level of engagement. A $250 donation provides tuition to a child for theatre camp, or tickets for a group, who would otherwise not have the means to enjoy a Kidzplay show. This really is a great program that continues to allow access for all. We thank you for your support in advancing the arts, building community and enriching life on Vancouver Island.
Sincerely,
Mark DuMez
Artistic Director
P.S. Thanks to your support 2019 tickets brought access to some of the following groups: Lanztville Boys and Girls Club, Forest Park Boys and Girls Club, Boys and Girls Cental Vancouver Island – Child Youth Family Services, Clements Centre Duncan.
For more information about our Golden Neighbour Program click the contact us botton – Support for the Community or contact our Development Coordinator at 250.246.9800 ext. 724, or members@chemainustheatre.ca
Golden Neighbour Recipients