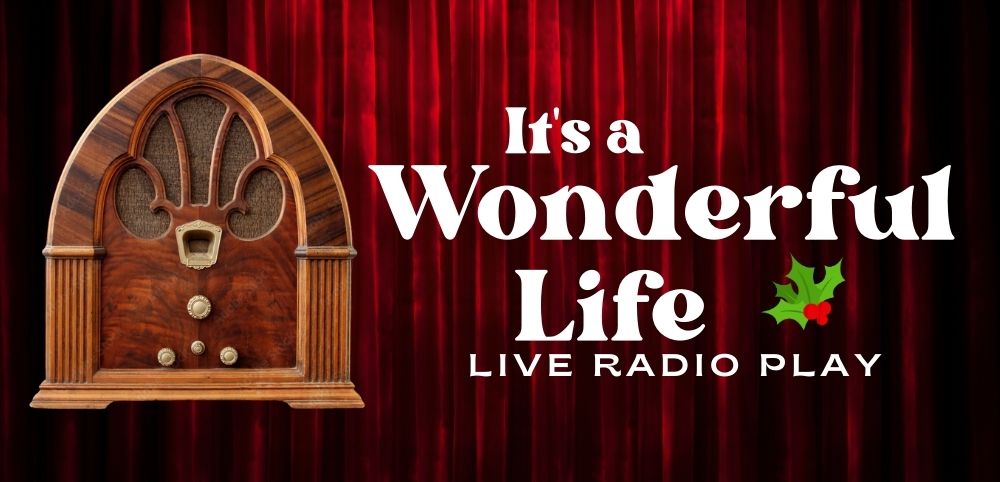 IT'S A WONDERFUL LIFE  |  LIVE RADIO PLAY
Nov 17 – Dec 23
Based on the beloved holiday movie with a clever twist: the story is staged as a live radio broadcast. Actors portray numerous characters and take on sound effects. George Bailey, a generous and well-meaning man, has become too downcast and tired to continue living. It will take help from a lovable angel to show George what life would be like if he wasn't born for George to have a change of heart and understand the true spirit of the holidays.
This beloved holiday classic comes to captivating life as a live 1940s radio broadcast. With the help of an ensemble that brings a few dozen characters to the stage, the story of idealistic George Bailey unfolds as he considers ending his life one fateful Christmas Eve. A lovable angel helps George have a change of heart and understand the true spirit of the holidays.

Live radio plays offer a unique and immersive theatrical experience that transports listeners to a time when families gathered around the radio for entertainment. With their reliance on sound effects and voice acting, these productions engage the audience's imagination and create a rich audio tapestry, captivating audiences with their timeless charm and storytelling prowess.

The basic premise is that the actors you see on stage are "radio actors" who portray the characters in each story using their voice and facial expressions. It is similar to a staged reading where the actors have the scripts in front of them, for reference, but still deliver fully nuanced performances. They stand at podiums in front of microphones, rather than moving around on a set. They dress in costumes to represent each character. When an actor is playing more than one character, they will make slight changes to their appearance (in addition to altering their voice and physicality) to indicate the new persona. This can be as simple as removing glasses, switching coats, or donning a hat.

We also have a foley artist who create live sound effects right before your eyes. They are wizards who turn household objects like bubble wrap, cellophane, breakfast cereal, and shoes into roaring fires, footsteps in the snow, and dancing feet.

It's a Wonderful Life is based on the story "The Greatest Gift" by Philip Van Doren Stern

"One of the best holiday shows around. This is a fresh and inventive way of reconnecting with a classic story of love and redemption."

Mary Houlihan, Chicago Sun-Times

"Frank Capra's It's a Wonderful Life is a classic that'll never to be surpassed by any remake. But what this play has to sacrifice, it makes up for with its original twist, its clever use of props, entertaining voices and a love story that you want to witness over and over again."

Teresa Errico, Fairfield County Weekly (Connecticut)
It's A Wonderful Life is based on the story, The Greatest Gift by Philip Van Doren Stern from the screenplay by Frances Goodrich, Albert Hackett, Frank Capra, and Jo Swerling.
It's A Wonderful Life, A Live Radio Play is presented by special arrangement with Dramatists Play Service, Inc., New York.