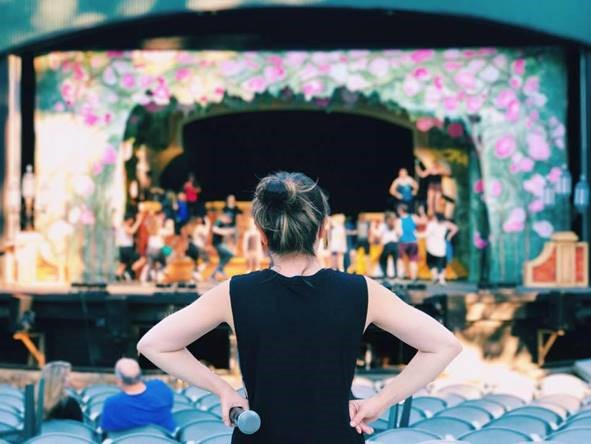 How would you describe what you do?
My job as a choreographer is to create all of the movement and dance that you see in a show. I work closely with the director to create work that supports the story we are telling.
What's a typical work week like?
During rehearsals, we work six days a week – eight and a half hours a day. Once we get closer to show time, we start working longer days at the theatre in order to add all of the technical elements of the show like the costumes, lights and the set.
How did you get started?
My mom put me into dance when I was a little girl and I loved it. When I was 13, my musical theatre teacher cast me in a show and I fell in love with musical theatre. I was always interested in the choreography aspect of the show and after high school started to assist local choreographers on different productions. Eventually, I was offered my own show and have been working professionally ever since.
What is most challenging about what you do?
I think the most challenging aspect of my job is taking the music and lyrics and converting them into movement that supports the story. My job is to make every performer look great on stage so working within their skill set to create movement and dancing that they can do well and looks great.
Can you talk a little bit about the different dance styles in this production?
This show is filled with a mix of styles! You are going to see a lot of classic jazz, street jazz, ballroom and of course, Disco.
When did you begin choreographing? Tell us about your first experience.
I started choreographing when I was 15 years old for students at the dance school I attended. Since then, I've gone on to choreograph many competition pieces for different dance groups on the lower mainland and children's theatre. My first professional choreography job was with Theatre Under the Stars and their production of Mary Poppins. It was a huge production with over 30 members in the cast. It was both challenging and exciting.
What is your process like? Are you driven by the music first or a specific concept?
I think it is a bit of both. When I am first starting to create choreography, I often sit down and listen to the music and write down the things I am imagining. I work with the script and the director to create and really understand the story and how we are going to tell it, and then create movement that aligns with the story and the vision for the show. I then get on my feet and start physically working out what each dance step will be and where all of the performers will be standing on stage.
What is your favorite genre to choreograph?
I really enjoy choreographing classic tap pieces. It's fun to come up with different rhythms that add to the music.
Do you have a favorite routine in this show?
There are so many great pieces in the show. I am actually a really big ABBA fan so it's been a blast getting to listen to their music every day. If I had to pick, Voulez Vous is one of my favourites.
Is there anything else you'd like to add?
Being here in Chemanius and getting to create theatre in such a beautiful location is very special. I hope that audiences enjoy Mamma Mia as much as we've enjoyed creating it.