There's something special for everyone in the Gallery Gift Shop.  A huge selection of beautiful items and a pleasant shopping experience.  Our staff are here to help! Here are just a few of the Christmas gift ideas we have to offer.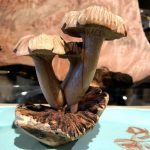 The Gallery Gift Shop showcases a group of B.C. artists that present a diverse collection of works. You will discover a variety of original art and fine crafts: pottery, paintings, prints, jewelry, clothing, glass, wood, books and sculptures.
With over 100 artisans to choose from, a trip to The Gallery is worthwhile. You will find such great gifts, you will be tempted to keep them for yourself!
Gallery Hours
Monday & Tuesday          
9:30 – 4:30
Wednesday & Thursday 
9:30 – 7:30
Friday
9:30 – 8:00
Saturday   
9:30 – 8:00
Sunday     
11:00 – 4:00 
On Sundays we will stay open after show for patrons, but will close to the public at 4:00 pm.
Holiday Hours
We are open regular hours with the following exceptions:
Monday December 24th – 9:30-2:00 pm
Tuesday December 25th – Closed
Wednesday December 26th – Closed
Monday December 31st – Closed
The Gallery Gift Shop will be closed from December 31st through to January 13th for maintenance and inventory.
And please Note: We will be closed every Sunday from January 13th through to February 17th.
Contact Us
250-246-9800 ext. 717
gallery@chemainustheatre.ca