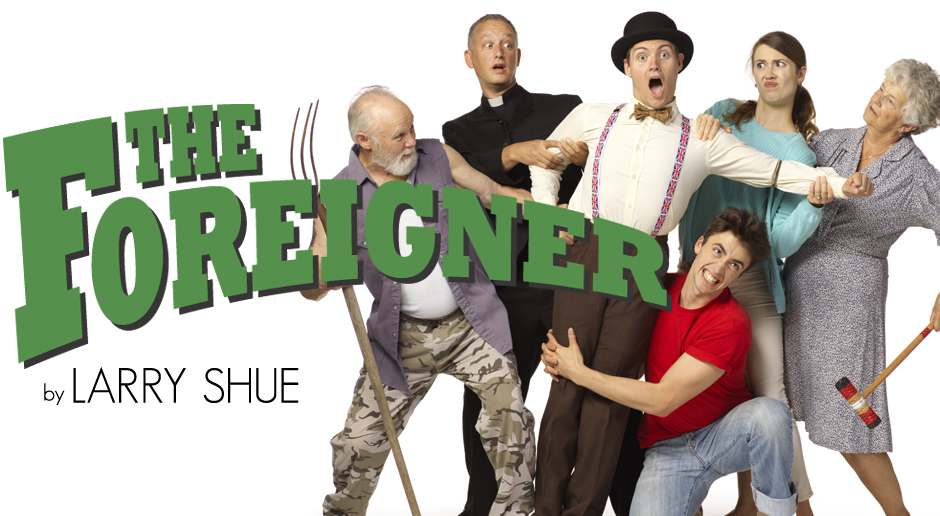 APR 18 – MAY 9
AWARD WINNING COMEDY
Ages 12+
A painfully shy Englishman named Charlie takes a room at Betty Meeks' Fishing Lodge and pretends he can't speak a word of English to avoid his pathological fear of social interactions. This new role as "foreigner" makes him the unwitting confidante for the other residents and visitors when Charlie overhears more than he is meant to – with hilarious results!
Charlie finds himself in predicaments that are sidesplittingly funny, but which also give us food for thought, as they remind us that our all-too-human foibles, follies, and frailties can make us endearing as well as initiate inspiring personal transformations.
The foundation for Larry Shue's The Foreigner is simple and charming in a way that endears it to even those who may not typically enjoy a comedy. Sergeant "Froggy" LeSueur has arranged a three-day mini vacation at the humble Betty Meeks' Fishing Lodge in Tilghman County, Georgia, for his painfully shy English friend, Charlie Baker. Froggy intends to offer a respite to his companion from tending to his dying wife—who has not been as morally dedicated to their marriage as innocent and awkward Charlie. Things go awry from the moment they arrive. The combination of stressful timing, Charlie's extreme social phobia, and his belief that he is utterly boring and lacking personality leads the faithful Froggy to concoct a desperate plan to get Charlie to stay. Froggy explains to those in the lodge that Charlie is a foreigner who speaks absolutely zero English. And from here, comedy ensues. Instead of leaving the socially awkward Charlie alone, as the good intentioned Froggy assumed, the lodge's occupants make Charlie their confidant—with hilarious results. This comedy offers the kind of genuine amusement that absurd silliness can provide when portrayed well. Charlie progresses from an awkward wallflower lacking the confidence to a hero who spoils the evil plots of the villains. Betty can be found frequently yelling loudly at her "foreigner" guest to make her English understood. There is also an unwanted pregnancy, a conspiracy to scam the lodge from widow Betty Meeks, the grand issue of an inheritance, and to mix it all up—a racist plot to overtake America courtesy of the Klu Klux Klan.
Shue has packed a lot of plot into his two-act play that you won't want to miss out on! Sit back, relax, and be entertained as Charlie finds himself in increasingly complicated predicaments, and desperately "learns English" in order to stop the evil villains in this plot. Shue's play is not only side-splittingly funny but gives us food for thought as it reminds us that our all-too-human foibles, follies, and frailties can make us endearing as well as initiate inspiring personal transformations. The Foreigner will be on our stage April 18 – May 9.
positively antic .... (Shue) has raided comedy's storehouse....
Bergen Record