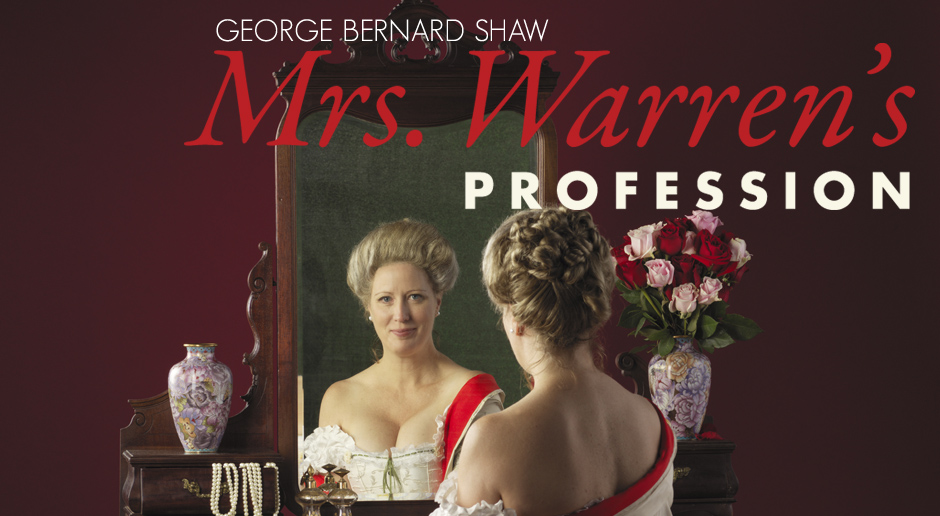 SEP 13 – OCT 5
A SCANDALOUS CLASSIC
Ages 12+  Mature content warning
Mrs. Warren manages a flourishing business, funding her daughter Vivie's education in the finest boarding schools and universities, while keeping her profession as a Madam a secret. When Vivie, a "modern woman," comes home to acquaint herself with her mother for the first time in her life, she challenges her mother in a two-woman battle of ideals between upper-class expectations and lower-class realities.
In what is one of George Bernard Shaw's most controversial plays, Mrs. Warren must attempt to reconcile with her disapproving daughter in a story sprinkled generously with sharp comedy and biting social commentary that remains relevant today.
Director's Notes
"What's a woman worth?"
Shaw doesn't mince words. For many people when you mention this play what they think of first is the morality and legality of someone earning a living by providing sexual services. Certainly, that is the social commentary that Shaw was provoking in his initial audiences. For me, though, this play also highlights the ever-constant struggle in our generational divides.
"…people who are dissatisfied with their own bringing-up generally think that the world would be all right if everybody were to be brought up quite differently."
Young people have always fought against an older generation that they often feel cannot see that the world can and should be different – but at some point that young generation ages and, reluctantly or unknowingly, becomes what they fought against.
Things have changed in myriad ways since Mrs. Warren's Profession was first published in 1898 and was immediately banned from public performance. However, despite best efforts, each generation in their own way trying as hard as the last, over 120 years later we somehow find ourselves still debating the value of women – what our bodies are worth, what our minds are worth, and who gets to decide when and how they have value.
And so here we are, with a very old play whose themes should not feel as contemporary as they do.
Throughout the process of us creating this play for you, I have been asking myself, and now I will ask you: What if we, as humans, brought together the spirit, vigor, and vision of our young people with the diligence, wisdom, and tenacity of our elders? What then, might we be capable of? Could we eradicate the reasons that question persists?
Thank you for choosing to be at theatre – I hope very much that you are moved by this production.
Heather Cant
'Mrs. Warren's Profession' still has power to provoke.
The Seattle Times