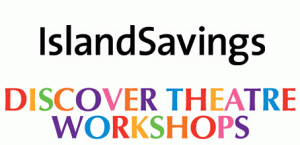 Theatre Goes to School
Island Savings and Chemainus Theatre Festival are thrilled to continue to offer free drama workshops to schools on Vancouver Island!  Due to the overwhelming popularity of The Island Savings Discover Theatre Workshops, funded through Island Savings' GIFT program, the partnership between Chemainus Theatre Festival and Island Savings has been extended for another year.
The Island Savings Discover Theatre Workshops are one hour introductory drama workshops. These workshops focus on building self-esteem and self-expression through creative play and the collaborative process. In addition the students learn valuable interpersonal skills.
Island Savings has pledged $10,000 each year since the program's conception allowing Chemainus Theatre Festival to take drama to the schools with no charge for materials, supplies or professional fees, a very welcome gift to schools struggling for arts funding.
This partnership has been running strong since 2011 with approximately 230 workshops taught to over 5,500 students on Vancouver Island. Here's to another great year!
Bring a Workshop to Your School
Workshops are offered to Grade 4 classes (split classes welcome) January to June
Workshops are offered to Grade 10 classes (multi-grade classes permitted September to December)
If you are interested in a workshop for your school or would like more information please contact our Education Coordinator:
250.245.9800 x728
Support Us
Interested in how you can support Education Programs at the Chemainus Theatre Festival? Please contact:
Development Coordinator
members@chemainustheatre.ca
or 250.246.9800 ext. 726