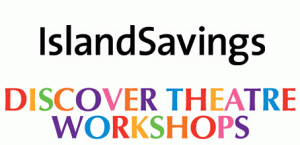 Celebrating 10 Years of Partnership
John Han and Sarah Carlé enjoyed kicking off the Island Savings Discover Theatre Workshops this year with Willway Elementary. What a great way to celebrate an amazing 10-year partnership with Island Savings, a Division of First West Credit Union.
In these workshops, we introduce theatre with some basic storytelling skills and a "one-word story". This exercise focuses on only using our words to create a story as a group. Then it's time to get on our feet! We guide the students to create tableaus, using only their physicality to tell a story. All of these activities encourage participation, commitment and imagination.
Chemainus Theatre Festival would like to thank Island Savings for their continued commitment to our education programs and sponsorships. It is a joy to be able to deliver these workshops to our local schools with their sponsorship and gives students a chance to work on their feet. It's wonderful to see them having fun and learning and developing new story-telling skills that they can bring home to share with their families and friends. We can't wait to get back to it and continue to discover theatre!
   
Investing in Students
Thanks to the generous funding provided by Island Savings, Chemainus Theatre Festival is able to offer free theatre workshops to grade 4 students across Vancouver Island. However, this opportunity is bigger than a single class—it is an investment in students.
Theatre and Drama is a powerful tool that can be used to build self-confidence, inspire imagination, improve communication, and express emotions. Through this art form, students learn about the world around them, as well as themselves. When students are exposed to Theatre, it can have a positive and long-lasting impact on their development.
Through the partnership of Island Savings and Chemainus Theatre Festival, professional actors are able to bring the opportunity of Theatre and Drama directly to the classroom. Students are engaged in storytelling activities, improv, and creative games. By the end of class, students are excited about their potential and how their limitless imaginations can impact the world.
Thank you Island Savings for providing this opportunity to Vancouver Island students and investing in its communities.
This partnership has been running strong since 2011 with approximately 230 workshops taught to over 5,500 students on Vancouver Island. Here's to another great year!
Bring a Workshop to Your School
Workshops are offered to Grade 4 classes (split classes welcome) January to June
Workshops are offered to Grade 10 classes (multi-grade classes permitted September to December)
If you are interested in a workshop for your school or would like more information please contact our Education Coordinator:
250.245.9800 x728
Support Us
Interested in how you can support Education Programs at the Chemainus Theatre Festival? Please contact:
Development Coordinator
members@chemainustheatre.ca
or 250.246.9800 ext. 726