Something remarkable is happening.
We are excited to share that the Hilton family of Chemainus has pledged $50,000 toward a matched funding campaign benefitting the Chemainus Theatre Crisis Relief Fund. Dr. Hilton generously made this pledge "out of concern about the implications of the current COVID-19 status on our beloved Chemainus Theatre."
The doors of Chemainus Theatre have been closed by the global pandemic and we have stepped into an extended intermission. We don't know when it will be safe to gather again, but we do know that our story does not end here. We are a theatre of hope, celebration, and community.
The Chemainus Theatre has survived and grown stronger through each challenge it's faced over 28 seasons; enduring epic snowstorms, wild windstorms, and economic downturns. The reason we've survived is you – the dedicated ring of supporters that deeply value this living breathing art form which brings us together time and time again. Coupled with our resilient artists, volunteers, and staff, we've collectively willed Chemainus Theatre through three decades of musicals, comedies, and dramas that explore and nourish the human spirit.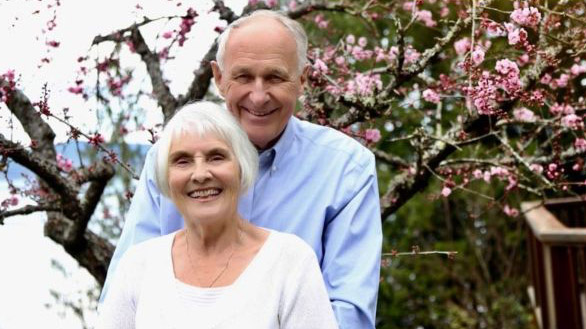 " We are all here to help each other."
– Dr. Donald Hilton and Mrs. Joyce Hilton
Matching up to $50,000!
As we help one other through this unprecedented time, we ask you to join the Hilton family and help preserve the Chemainus Theatre through this crisis. Each dollar donated to the Crisis Relief Fund will be matched by the Hiltons up to a total of $50,000. If fully matched, $100,000 would meaningfully help bridge this uncertain time.
You can support this campaign via the two buttons below. You can either make a donation via credit card or by donating back any unused tickets from the 2020 season.
We wish you health and safety, and someday, we will gather again under the Chemainus Theatre dome to laugh, cry, sing, and share a great piece of theatre.
This extended intermission will give way to Chemainus Theatre's next act. Watch for the lobby lights to flicker. Soon it will be time to return to your seats.
Donate Today!