Interested in a special order from past exhibits? Please contact the Gallery at 250-246-9806 ext. 717 to find out the possibilities.

Richard Brodeur April 6 – May 14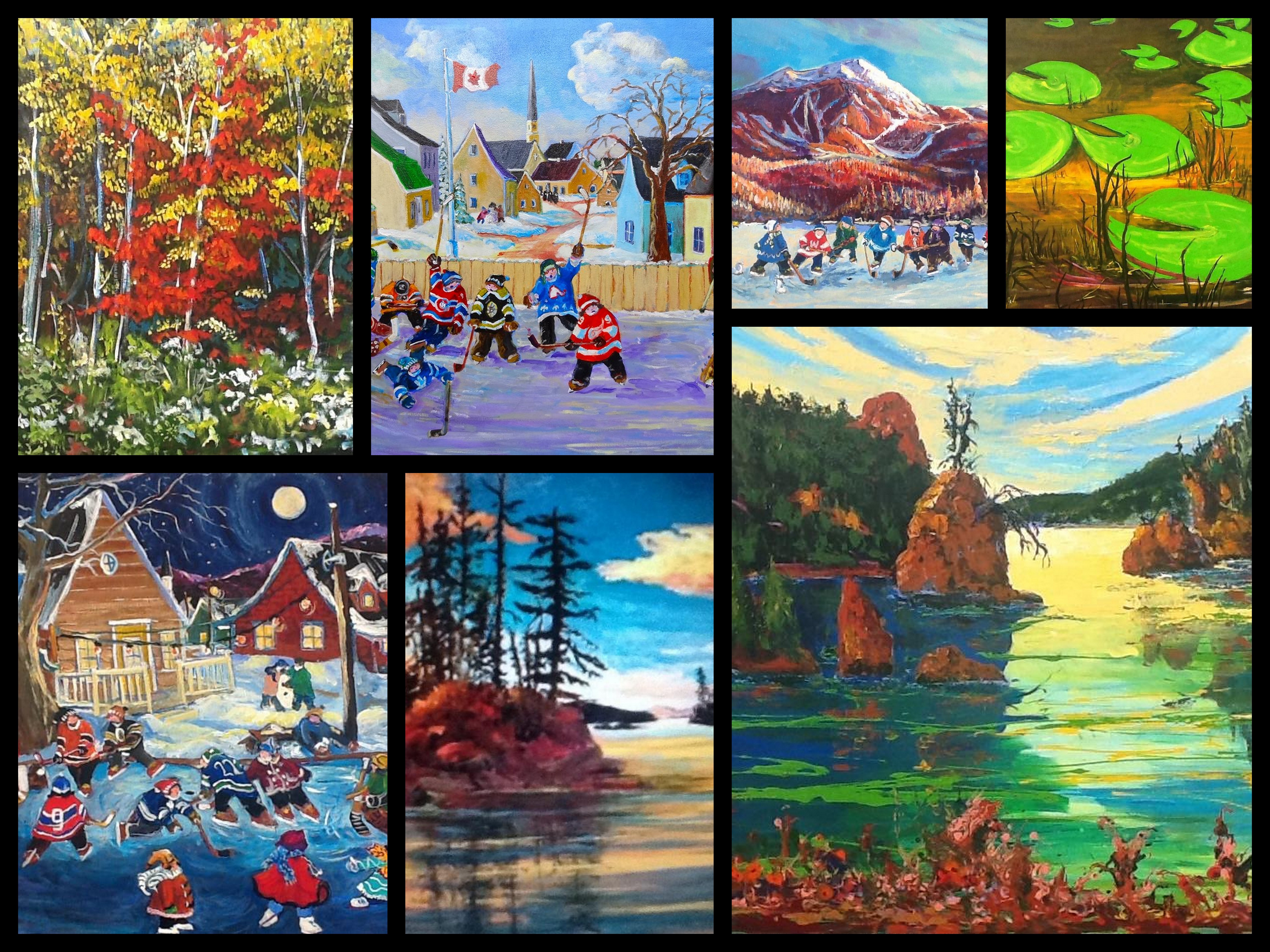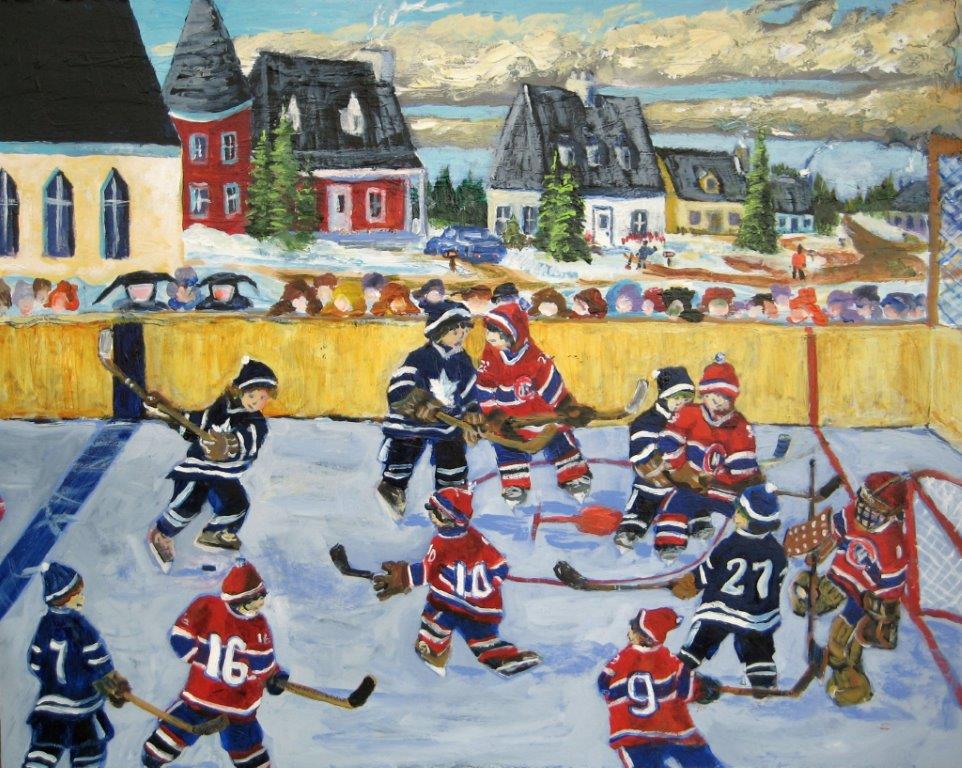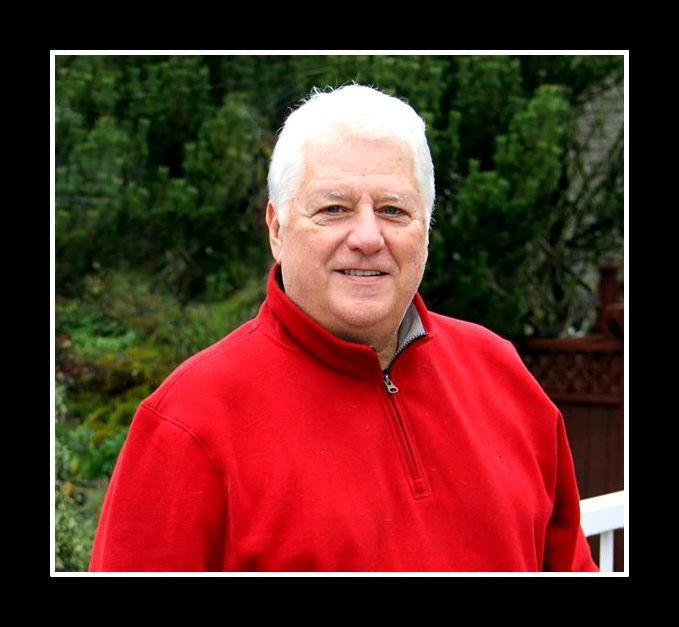 About Richard Brodeur
Richard Brodeur is a former NHL goalie who played seven seasons in a Canuck uniform. He earned his spot in Canucks' lore in 1982, when he backstopped the team to its first Stanley Cup final performance and was given the moniker King Richard.
The native of Longueuil, Quebec retired from hockey in 1987. According to Vancouver hockey fans, Brodeur is one of the Top Ten Canucks in the club's 40-year history.
Richard Brodeur, the artist, utilizes oils, acrylics, and watercolours to create abstract paintings as well as images of 'Canadiana'– fishing villages in Haida Gwaii, lakes and orchards of the Okanagan, and ports and coves of Nova Scotia.
His most popular series is a collection of paintings titled 'My Childhood Hockey Memories" – depictions of youngsters playing hockey on frozen outdoor ponds.
As an NHLer, Brodeur understood that his on-ice brethren would likely mock his artistic endeavours. Somehow, the macho locker room culture didn't quite gel with the fine arts.
"Painting has always been a passion of mine," says Brodeur. "When I was playing with the Canucks I was painting at home and brought a sketch pad with me on the road. But it's not something I mentioned to my teammates. You're always considered a flake as a goalie anyways, and then if you walk in the locker room and tell them you're an artist they are going to laugh."
Now Brodeur paints four to eight hours a day.
"I have had two passions in my life," he says. "One was playing hockey and the other one was my art. And I'm a lucky guy because I have been able to do both."
King Richard's passion for art is no longer a secret. And this time no one is laughing.
Pattiann Withapea April 6 – May 14


About Pattiann Withapea
Pattiann Withapea is a Member of the Federation of Canadian artists who specializes in Custom Painted Pet Portraits. A self-taught artist with a whimsical style, Pattiann has been painting for just over three years and is quickly making a name for herself. She has painted for Eric Clapton, Eric Carmen, the Willie Nelson Family, the Glen Campbell Family and many other celebrities in the music and entertainment industry. Michael McDonald of the Doobie Brothers is a big fan of Pattiann's art. Michael's message to her in August of 2015 reads, "Pattiann, Love your portraits! I really think it's a noble endeavor to immortalize our furry friends and you do it beautifully. "
In May of 2015, her painting of, " Atom the Pug", took first place in Art Vancouver's International Online Competition. Her distinctive and instantly recognizable style has garnered plenty of attention and caught the eye of collectors the world over. To date, she has sold her works on six of the seven continents. Pattiann laughingly says that she is, "still holding out hope for Antarctica".
Pattiann does not limit her artistry to portraits of pets however. She has attracted a large audience with her unique portrayals of Music Legends and is currently working on diverse collections that capture the whimsy and incorporate imagery found in nature. These new works will be the anchor pieces for her exhibitions in 2017.
Luke Raffin – February 17 to March 25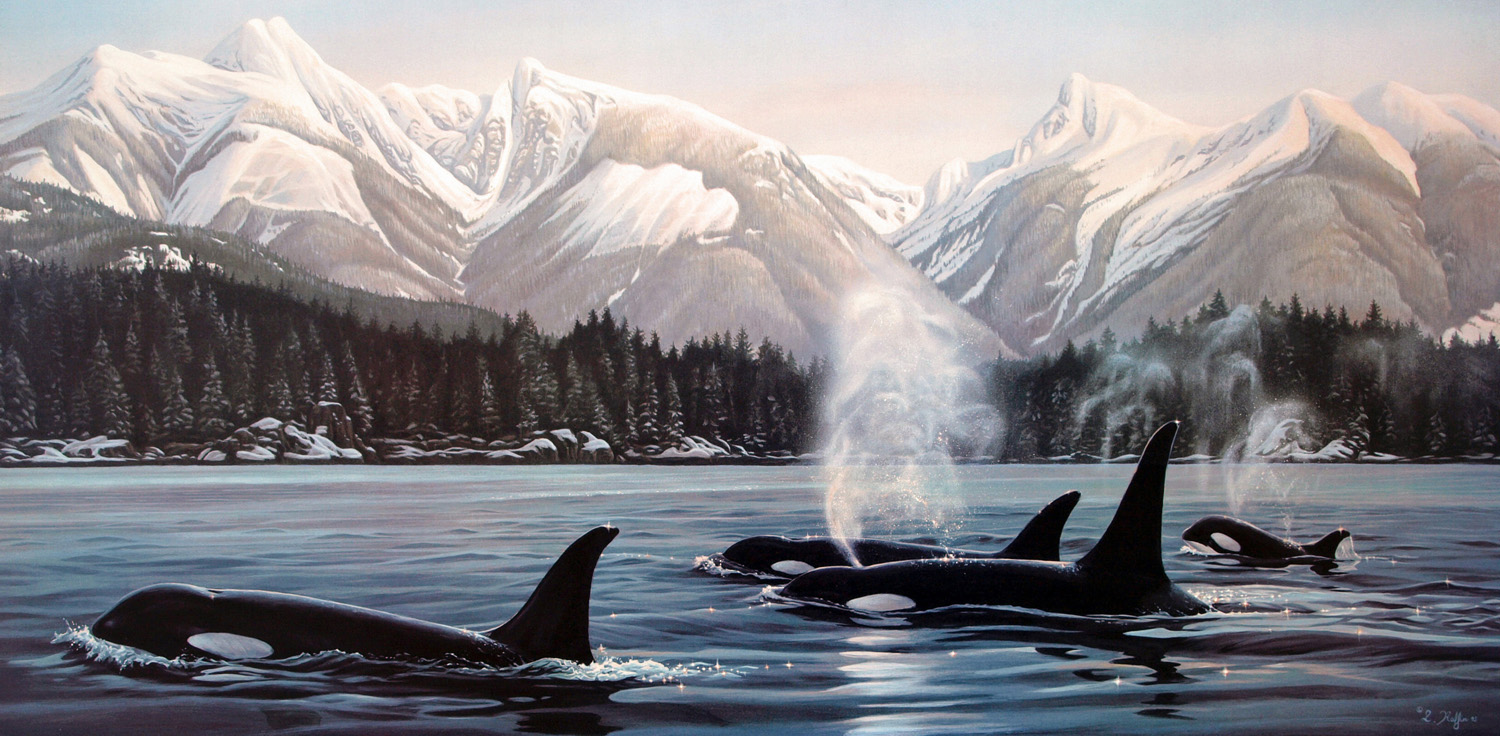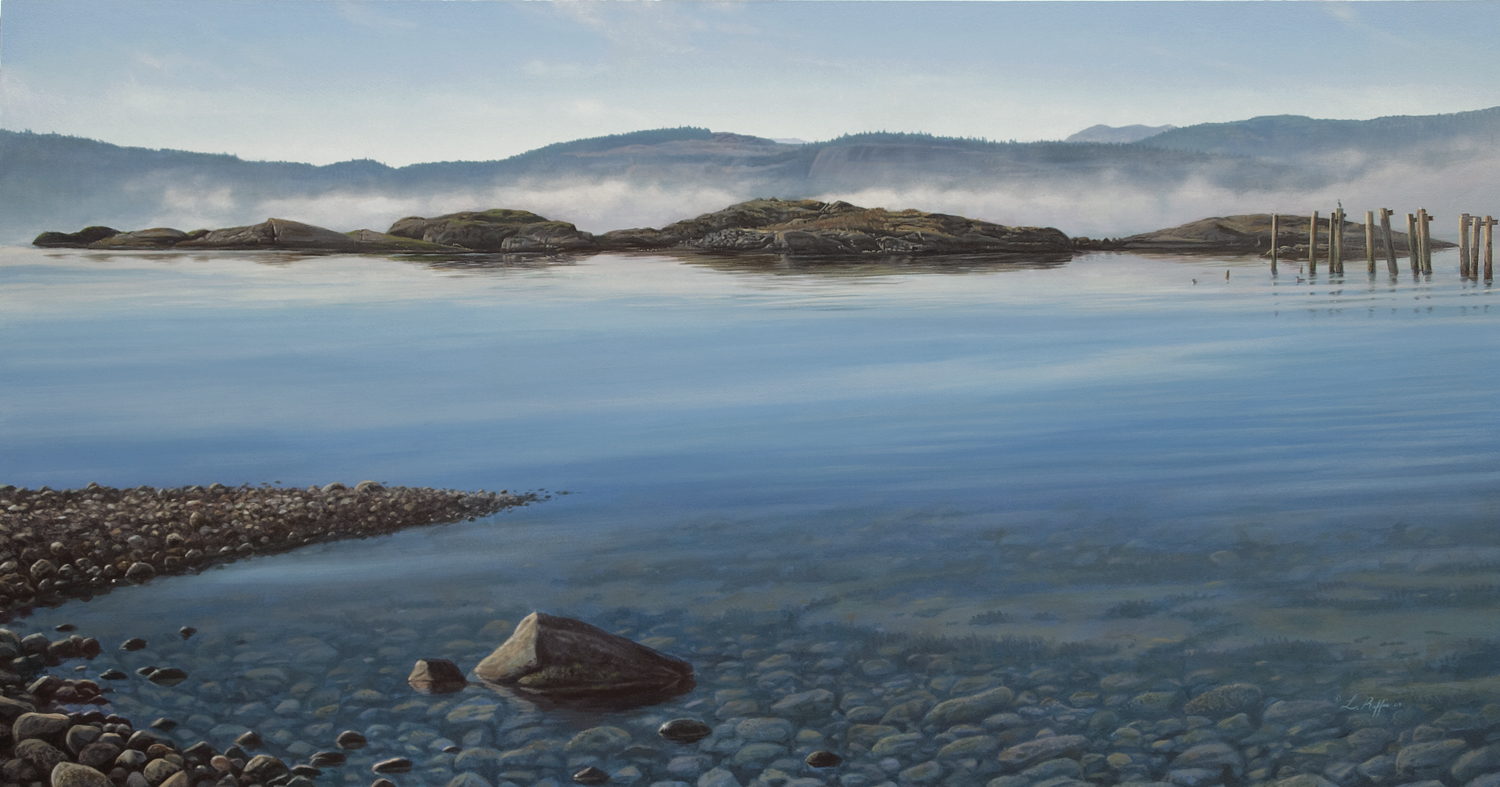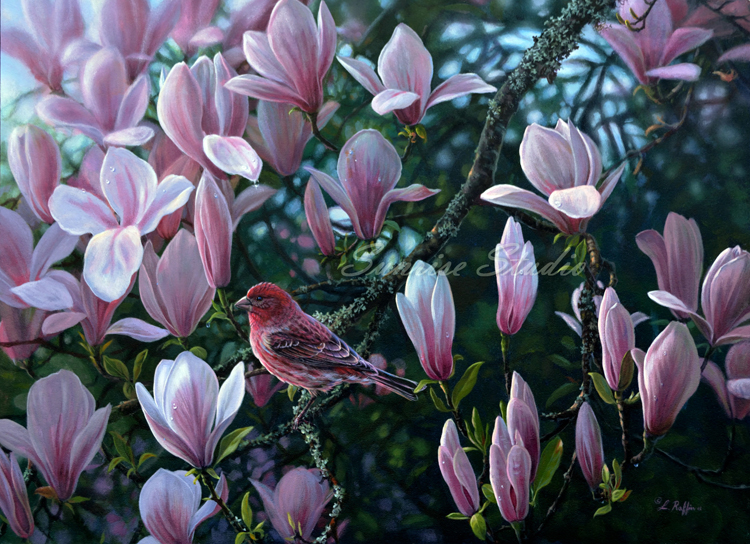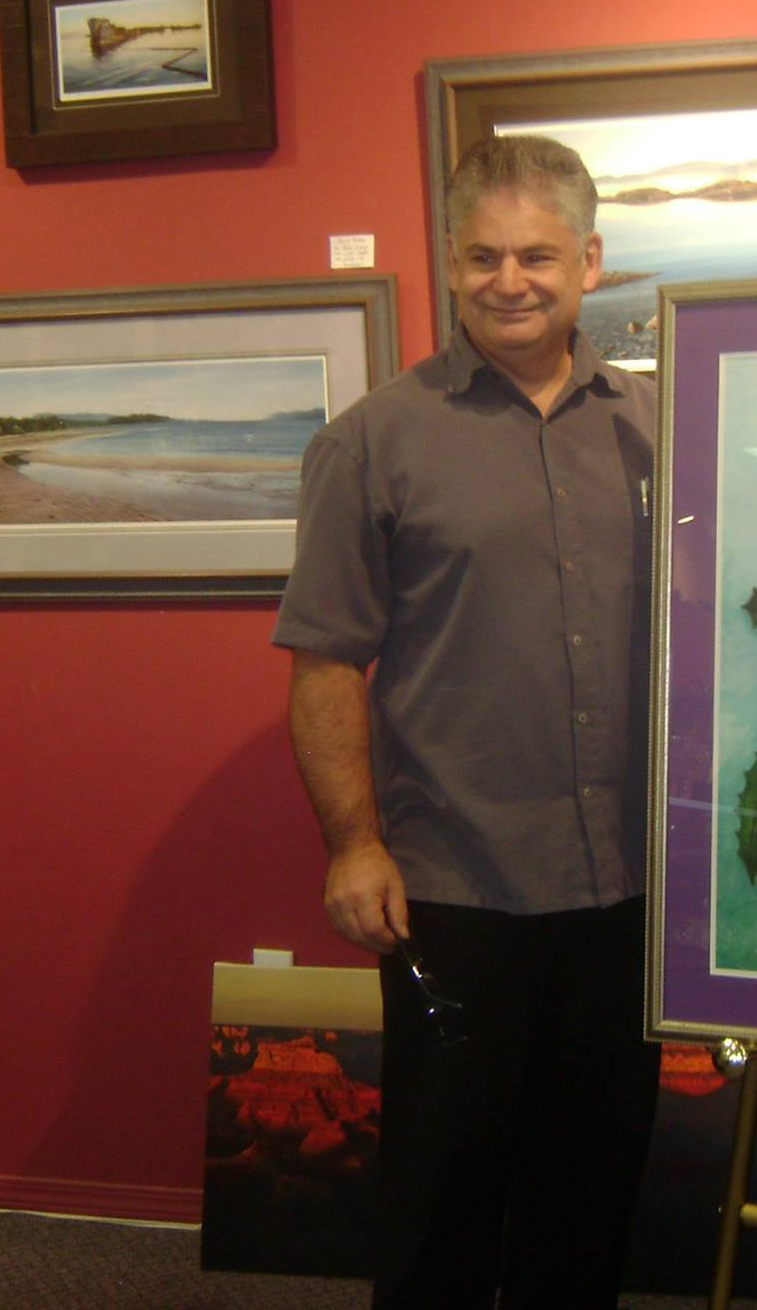 About Luke Raffin
"Drawing and painting were part of my life since early childhood" recalls artist Luke Raffin, and his love of nature helped ensure that he would become best known for his paintings of birds.
Born in northern Italy in 1955, Luke and his family moved to Canada when he was eleven.  Luke's artistry began with pencil sketches and oil painting and later, when he attended the Ontario College of Art, he was introduced to egg tempera and acrylic.
Luke lives in Powell River, B.C. with his wife and three canine companions.  There he continues to draw from the natural beauty and wildlife in the area to keep him inspired.  The excitement of starting a new piece,  the joy in every step of the process, and continually challenging himself are what keep him creating.
Awards:
Ducks Unlimited artist of the year for Canada 1990
Ducks Unlimited Bronze Teal Award
1993 Chinook Conservation Stamp
2000 Artist of the year  for B.C. Wildlife Federation
2000 People's choice award  , B.C. Wildlife Federation
2009 Pacific Salmon Conservation Stamp
Luke's Website
Wendy Oppelt – November 18 to December 31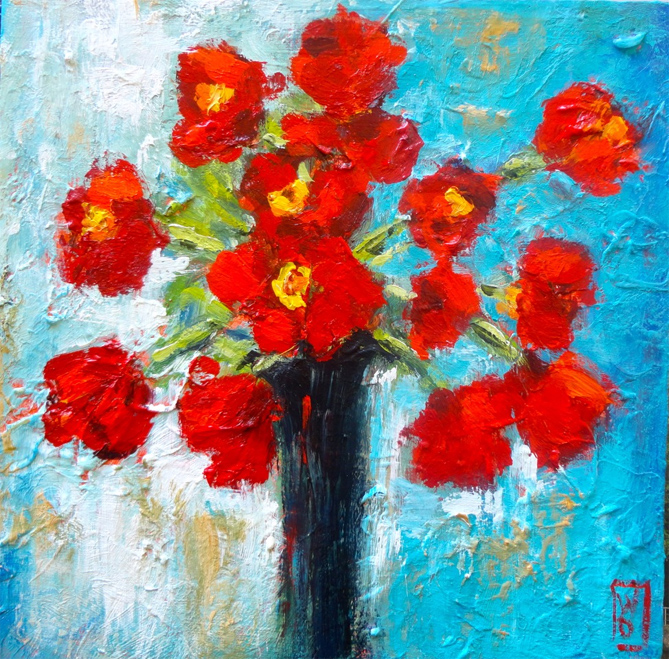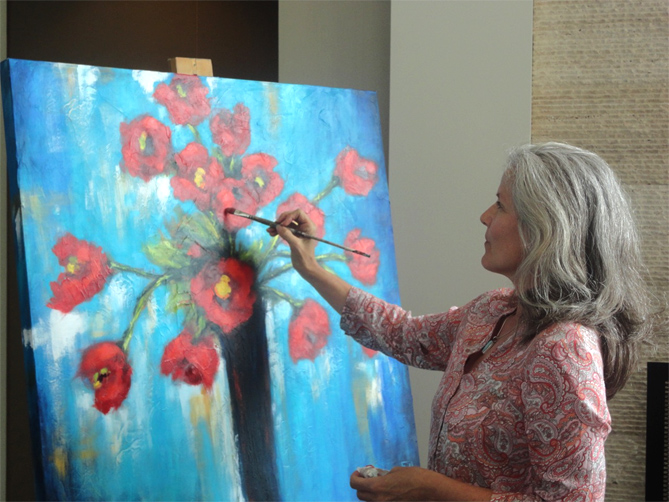 About Wendy Oppelt
The human spirit and the splendour of nature endlessly inspire contemporary artist, Wendy Oppelt. Born and raised in Edmonton, Alberta, Oppelt found her way to Victoria, BC, via Calgary, Vancouver, and Adelaide, AUS. She grew up in a home full of artistic expression with ever-changing murals on the walls and a yard highly decorated with flowers, sculptures and paintings. In 2011 Wendy decided to pack in corporate life as a Media Relations consultant to dedicate her time to painting. Her first piece of work was juried into the Sidney Fine Arts Show.
Wendy's artistic style is expressive, using vibrant colour and strong composition. Her use of textured acrylic creates stunning contrasts of bright and dark shades emphasized by a glass like finish making her pieces shine like pure sun. Ever impulsive, bright, and whimsical, her artwork reflects the vibrantcolors of her soul. There's an integrity and honesty captured in each piece that will inspire a sense of wonder and exploration in her viewers and collectors.
Wendy's Website
Martin Kaspers October 7 to November 5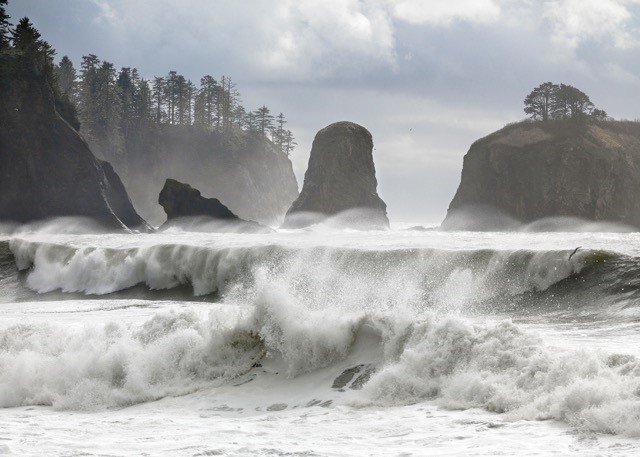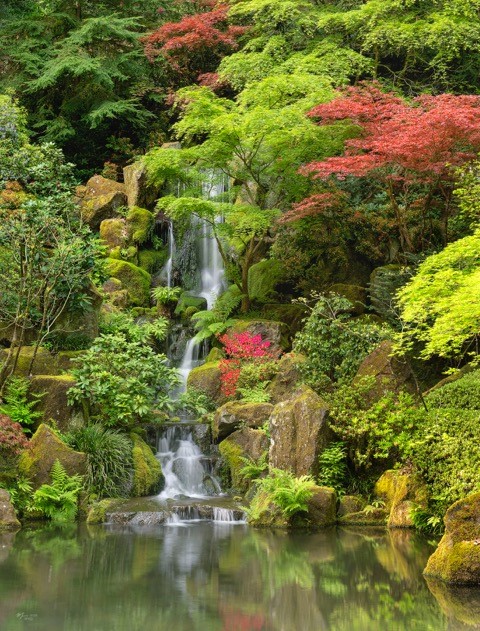 About Martin Kaspers
Martin Kaspers became a full time artist in 2000 using photography as his primary medium.
He moved to the Comox Valley on Vancouver Island in 2006 and has his studio there. At his studio he does all his own printing and framing. He also prints for many other artists and helps photographers with adjusting their images.
Presently, he sells his art in galleries across western Canada. Much of his subject matter is the beautiful west coast.
Martin's Website
Brian Scott September 9 to 24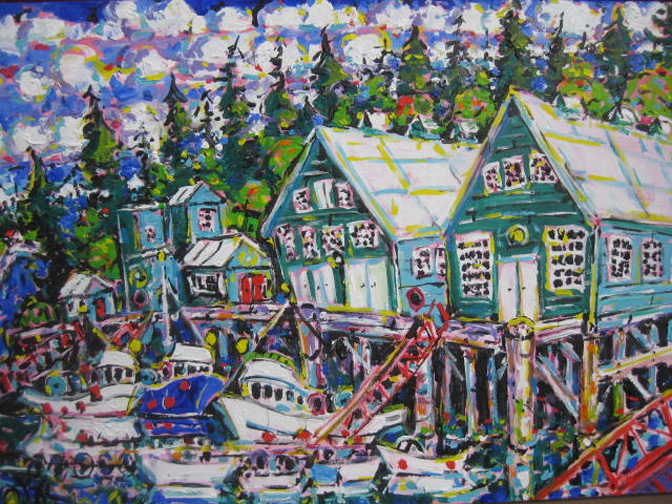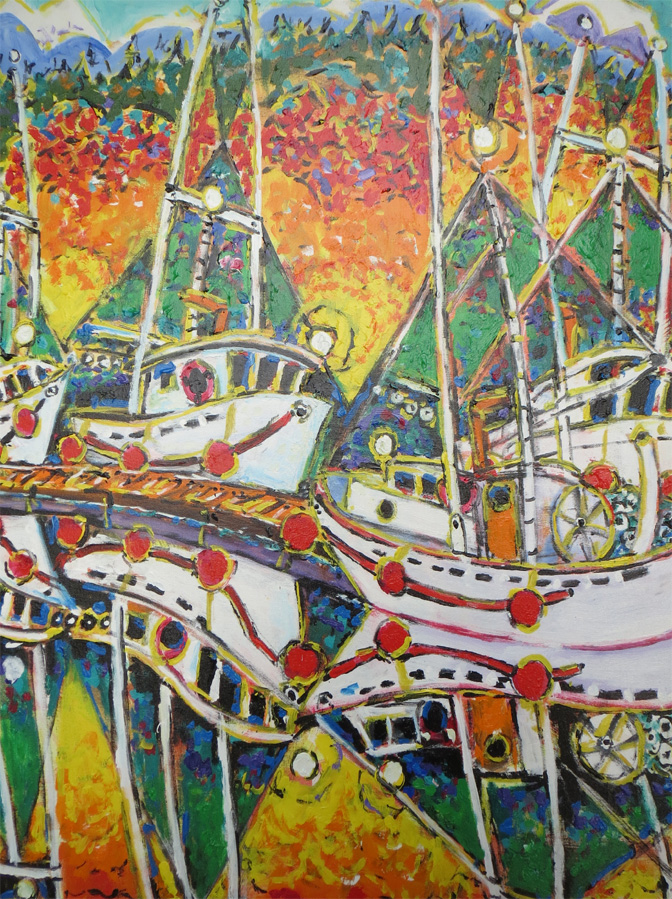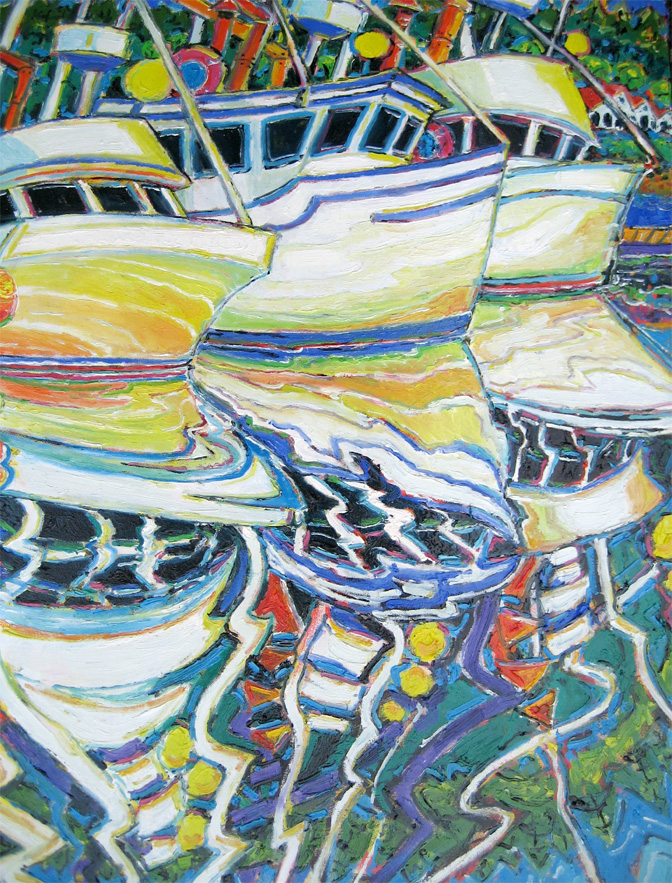 About Brian Scott
Canadian artist Brian Scott is an original oil painter whose name is inextricably linked to colour – wild and wonderful mixes of fanciful, fun and exciting hues that bring the west coast fishing boats, architecture and tumble-down buildings of our beloved coastal British Columbia into a new perspective. Whether you make your home here on Vancouver Island or are a visitor to Canada the fine art originals of Brian Scott will evoke wonderful memories!
Expressionist oil paintings produced on location are this BC artist's main passion. His emphasis on design and composition, combined with a full spectrum of colour, has become the trademark of his paintings. Brian Scott focuses international attention on Canadian art; his original oil paintings have sold internationally in the U.K., Hong Kong, Germany, Holland, Norway, Switzerland, Australia and the U.S.and in his well-established market here on Vancouver Island, British Columbia, Canada.
You can view and purchase Brian Scott's original art, fine art prints, greeting cards, Brian's books – collections of painting and accompanying stories – and whimsical papier mache sculptures based on his painting. Visit his art gallery studio in Black Creek in the Comox Valley on Vancouver Island, BC, Canada, open most days. Watch for the colourful signs on scenic Hwy. 19A.
Brian's Website
Wendy Oppelt June 10 to August 27, 2016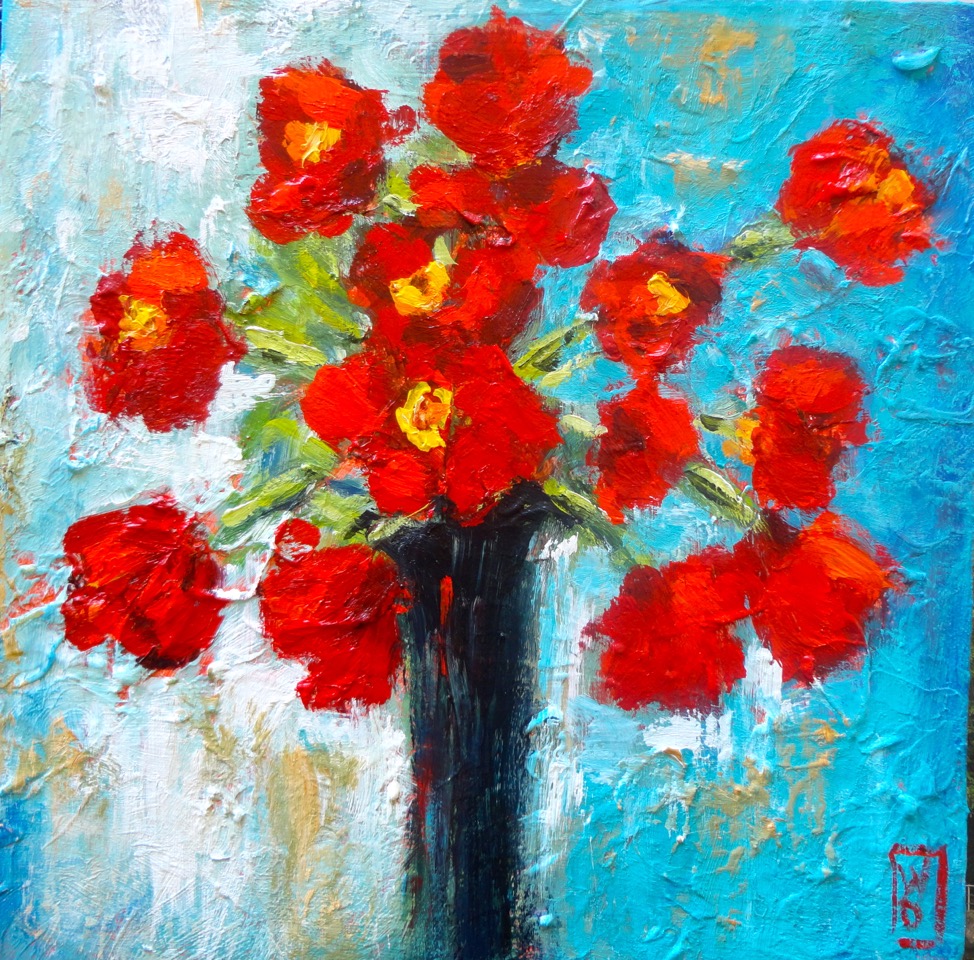 About Wendy Oppelt
The human spirit and the splendour of nature endlessly inspire contemporary artist, Wendy Oppelt. Born and raised in Edmonton, Alberta, Oppelt found her way to Victoria, BC, via Calgary, Vancouver, and Adelaide, AUS. She grew up in a home full of artistic expression with ever-changing murals on the walls and a yard highly decorated with flowers, sculptures and paintings. In 2011 Wendy decided to pack in corporate life as a Media Relations consultant to dedicate her time to painting. Her first piece of work was juried into the Sidney Fine Arts Show.
Wendy's artistic style is expressive, using vibrant colour and strong composition. Her use of textured acrylic creates stunning contrasts of bright and dark shades emphasized by a glass like finish making her pieces shine like pure sun. Ever impulsive, bright, and whimsical, her artwork reflects the vibrantcolors of her soul. There's an integrity and honesty captured in each piece that will inspire a sense of wonder and exploration in her viewers and collectors.
Wendy's Website
Elizabeth Wellburn – May 6 to 28, 2016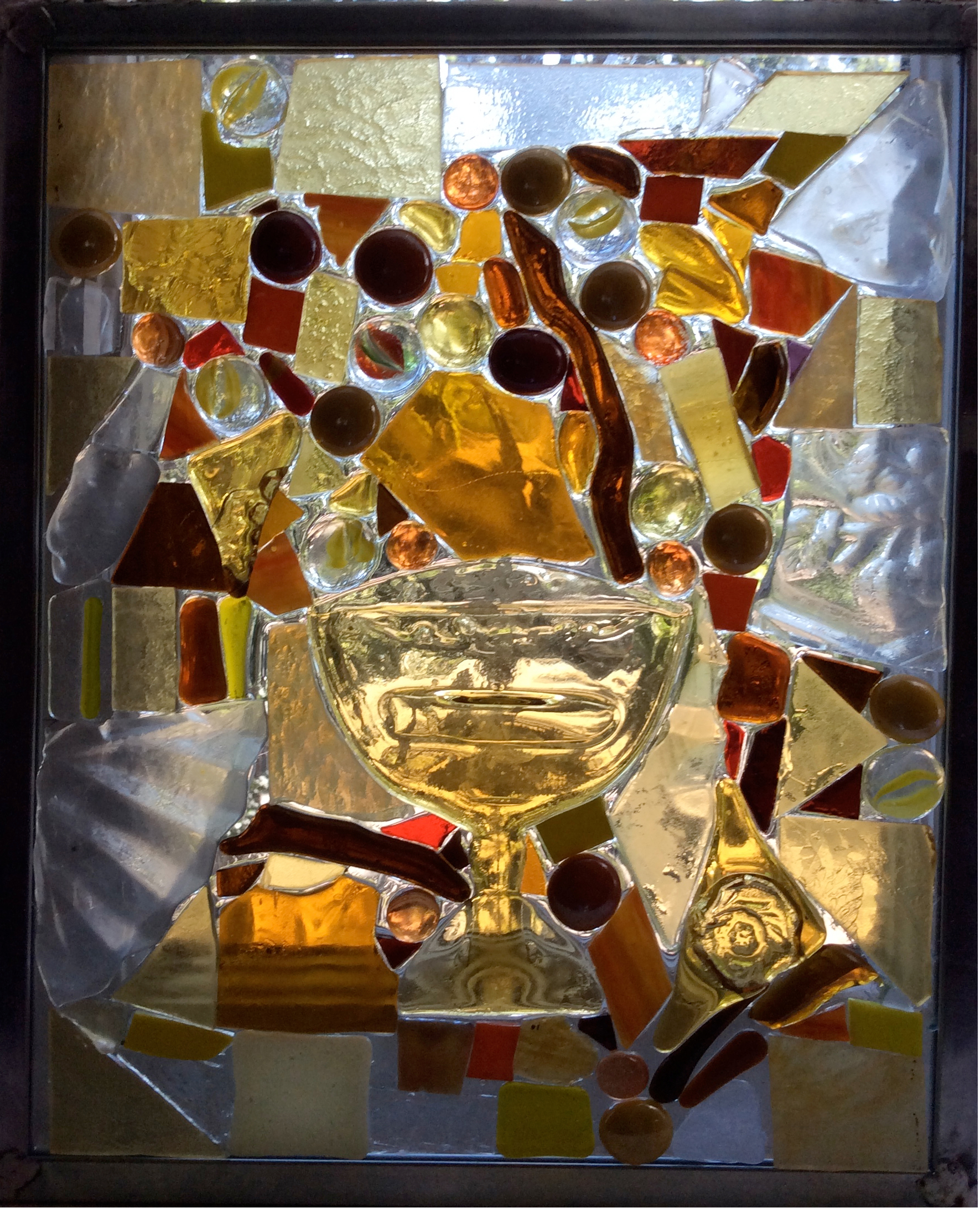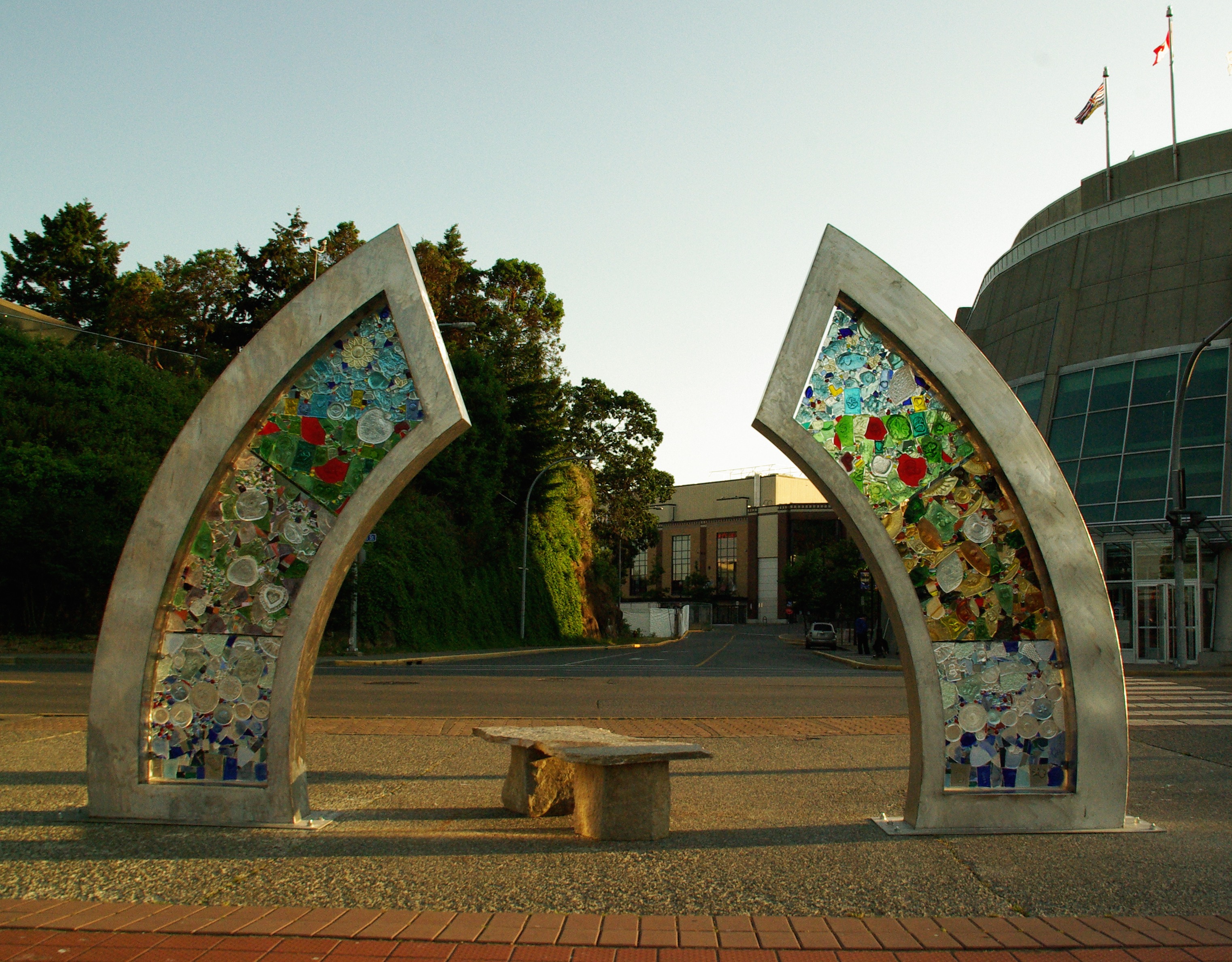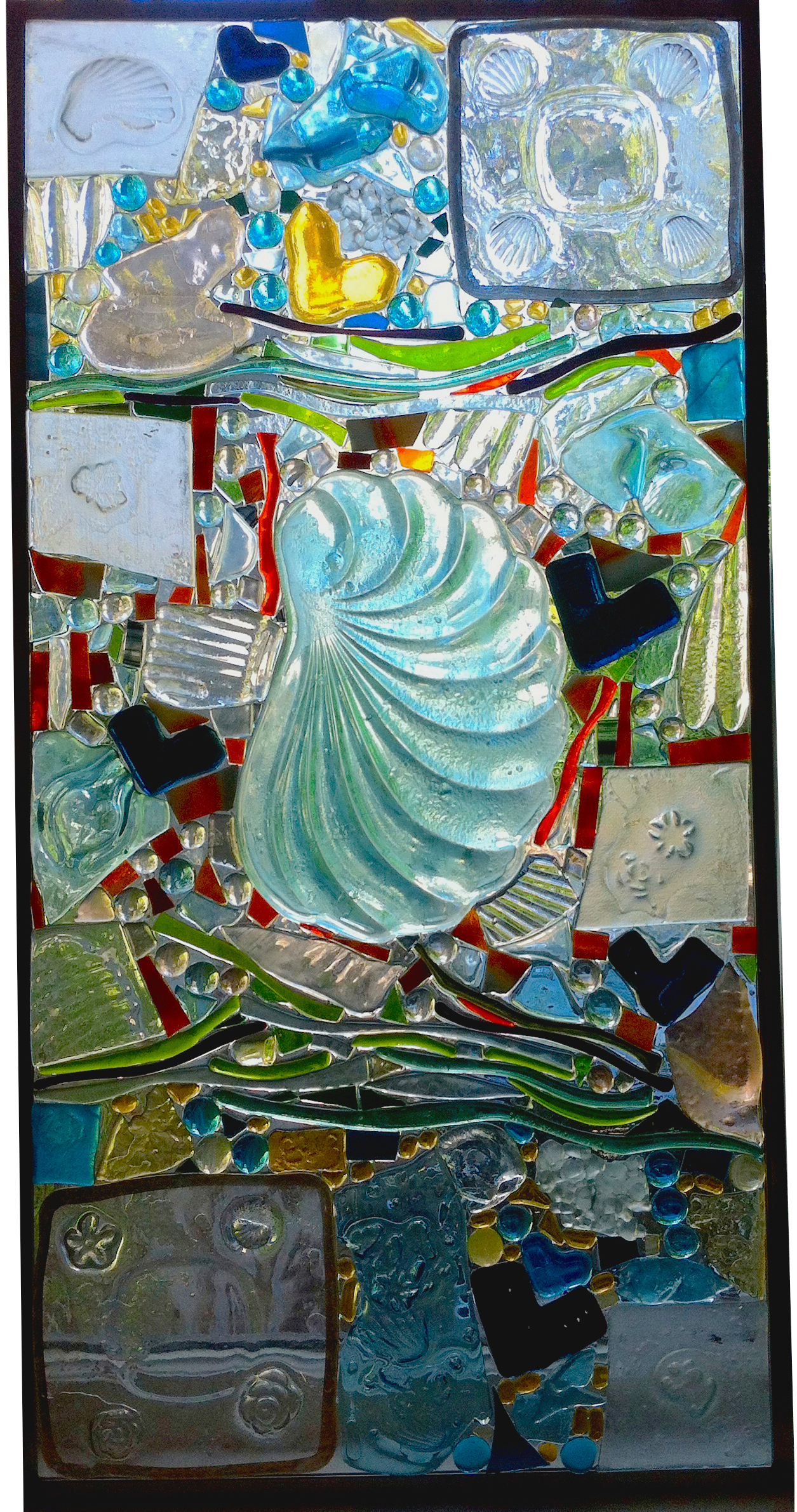 About Elizabeth Wellburn
You may know my work from the Nanaimo Temporary Public Art Program. My large glass and metal sculpture, titled "Solstice" was on display as part of this program near Nanaimo's Port Theatre from April 2015 to April 2016. "Solstice" has now been moved to The Woodwynn Farms Peace Garden in Central Saanich. You are welcome to come and visit it there, and see other works of art and a beautiful labyrinth as well!
For my smaller pieces, such as the ones on display here in the Chemainus Theatre, I often start with discarded windows from heritage houses, or I use recycled shelf glass with a zinc frame. I add chunks of other recycled glass such as broken bottles, chipped serving dishes, old stemware and other scraps from any source I can access. I kilnform the individual chunks to flatten, smooth and/or provide texture, and use a crystal clear two-component epoxy to adhere the chunks to a base of glass. The results are very three-dimensional (relief) and of course they transmit light in the way that a stained glass window would.
I melted my first piece of glass about eight years ago at a workshop in the wonderful "Starfish" studio that used to be on Yates Street in Victoria. I later attended the magnificent Pilchuck Glass school near Seattle Washington, I am passionate about glass as an art form, with a special interest in recycled materials.
My studio is in my home, and I have scoured the internet to learn as much as I can about kilnforming and other glass techniques. One of my favourite "precision tools" is a sledgehammer and my kiln runs many days of the year.
I have had work accepted in both the Sidney and the Sooke Fine Arts exhibitions and I currently exhibit at Sooke Harbour House, Merridale Cider and the Side Street Studio in Victoria B.C.
Although my very first post-secondary experience was in an art program at Langara College in Vancouver, I drifted into education, obtaining an MA in Educational Psychology which led to a career in education technology. But technology is something I see as a means to an end. Information literacy and critical thinking are what I believe should be the main goals of education in this information–rich era, along with the things that make us human (like the arts) and allow us to connect in important ways. Several years ago I wrote a children's book ("Echoes from the Square") with the power of the arts as its theme.
Contact Elizabeth
Website
See our mother-daughter site – www.twoglassyladies.ca
Regina Seib– April 6 – 28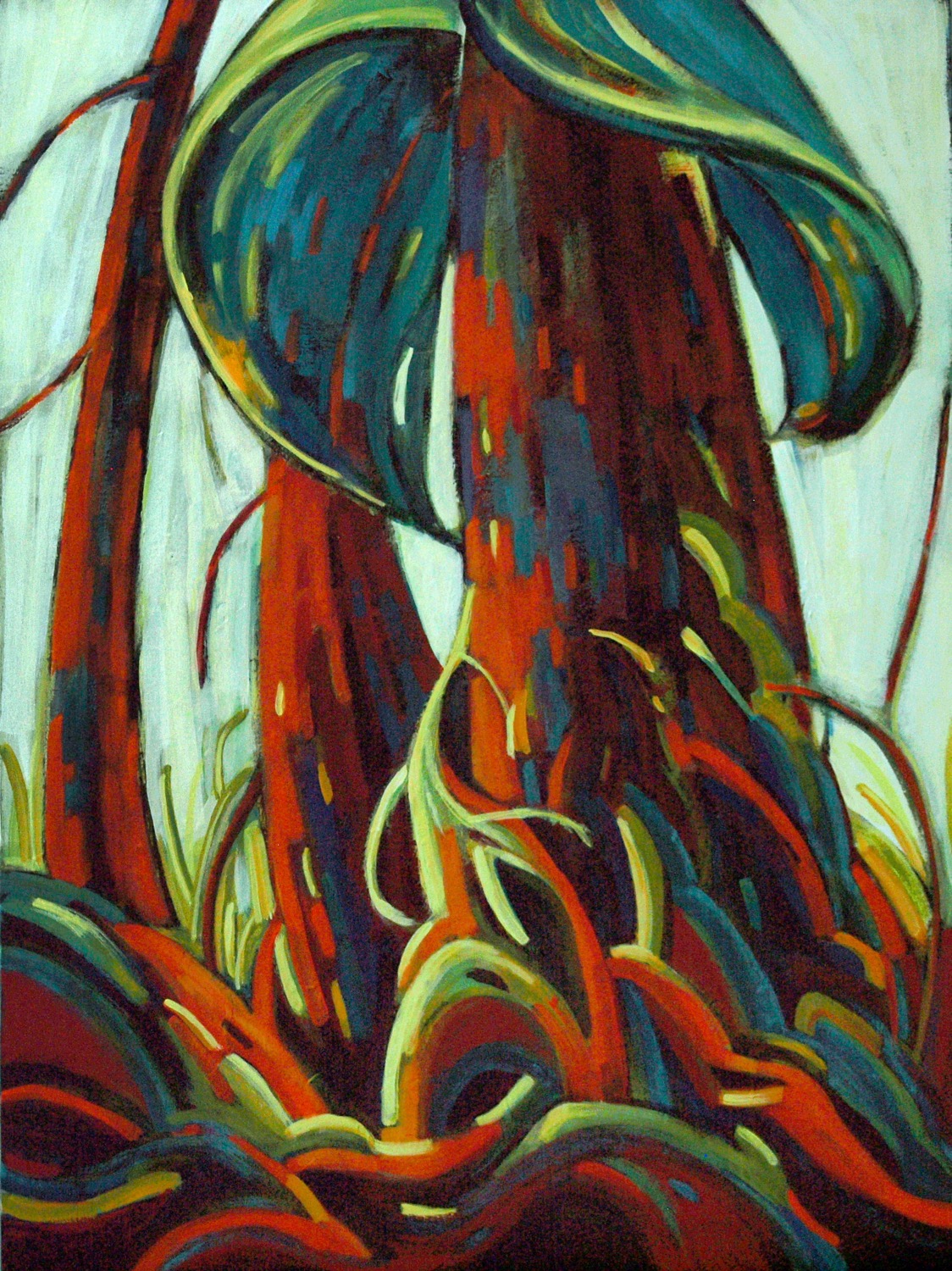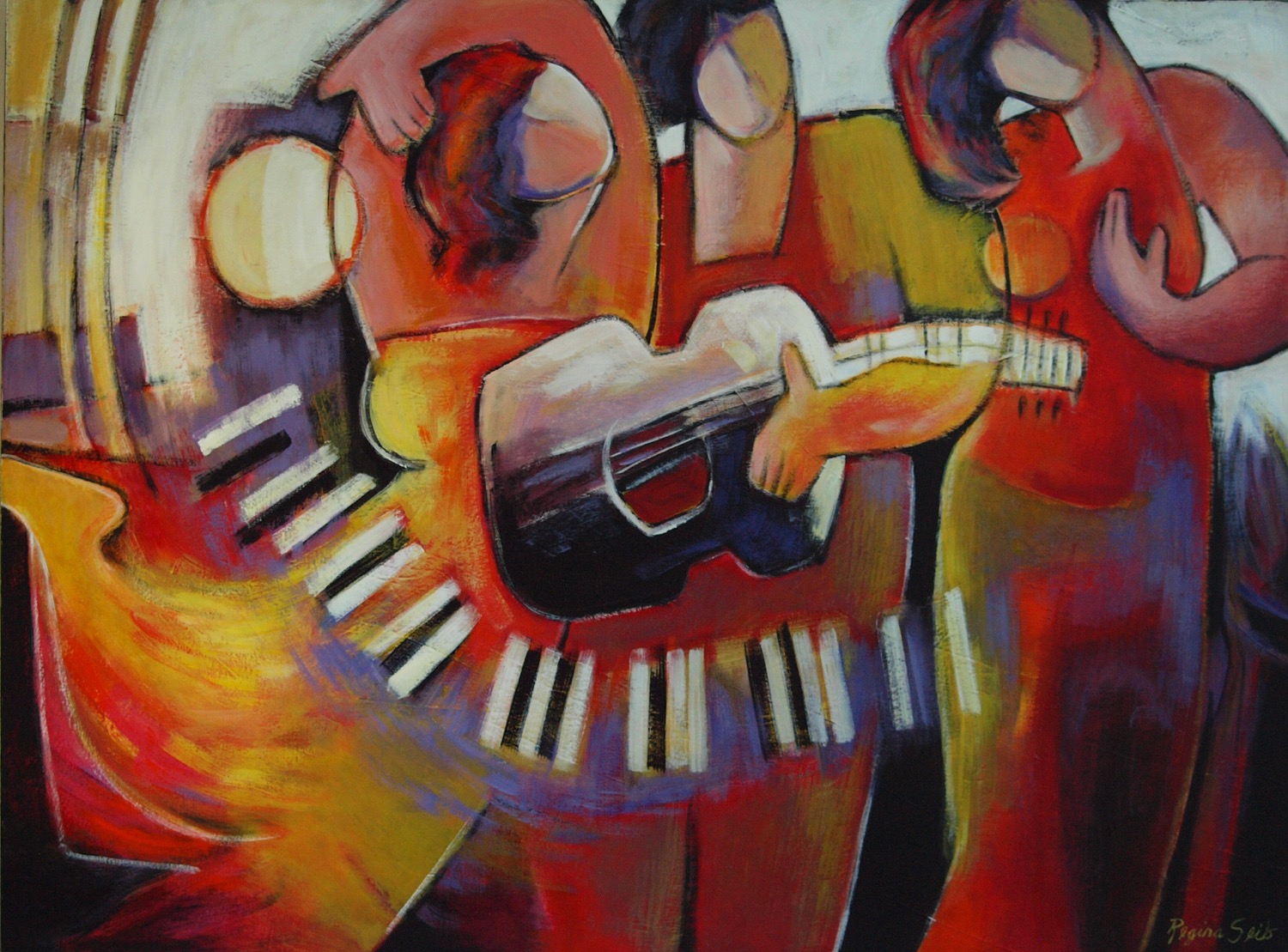 About Regina Seib
Art has been my passion since early childhood. I immigrated to Canada at age seven with my mother and grew up in rural Saskatchewan. I received my RN from the U of S, married and raised two daughters who gave me five grandsons. However, my love of art never left me and I began to take workshops as I was able and study the work of artists I admired, like the Group of Seven. What began with realistic landscapes in oils and watercolour later developed into more expressive styles and abstracted images. I still enjoy a variety of subjects and styles and thrive on the diversity and freedom this gives me.
I am grateful to have received my AFCA with the Federation of Canadian Artists and continue to work at my home studio in Nanaimo. I am represented at several galleries and have been pleased to receive a number of awards. My art has graced the cover of a book, magazine and been published in "Salt" magazine. I welcome commission works and visits to my studio by appointment.
Regina's Website
For more information please visit my website www.reginaseib.com.
Fibre Art Voices – February 12 to March 26, 2016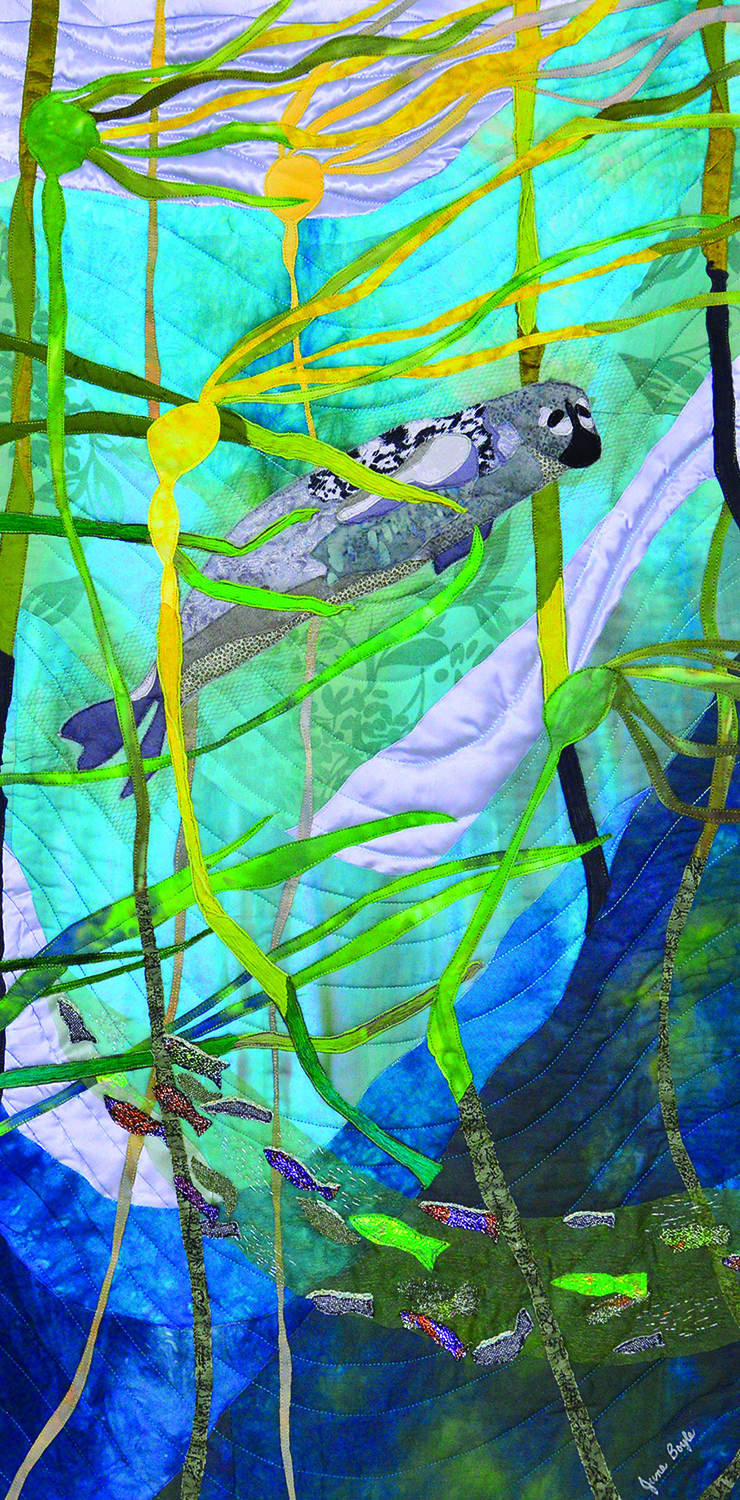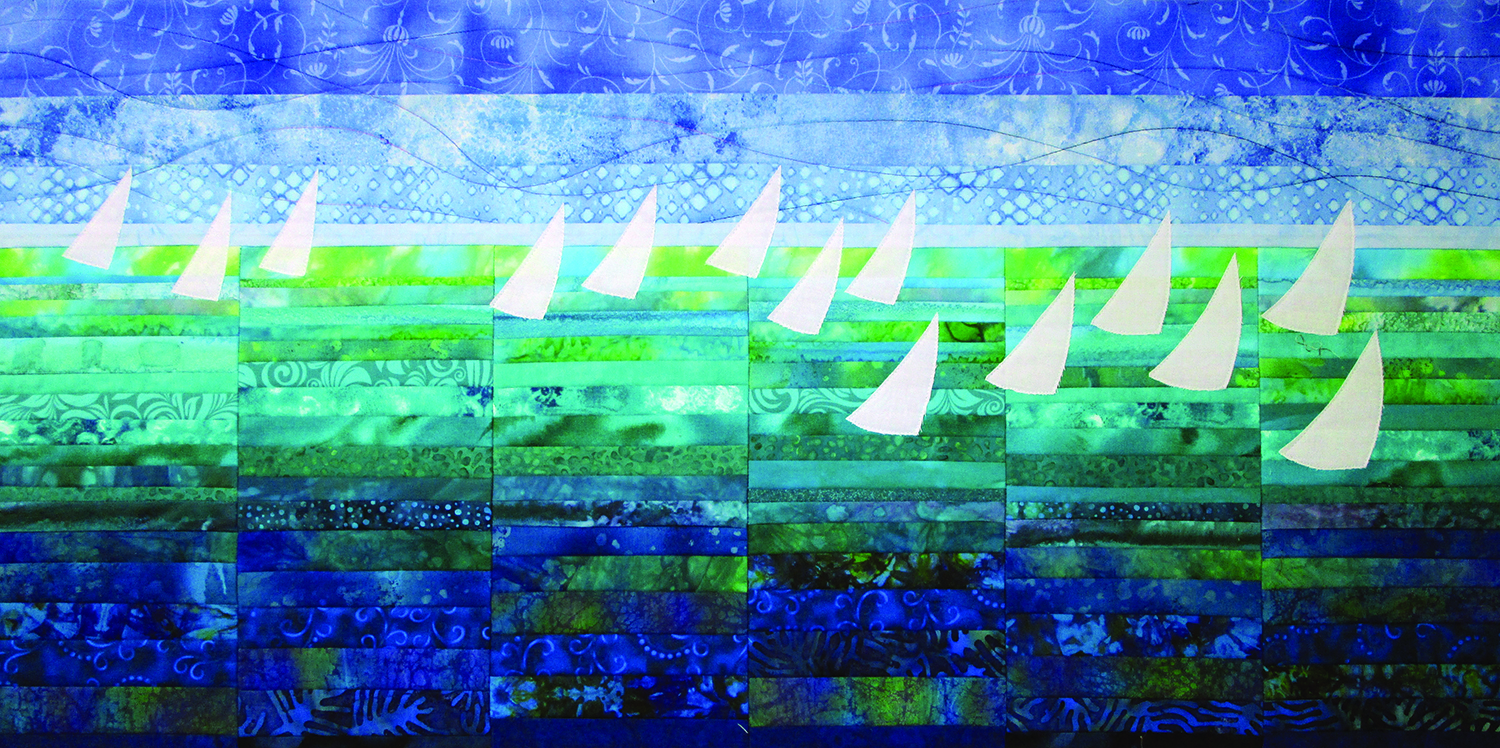 Fibre Art Voices is a small, spirited group comprised of forward-thinking visual artists, who come together to support and encourage one another in expressing in a creative voice through fibre. Our diverse artistic backgrounds and passion for textiles enable us to work with an extensive variety of mediums and techniques to create our individual stories, rich in design, colour and texture. through our love of textiles, we challenge each other individually and as a group, and share the energy and inspiration we gain from living in our breathtaking West Coast environment.
M. Morgan Warren – November 20 to December 31, 2015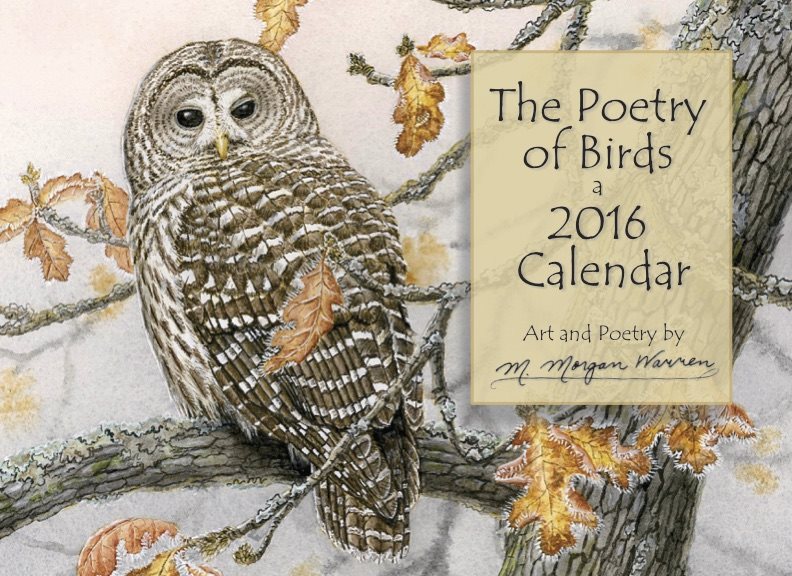 M. Morgan Warren lives and maintains a working studio at Canoe Cove Marina, North Saanich, B.C. During the past thirty years she has made an in-depth study of the fauna and flora of the region, recording her observations in hundreds of photographs, sketches and notes. Best known for her highly detailed realistic watercolours of the birds of North America and her native Britain, she strives to give the viewers of her work a special glimpse into the hidden lives of her subjects.
Morgan's paintings and reproductions can be found in many private collections all over the world, including those of Her Majesty, Queen Elizabeth ll and HRH, Prince Philip, Duke of Edinburgh. In 1996 she was the special guest of the DeYoung Museum of Fine Arts in San Francisco where she demonstrated the techniques of John James Audubon for visitors to the national Audubon Birds of America Exhibition. Save the Children Fund Christmas cards, the international Sierra Club Foundation Annual Report, and Ducks Unlimited, among others, have all featured her work. Rogers Chocolates recently chose one of her images to be included in their special Canadian Art Collection.
Already a published poet with a degree in English Literature and Creative Writing, Morgan Warren recently released her first book, "Through Their Eyes and Mine". In it she combines her love of birds and the ability to empathize with them in paint, together with thought -provoking text in both poetry and prose – the culmination of a four-year project.
As well as gathering ideas for a children's book which she plans to write and illustrate, she is currently working on a waiting list for her commissioned original paintings, which are now in high demand with discerning collectors.
Johnny Lee and
Katherine Melanie Diewert – September 11 to November 11, 2015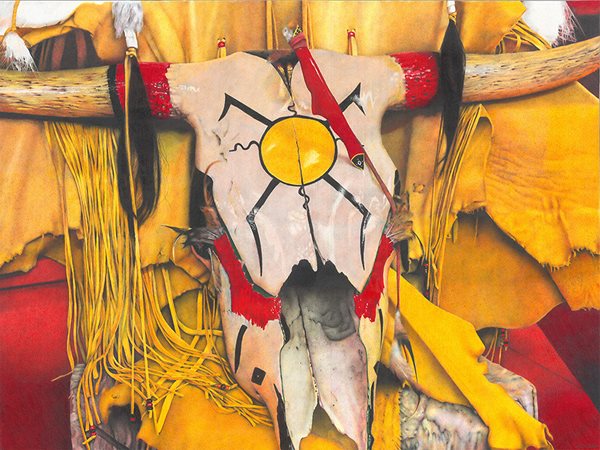 About Johnny Lee
Honoring the gift I was given, I draw in detail believing anything worth doing well takes patience, commitment and time. I choose realism, because for me it is a lot more challenging than doodling from my imagination; not the other way around. Chosen subjects evolve from memories I have as a boy.
A mother's story of her ancestry coupled with the impact a grandfather had on this boy still today. The act of illustrating gives me peace, stillness, freedom, sense of accomplishment, purpose and pride. It allows me to exit the conceptual make believe reality of society and enter a place where time, meaning, rules and logic do not exist.
I am humbled of how nature can channel creativity through a body to a page. Drawing is in my nature and may I never take it for granted.
More Info
For Johnny Lee's website Click Here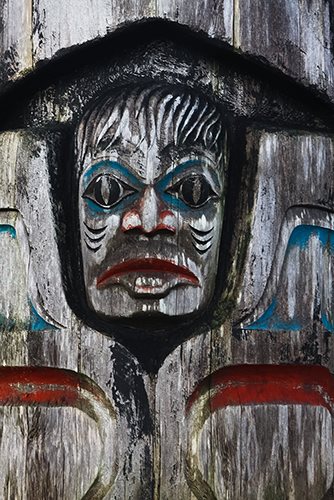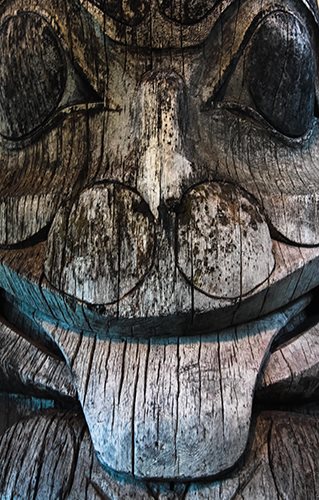 About Katherine Melanie Diewert
I was born an artist and have developed my skills through various courses and valuable instruction. My journey began in Winnipeg and I studied still life drawing, sculpture and Model drawing at the Winnipeg Art Gallery. Advertising Art at Red River Community College where I first studied photography.
Art History at University of Manitoba.
I had the pleasure to teach photography with the Stuate Lelum College and also a freelance photographer.
I am a mother of two wonderful children who I draw much inspiration from and I have worked in dentistry for over 20 years.
Artists draw attention to details in life that sometimes are overlooked and make beauty out of nothing at all.
I hope you enjoy my images of the magnificent history of First Nations of Haida Gwaii.
Perrin Sparks – July 22 to August 29, 2015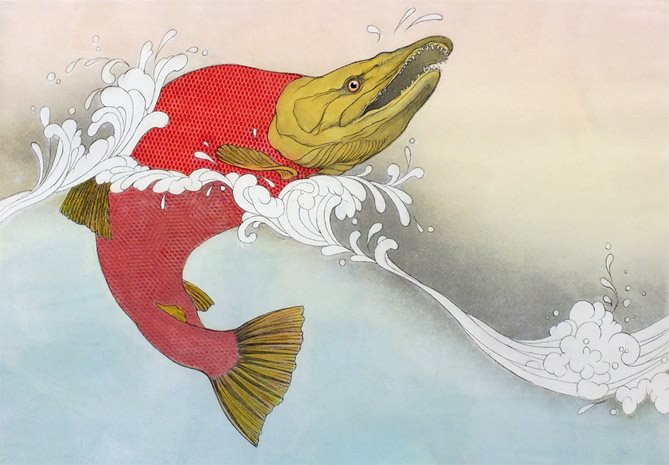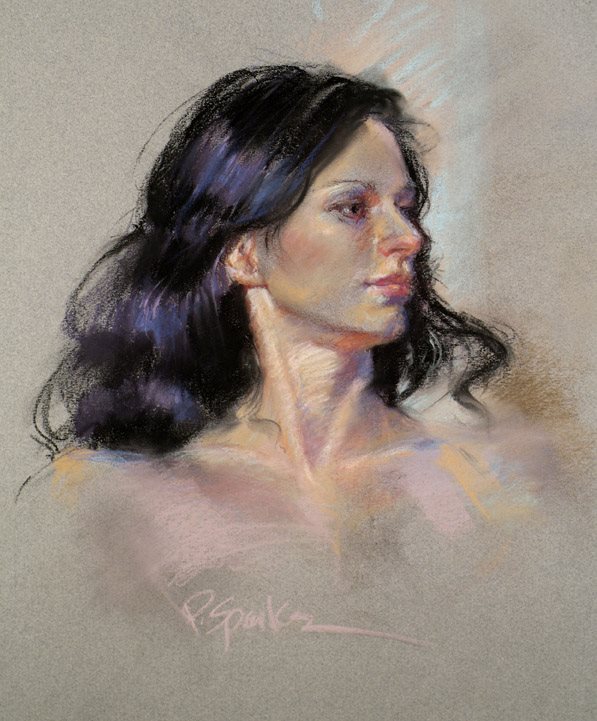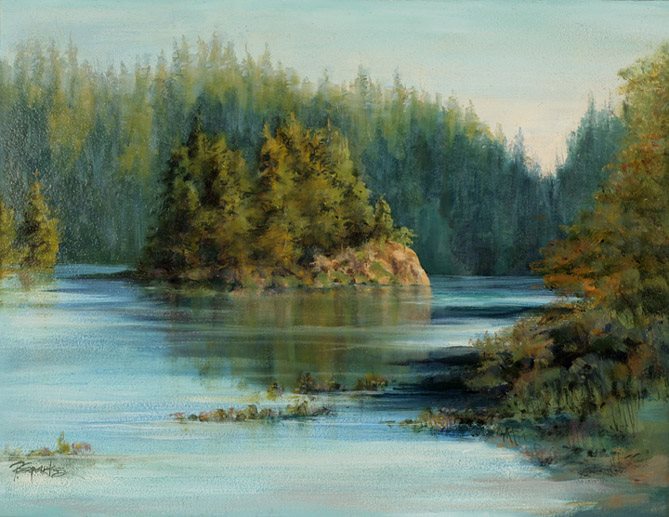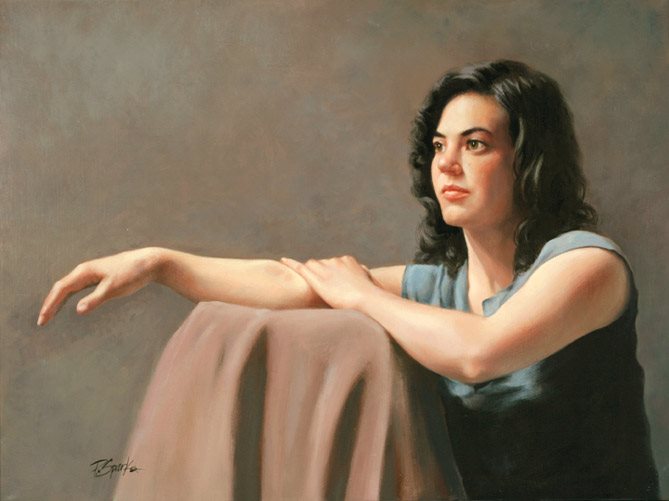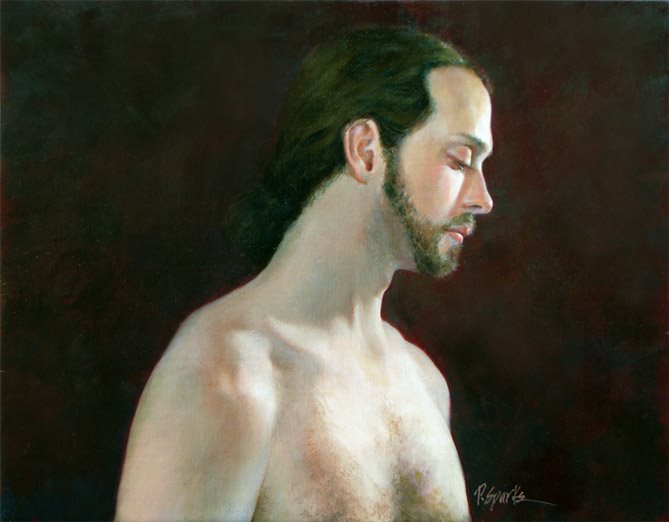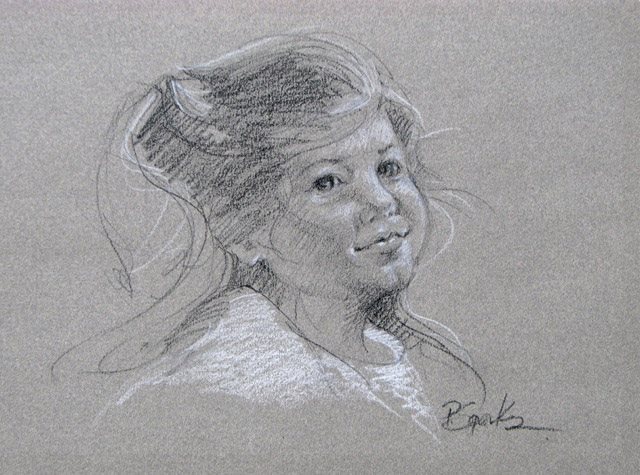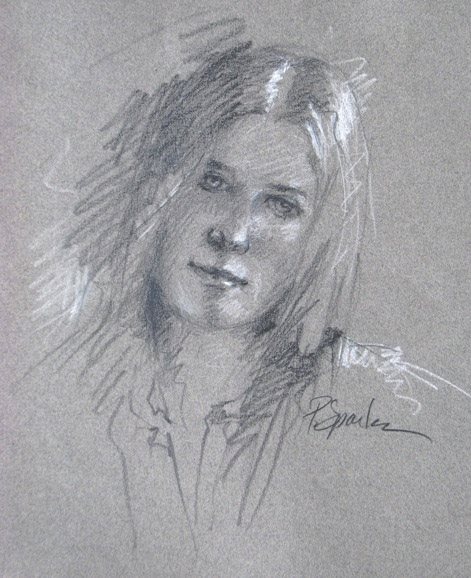 About Perrin
For the past twenty-five years, Perri prepared surgical illustrations for a variety of medical schools and publishers in the US. Armed with a Bachelor's degree from Syracuse University, and a Master's degree in Art as Applied to Medicine from the Johns Hopkins University Medical School, Perri worked at Stanford (Palo Alto, CA) and Baylor College of Medicine (Houston, TX) before taking on the job as Director of the Art Department at UT Southwestern Medical School in Dallas, and serving on the faculty in the Graduate School Program in Biomedical Communication. In 2005, she and her husband moved to their new lakeside home and studio on Quadra Island, in British Columbia, where they opened the Quadra Atelier and Art Retreat in 2006. In the tradition of the classic European 'atelier,' artists work alongside Perri in a one-on-one mentorship program.
Following a career of preparing small, precise, illustrations for limited color publication, she enjoys producing full-sized figurative paintings in both oil and pastel. with a focus on drawing from life. Lately she has enjoyed capturing smaller, on-site landscapes and the recent uncrating of her etching press has her updating her techniques to include the less toxic methods and materials. Recently she has been engraving on Plexiglas plates and achieving tone by experimenting with sandblasting the plate.
Perri's art has appeared in The Artist's Magazine, The Pastel Journal, The Best of Portraiture, and International Artist, and was recently commissioned by Prismacolor to create a portrait for marketing and packaging a portrait set of soft pastels. Her two video's "Steps to a Likeness-Pastel' and "Steps to a Likeness-Oil" were featured in the North Light Book Club. They are available through Amazon.com and excerpts can be viewed on YouTube. During the past 15 years Perri's work has been featured in numerous one-woman shows as well as many group shows in a variety of Texas, California and British Columbia galleries and art centres. She has led workshops nationally and in several locations in Italy. Her art is held in collections in the US, Canada, England, Spain, Italy, Germany, The Netherlands, Denmark, Australia, Brazil and Austria.
More Info
For Perrin Sparks' website Click Here
Judy Hilgemann – June 11 to July 19, 2015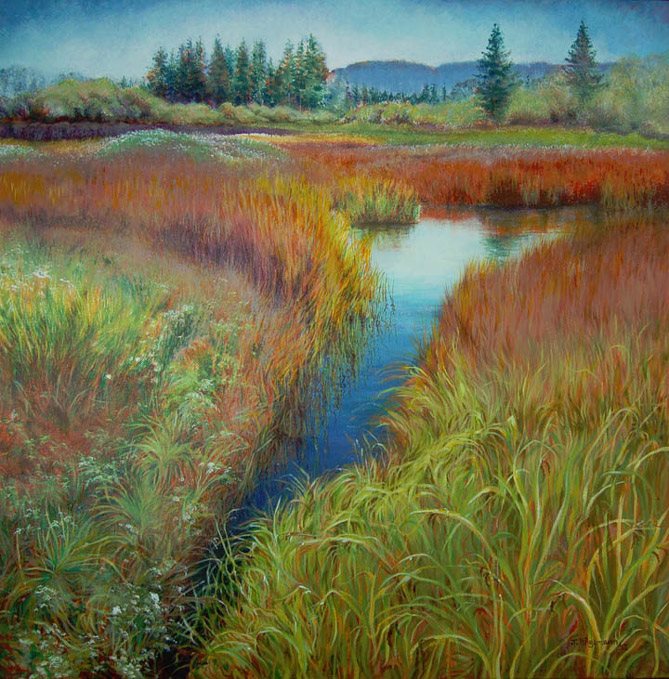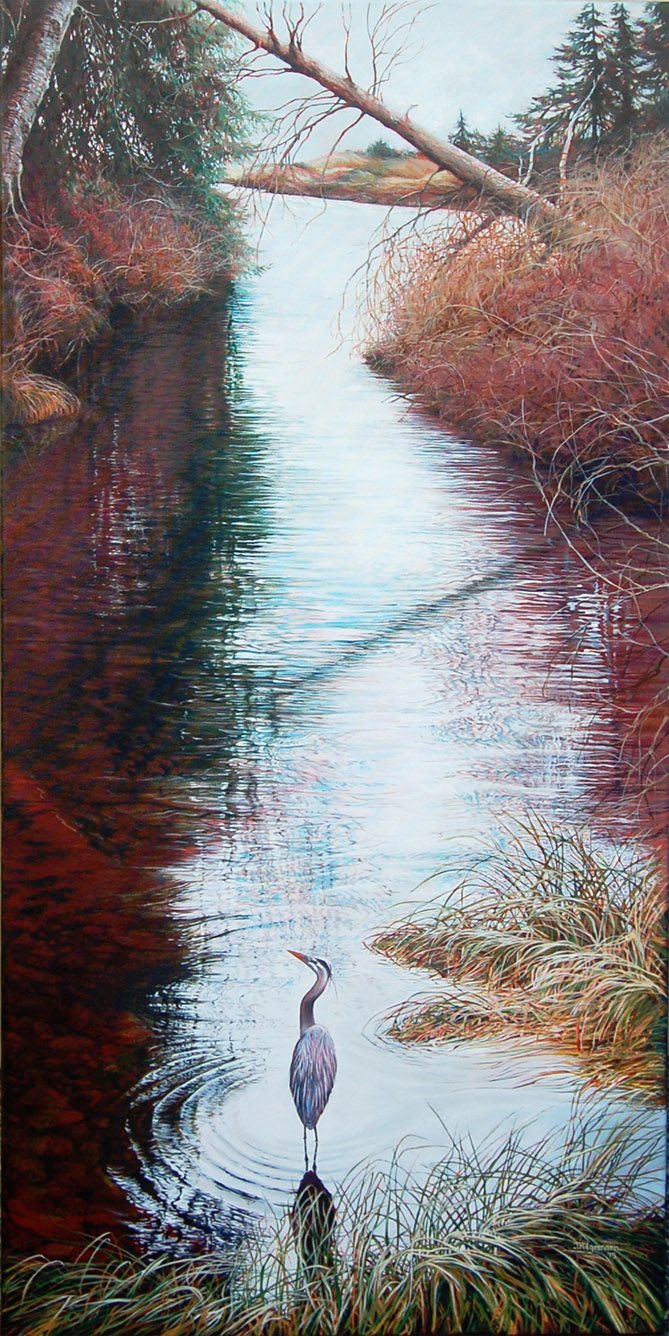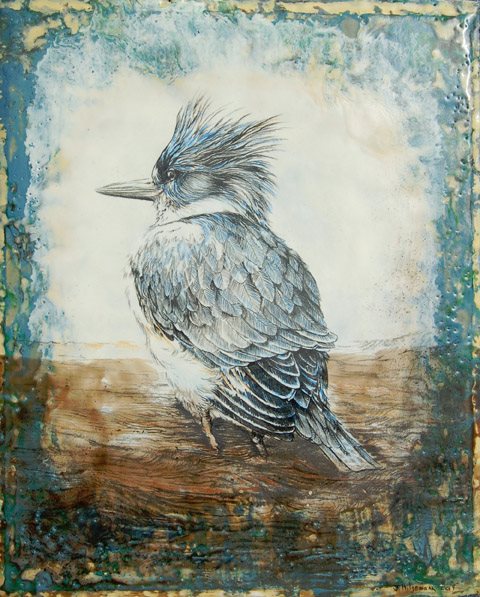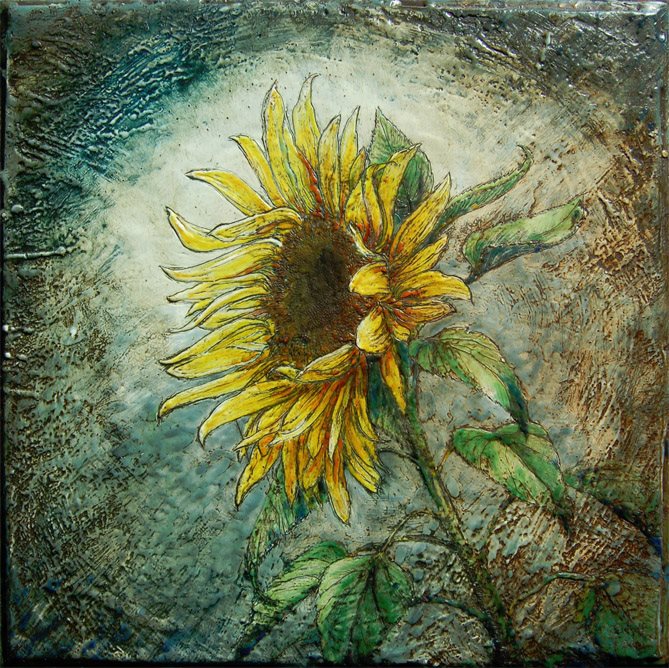 About Judy
Northwestern B.C. has always been my home. My formative years were spent in Port Alice, and I recently returned to live on Vancouver Island after many years on Haida Gwaii. Wild and remote landscapes are my favourite places to be. I have been drawing and painting since childhood. I paint in watercolour, acrylic, and encaustic. I enjoy loose "plein-air" landscape painting, and highly detailed studio work. My subject matter is diverse but centers around drawing and seeing. Landscape and birds are a constant in my work. Lately I have also been exploring abstraction within natural realism, such as patterns within rock formations, and reflections in moving water.
More Info
For Judy Hilgemann's website Click Here
Todd McAneeley – April 24 to may 30, 2015
About Todd
Todd came into this life in 1963 in a small town in Saskatchewan named Humboldt. He was the 4th of 5 children, all boys, of Basil and Olive McAneeley. He lived and went to school in Humboldt up to the age of 15, when the family moved to Campbell River, BC.Todd didn't live in Campbell River very long. His family moved to Duncan which is where he graduated from high school. He was a serious golfer and contemplated becoming a golf pro or an architect.
Todd went to college at Malaspina College in Nanaimo (Vancouver Island University) and studied architectural drafting. After he graduated, he worked for a few architectural firms, but decided to go out on his own and opened a business in Winnipeg where he designed and drafting house plans for 7 years. In 1996, Todd met a wonderful woman back in Duncan, and he and Brenda exchanged vows in 1997 and in June will be married for 18 years.
In 1998, Todd opened a custom furniture business in Duncan that made anything made from wood from coffee tables to conference tables. He truly enjoyed the challenge of creating furniture and cabinets from wood species from all around the world. The recession hit hard in 2008 and Todd sadly had to close his doors of his business.
Todd found full time employment in Duncan with a custom furniture company called Live Edge Design in 2011 which he is still happily involved with. He was noticing wood off cuts that were very beautiful were mostly used as firewood, so he started making wood art and mirrors with it. He thoroughly enjoys the creative process of coming up with unique art and artistic mirrors.
Opened a business is what he did in 2014 called Live Edge Mirrors where he makes and sells his mirrors both locally and online throughout Canada and the US and is proud to use the scrap wood for art instead of it turning into ashes.
More Info
For Todd McAneeley's website Click Here
Sue Coleman – February 20 to April 11, 2015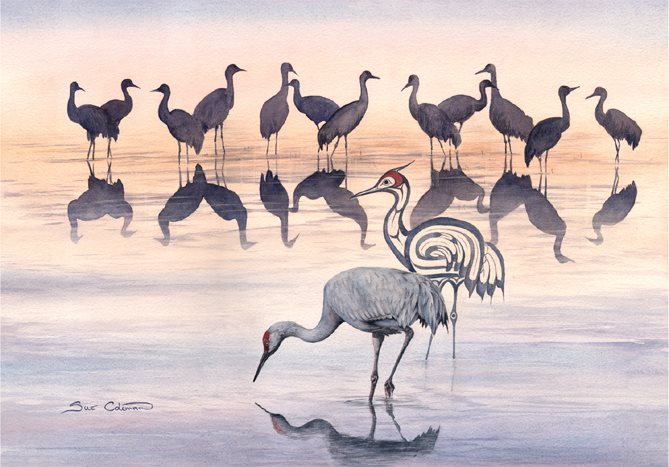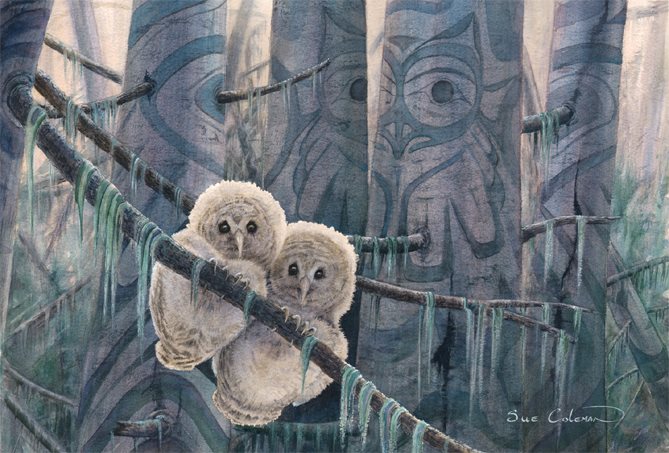 About Sue
Sue maintains a studio on the shores of Cowichan Bay, Vancouver Island, Canada. She paints a variety of subjects from misty west-coast scenes, wildlife and landscapes, to art that has a strong First Nations influence. Sue actively works to promote environmental awareness and wildlife conservation.
Her work is represented in Limited Edition Reproductions, Art cards, Posters, Plates, and several books which she has both written and illustrated.
More Info
For Sue Coleman's website Click Here
Jennifer McIntyre – November 21 to December 31, 2014
About Jennifer
Jennifer works in mixed media, acrylic and printmaking.
She has always been interested in design, pattern and colour in still life. She approaches each painting as a puzzle to be solved: colour combinations, contrast of darks and lights, exploration of dominance and subtlety and nuances of composition. Each painting presents its own challenges and is made up of a long 'series of corrections' until it is complete, interesting and satisfying.
Jennifer is represented by Eclectic Gallery in Oak Bay, BC, Stock Home Design in Squamish BC and Art Exchange Gallery in Singapore. She regularly participates in the Sooke Fine Arts Show, the Sidney Fine Arts Show and the Oak Bay Studio Tour. She also exhibits with her University of Victoria colleagues at their yearly Faculty Show at Glendale Gardens, Legacy Gallery and with 'Artishow' at Ocean Pointe Resort
Background
Jennifer was born into a family of artists. Her father's side of the family represents generations of artists: illustrators, sculptors, painters and stained glass designers. Her grandfather's studio always facited her – the paper, paints, the scent of turpentine and linseed oil, the paintings and illustrations in progress.
Her parents fostered her interest in art. As a teenager she attended the Vancouver School of Art Saturday classes and the Banff School of Fine Art. At the University of Victoria she trained as a teacher with a specialty in Visual Arts.
At the age of 22, Jennifer started teaching Visual Arts to high school students. Then she continued her education to complete a M. Ed. at the University of Oregon. Jennifer retired from her career in public school teaching after more than 30 years and began teaching at the University of Victoria. In 1991 she was named 'Pacific Northwest Art Educator of the Year' by the National Art Education Association (U. S.)
Jennifer has taught Visual Arts at every grade from Kindergarten to 5th year university! Recently, she studied Printmaking in Santa Fe, New Mexico and at West Dean College in England and in Advanced Placement in Chicago. These programs culminated in an exhibition.
For the last few years, Jennifer has been teaching art part-time while spending as much time as possible in her studio.
More Info
To view Jennifer's Website Click Here
Jill Louise Campbell – October 3 to November 8, 2014
Canadian artist Jill Louise Campbell, show cases her new works from a most recent painting retreat in south west France, Spring 2014.
"Toujours France"
"France a love affair of countless journeys over decades I surrender to its warm embrace and paint from my heart. A year lived in Provence, a 150 km walk on a 1000 year old pilgrimage path in Languedoc. Sojourn by aqua mediterrean to experience colour through the eyes of Chagall and Renoir. Toujours Amour is a love of everyday France. The soon of castle tops on The Dordogne, a sip of wine under a gnarled olive tree….."
About Jill
Whimsically enchanting Jill's art graces the walls of admiring clients around the world. Her home in the west coast of British Columbia is inspirational to her paintings. Her vision of a world majestic and magical together with her depth of colour and signature gold lining suggest a Fairytale quality.
A dreamer, traveler, writer and walker ever sensitive to natural balance she often enters into the shamanic world for guidance.
Jill's paintings have been show cased in privates shows across Canada along with her personal Gallery in Ganges, Salt Spring Island since 1991. She was invited and exhibited in a Biennial Fine Art shows in Tuscany, Italy.
Jill's Links
For more information on Jill's art, Click Here
For more about Jill's book Inspired Journeys, Click Here
Christine Reimer – August 1 to September 20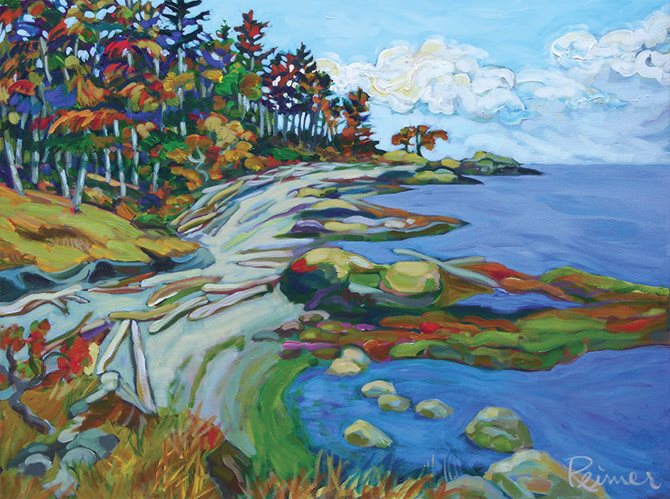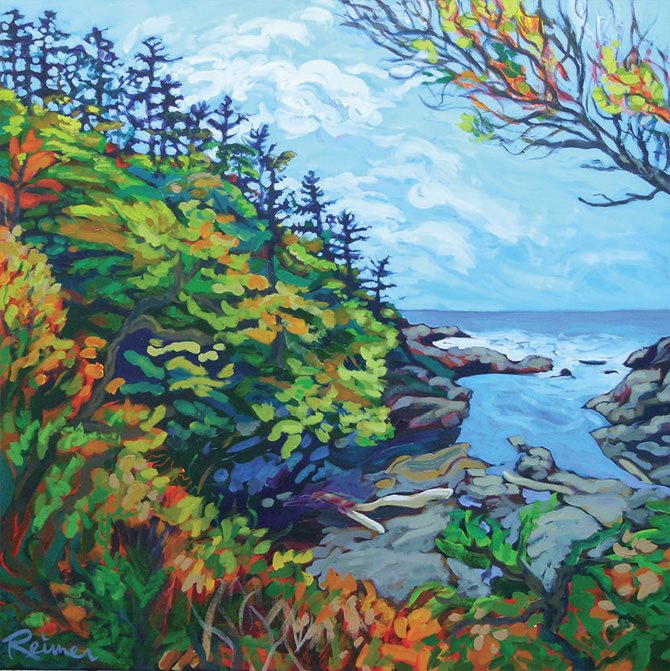 Christine Reimer is an established British Columbia artist recognized for her bold, colourful interpretation of Canadian landscape. Christine was born in Duncan, BC and raised in Victoria. She received her Bachelor of Fine Arts (Visual Arts, 1977) and her Diploma in Education (Visual Arts, 1979) from the University of Victoria.
Subject matter of her evocative, acrylic on canvas paintings include coastal, rural, vineyards and townscapes in Canada, France & Italy. As well she has created a whimsical series of paintings of women in imaginary settings and a series of abstract florals which incorporate some collage elements. The dramatic beauty of British Columbia remains her primary inspiration.
Christine's unique and highly collectable paintings are found in corporate and private collections across North America and abroad. She is currently represented by prestigious galleries in Canada, Montana and California.
"Colour, movement and light are vital elements in my paintings. I begin with a fairly defined composition; the image evolves as I paint. Colour takes on a life of its own and the character of the landscape is revealed. I strive to create energy with the colours and images which can be experienced by the viewer."
Jutta Kaiser – June 18th to July 31st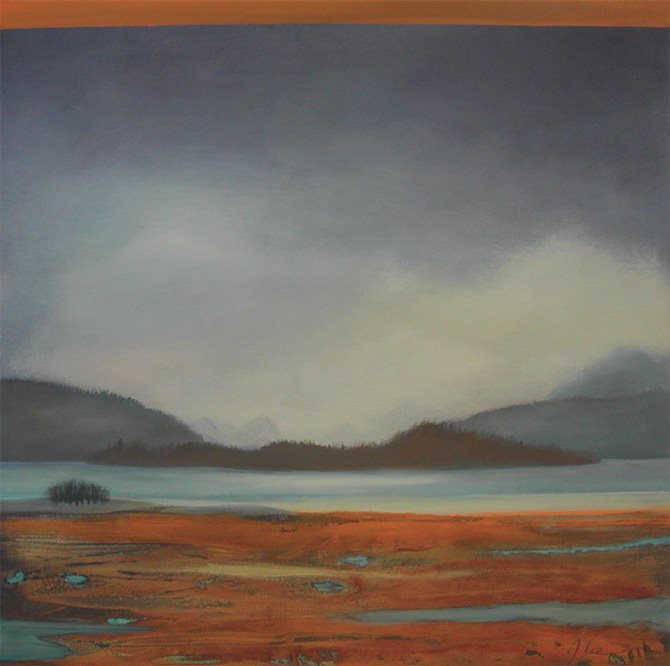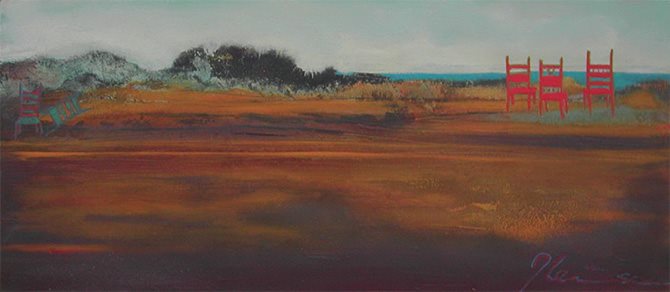 Originally from Germany Jutta arrived on Canada's shore in 1966 and quickly fell in love with what this great country had to offer. Her real involvement in the arts began in the late sixties when an enthusiastic pottery teacher captured and nurtured her exceptional sense of design and color.
This resulted not only in the creation of her own award winning studio but also in her being a founding member of a regional potters guild whose membership has since reached well beyond 200. Her love for nature and an inescapable desire to capture it, led her from clay into photography and ended in Jutta has left her mark on the Vancouver Art Scene.
While her often serene, semi abstract landscapes demonstrate her own style and palette, Jutta does not shy away from experimenting with- and developing new techniques to achieve her goal. Her tactile approach resonates throughout most of her work in the form of the multilayered and textured backgrounds that bestow it that recognizable element.
Jim Jenkins – May 9 to June 1
Jims' passion for nature and all its beauty is evident in both his paintings and his photography. A self-taught artist, Jim was born in England in 1950 and later emigrated with his family to Vancouver Island, B.C..
His paintings have been inspired by his travels in the mountains, along the coast and river valleys of B.C. and reflect the colour and majesty of his subjects and their surroundings. He is a strong believer in co-existence with all creatures and tries to raise this awareness throughout his everyday life and art. Through his images and art, he shares his respect for the environment and the inspiration he receives from it.
Jim is an avid supporter of different groups that work together to preserve and protect our wild spaces. Bears are a major part of this passion, and he is a strong advocate and supporter of educational programs . Jim lives with his wife in Honeymoon Bay, BC where they enjoy hiking the Cowichan hills. An accredited member in good standing with the Commercial Bear Viewing Association of BC.
Wolf Creek by Jim Jenkins
Seeing Visions 2014 – March 21 to April 26
We are delighted to have Seeing Visions 2014 art studio tour showcasing over 16 artists from the Cowichan Valley during the show run of Jeeves In Bloom. We also have a great selection of local pottery, glass, textiles, gift-ware, jewelery and more!

Rose Cowles Martin, Painter – June 14 to July 14, 2013
Rose Cowles (Martin) is a Governor-General Award nominated Artist. She has won many awards for both book illustration and graphic design. She illustrates and paints on a full time basis out of her studio in Victoria BC.
Cowles earned a 3-year diploma in illustration from Sheridan College in 1990. She loves to work with acrylics and watercolors but will generally tackle any size canvas, using whatever tools and mediums that are available and within the budget.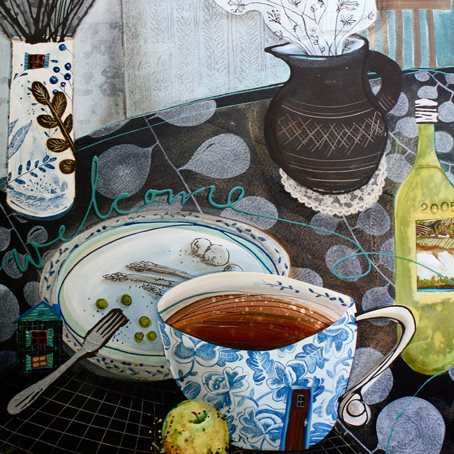 Welcome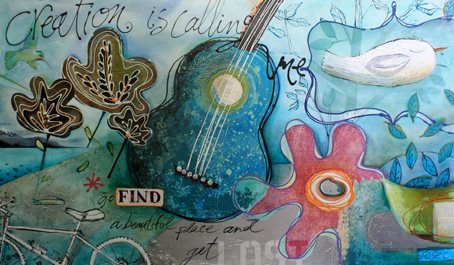 Creation is Calling Me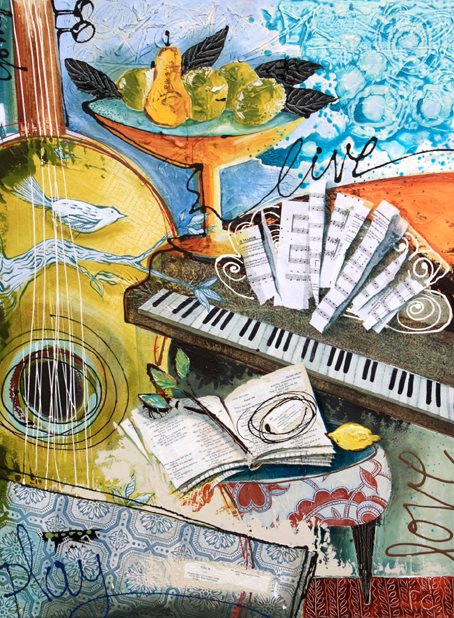 Live Play Love

Christy Mitchell, Painter – February 22 to April 13, 2013
Well known for her striking monotypes, Christy Mitchell's work is widely collected. Monotypes are a singular form of printmaking. The artist paints with brushes and paint onto a piece of glass, and then takes archival paper and presses it into the wet paint, thereby transferring the image onto the paper. This fascinating technique produces work that is impressionistic, due to it's 'accidental' effects. It is this constant adventure that keeps Mitchell intrigued with the monotype process.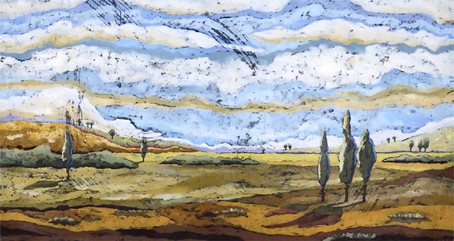 Shift Shapes
Sue Coleman, Painter – October 31 to December 30, 2012
Sue Coleman has earned international recognition for her distinctive watercolor paintings. Especially popular have been her 'Interpretive' Northwest Coast Indian images, which have been reproduced and sold to collector's worldwide. Sue's years of research have culminated in a book entitled "An Artist's Vision". Many of her native interpretive paintings, accompanied by legends and history, are displayed therein.
Sue maintains a studio in Cowichan Bay on Vancouver Island, Canada and paints a variety of subjects from misty west-coast scenes, wildlife, landscapes and more. Sue actively works to promote environmental awareness and wildlife conservation.
Her work is represented in Limited Edition Reproductions, Art cards, Posters, Collector's Plates, and several books which she has both written and illustrated.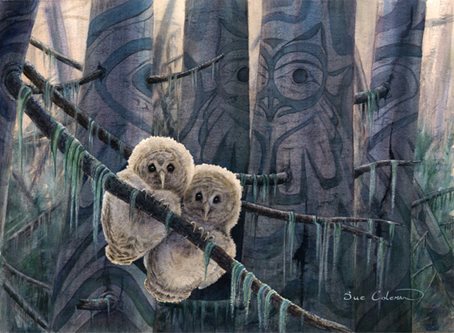 Owls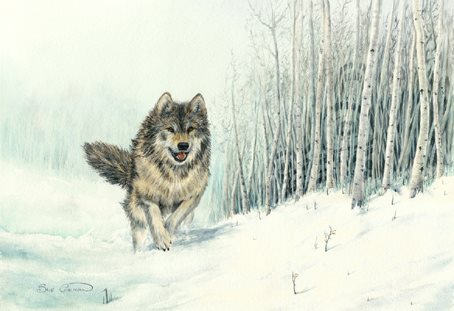 Fresh Powder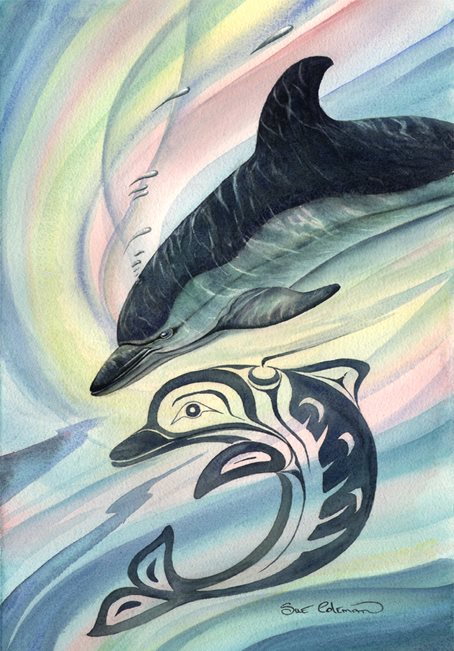 Dolphin
Gail Johnson, Painter – October 31 to December 30, 2012
Born in Boston, Massachusetts, Gail spent her formative years in upstate New York with an avid interest in art since her teens at Munson-Williams-Proctor Arts Institute in Utica, NY. She attended Boston University, and later moved to Canada to take courses at Toronto's Central Technical School and Ontario College of Art in preparation for admission into University of Toronto's Medical Illustration Degree Program. Gail works mainly in acrylics and oils on canvas, as well as watercolor and pastels. Considered a leader in her field, Gail pushes the limits of contemporary landscape with her powerful and compelling pieces. Confident stroke and bold, color saturated palette often define her acrylics and oils, whereas her work in pastels is mostly seen in large, sensitively rendered life drawings. Gail paints intuitively, often referencing imagery inspired by her farming life, her proximity to Vancouver Island's impressive coastline, wildflower filled Rocky Mountain landscapes, favorite fly fishing locations,and her love for all things growing.
An active member of the Federation of Canadian Artists since 2003, Gail's award-winning work has been featured in numerous group exhibitions as well as solo shows in British Columbia and Alberta, and can be found in private collections internationally. In March 2006, Gail achieved AFCA Signature Status in The Federation of Canadian Artists. She is proud to have her work mainly represented by Mountain Galleries three locations in Banff, Jasper, and Whistler, as well as Peninsula Gallery in Sidney, and Shorewind Gallery in Tofino, BC.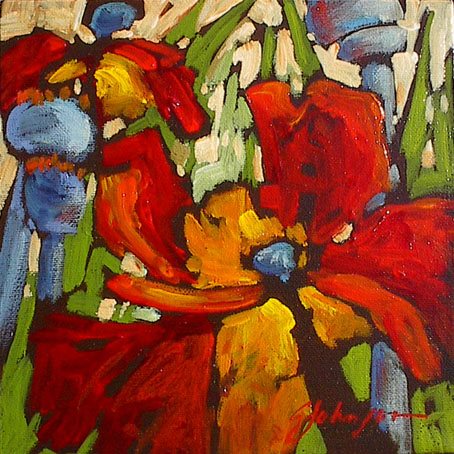 Glad and Young
Deborah Goodman, Mixed Media – June 14 to July 22, 2012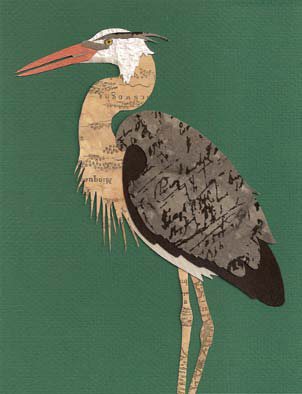 Heron
Stefanie Denz, Painter – April 27 to June 2, 2012
Stefanie grew up in Duncan, BC with German immigrant parents and her two sisters. She has a BFA with honours from the University of Victoria and received a MFA with a full Commonwealth scholarship from the University of Auckland, NZ. Stefanie has exhibited locally, nationally and internationally. She has won numerous awards including Canada Council grants. She lives with her family on Salt Spring Island BC. Her work can be seen at, Starfish Gallery on Salt Spring Island, Winchester Galleries in Victoria and in her studio.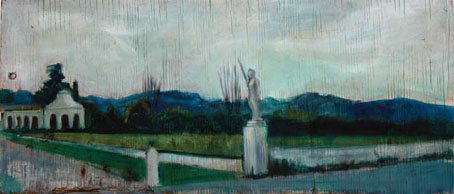 Vanguard
Fay St. Marie, Painter – April 27 to June 2, 2012
Born in British Columbia but raised in Saskatchewan, Fay and her husband moved to Parksville in 2005 from Saskatoon. She obtained her Fine Arts Degree with Distinguished Exhibition from the University of Saskatchewan in 1996. Her work has been shown in galleries in Saskatchewan, Alberta and British Columbia. Fay also has her degree in nursing and worked as a nurse for 25 years in Sask, Alberta and the NWT. She quit nursing to pursue her art career. Fay has been painting for over 35 years. She is an active member of the Federation of Canadian Artists.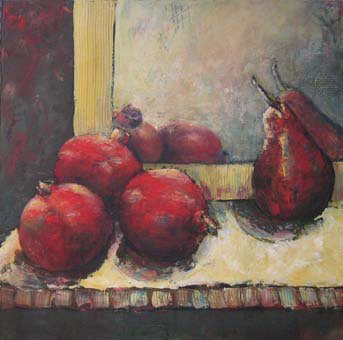 Pomegranates and Pears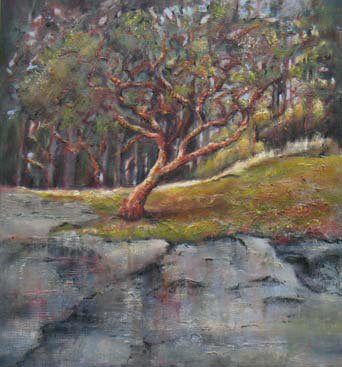 Arbutus on Rock

Christine Allan, Painter – February 24 to April 7, 2012
Originally from Winnipeg Manitoba, Christine and her family now live in Chemainus. She studied Art History at Simon Fraser University and Fine Art at Emily Carr University of Art and Design. Her work has been shown in galleries around British Columbia and in the Mitsume, Japan, Wolf Art Exhibition. She won 2nd Prize at the 2003 Coho Festival in North Vancouver, was invited to show an environmental piece at the 2002 Annual Green Millennium show in Vancouver and was honoured for being an inspiration to the children of Hewlett East Rochaway Nursery School in New York. Her most recent mixed media work is based on her love of travel and the Cowichan Valley.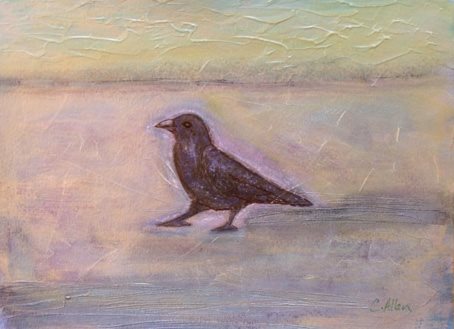 Raven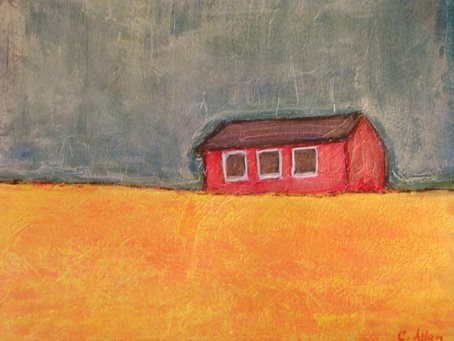 Cowichan House
Yvette Lantz, Painter – November 11 to December 31, 2011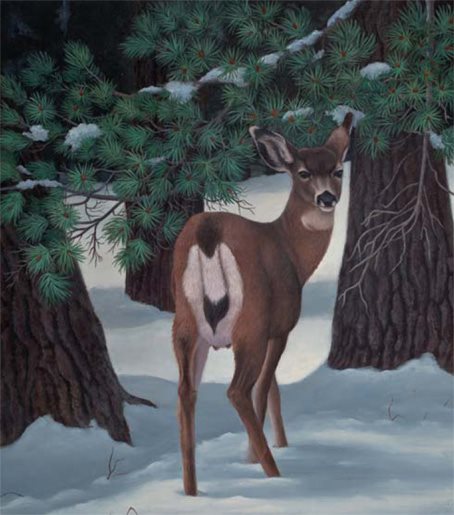 Mule Deer Doe in Winter
Diane Adolph, Painter
November 11 to December 31, 2011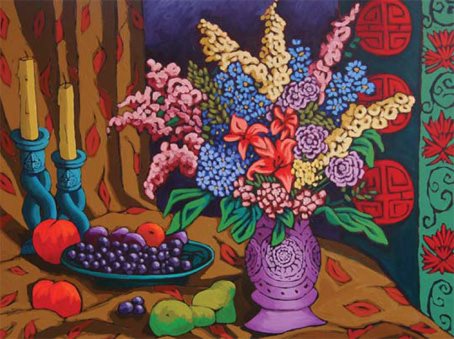 Lindsey's Flowers

Martin Kaspers, Photographer – September 16 to October 22, 2011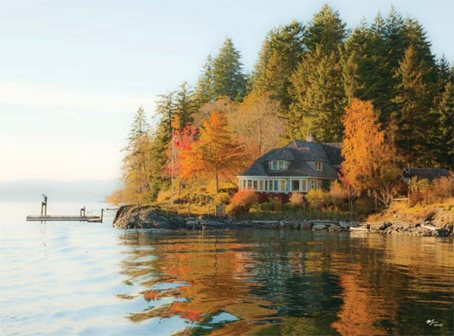 Quadra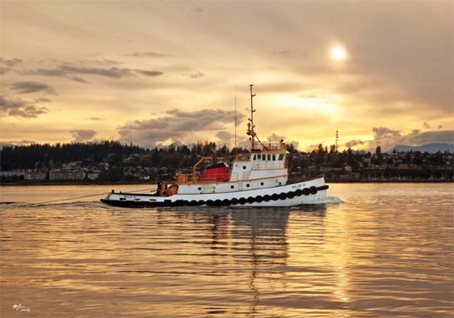 Billie H.
Elizabeth Wellburn, Glass
July 20 to September 3, 2011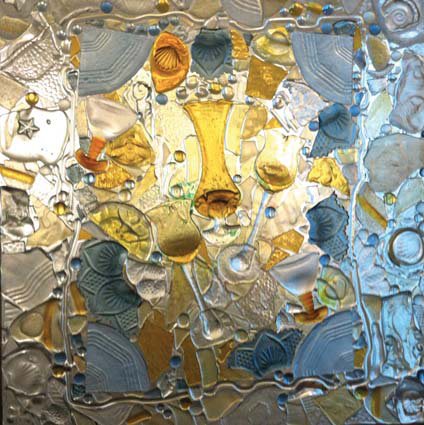 All That Heaven Allows
Linda Heslop, Painter – July 20 to September 3, 2011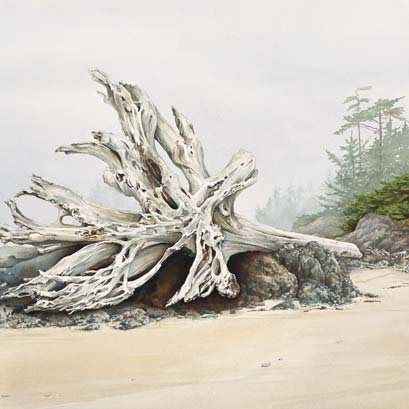 Old Bones
Deryk Houston, Painter – July 20 to September 3, 2011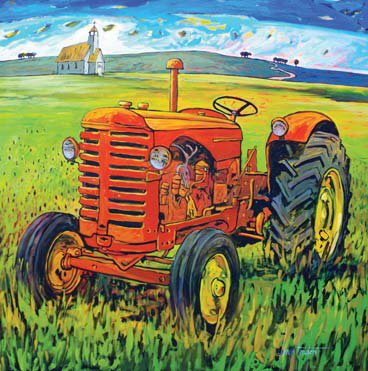 Warmed by Wisdom
Jenny Atkinson, Fabric and Textiles – June 17 to July 17, 2011

Hedgerow
Mary Forbes, Fabric Artist – June 17 to July 17, 2011

Wild West Coast
Anthony Cateaux, Metal Artist – April 21 to June 4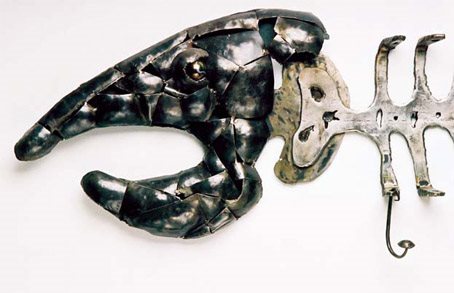 Steel Head Fish
Philip Mix, Painter – April 21 to June 4, 2011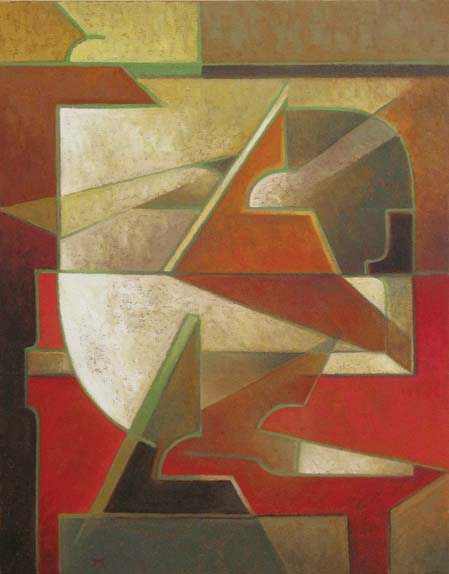 Sundial VII
Rose Currie, Painter – March 4 to April 9, 2011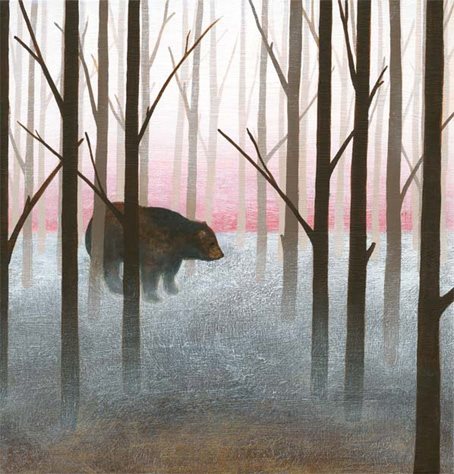 Wakeful Slumber
Eric Klemm, Photographer – March 4 to April 9, 2011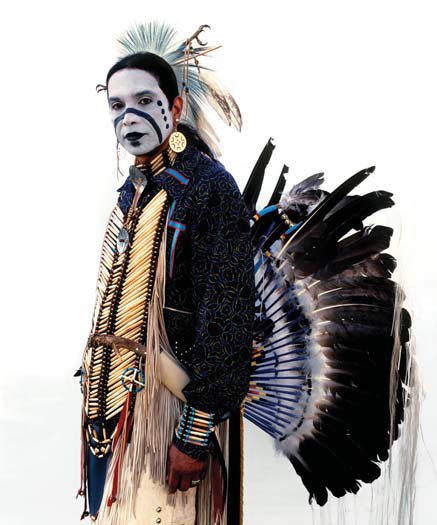 Silent Warriors-Micki