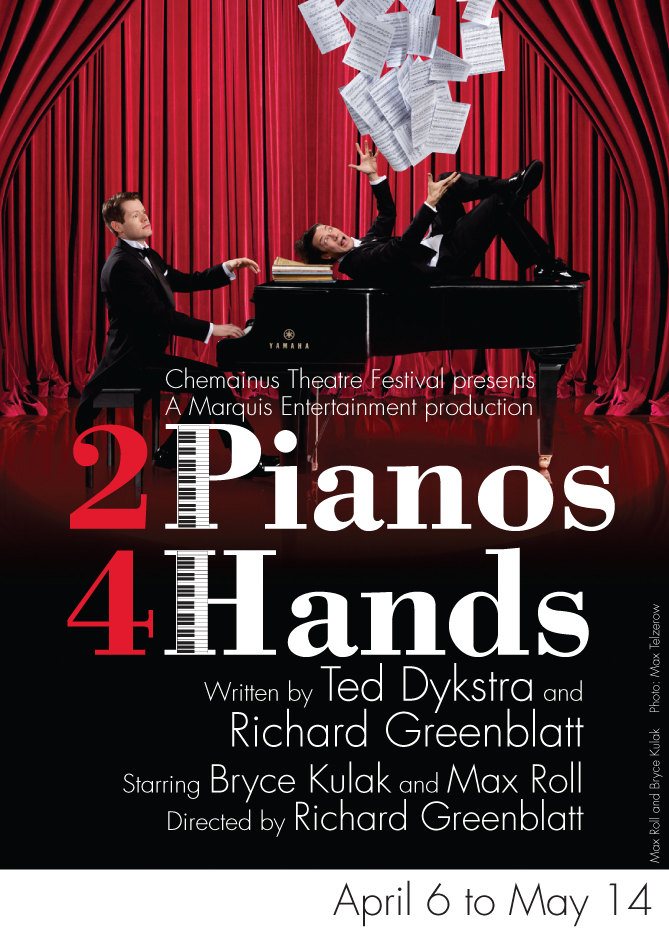 A Comedy about Music
Ted and Richard dream about becoming classical pianists. But they have to deal with pushy parents, bizarre teachers, life-consuming practice, stage fright and agonizing Conservatory examinations. Revel in the incredible results of this hilarious and moving journey by these talented duelling pianists.
Starring Bryce Kulak and Max Roll
Directed by Richard Greenblatt
"Simple, charming, funny, brilliant. An absolute joy. Great humour and music." – CBC
"Magical! Superb! Laugh-out-loud funny! Poignant! Perfection!" – The Globe & Mail
"2 Pianos 4 Hands… is funny, clever, insightful and touching, full of music, humour, story and character." – The Globe & Mail
In the beginning . . .
In 1994 Ted and Richard formed Talking Fingers to write and workshop their new script 2 Pianos 4 Hands. The play was subsequently programmed as part of Tarragon Theatre's 1995-'96 season in Toronto, and premiered in April 1996 to rave reviews and sold-out houses. Talking Fingers and Tarragon Theatre shared the 1996 Dora Mavor Moore Award for Outstanding Production, and Ted and Richard received the prestigious Chalmers Award–Canada's national Playwriting Award–that same year.
On Tour in North America
Immediately following the close of the premiere run in Toronto, Ted and Richard embarked on a national tour. They travelled from coast to coast with the show, stopping back at the Tarragon
for a second run in the fall of 1996, and concluding in Vancouver in September of 1997 at the Vancouver Playhouse.
In October of 1997, backed by a team of producers including David and Ed Mirvish, 2 Pianos 4 Hands opened off Broadway at The Promenade Theatre. The production was widely acclaimed,
and ran for six months before transferring to the Kennedy Centre in Washington in the spring of 1998. Ted and Richard returned to Toronto later that summer and again played to sold-out
houses, this time at the historic Royal Alexandra Theatre, with Mirvish Productions.
On Tour in Europe, Japan and Back to Canada
The show had its European premiere at the Birmingham Rep in the spring of 1999, a production that transferred later that fall to the Comedy Theatre in the West End of London. Since then, Ted and Richard have twice reunited to perform in Toronto with Marquis Entertainment / Talking Fingers / Mirvish Productions, twice toured to Japan (presented by Shochiku), where they
have performed in Tokyo and on tour throughout the country, and in 2011/12/13 embarked on a Farewell Tour that included visits to Toronto, Ottawa, Vancouver and Edmonton.
Nearly 2 Million People
There have been many other productions with other actors, both male and female, in Canada and across the globe. since its premiere, 2 Pianos 4 Hands has had 4,000 performances at 200 different theatres throughout Canada, the US, the UK, Japan, Australia, Hong Kong, South Africa, Austria, Finland and beyond. nearly 2 million people have seen the play on five continents
worldwide making it one of the most successful Canadian plays ever.